This post is about a college dorm room checklist.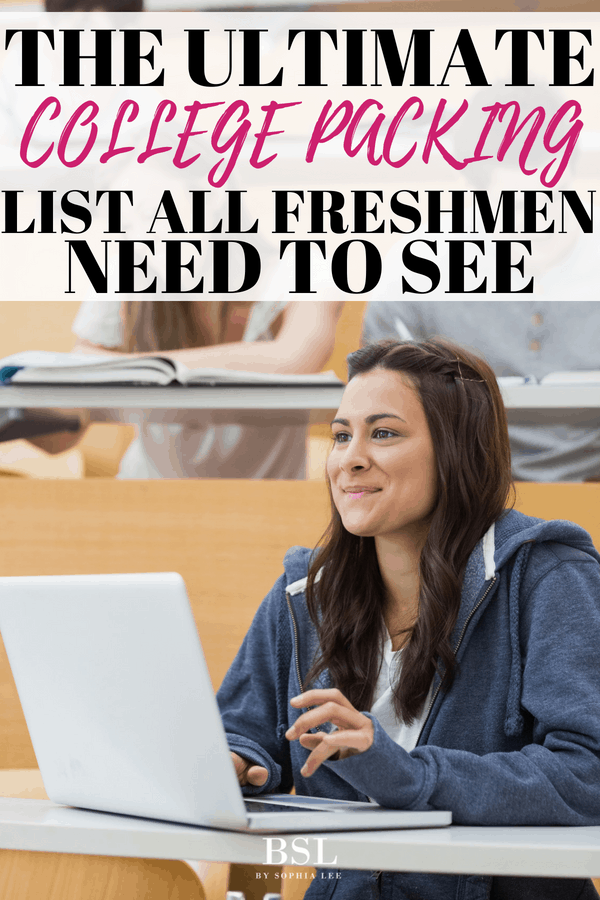 With summer quickly coming to an end, it's time to start thinking about what college essentials you need to bring to school.
It can be really overwhelming deciding ALL the things you could possibly need in a year and it's easy to forget something.
This college dorm room checklist goes through everything you would need to bring to college in a way that is simple and easy to check off.
Also, this college dorm room checklist goes over the things you will actually need. I left out all the extras the people say you will use when in reality, it sits in a drawer or your closet the whole year. Believe me, I used a lot of products, so if I didn't use it, you will probably won't either ;).
This post goes over everything you need to have for college in a college dorm room checklist.
(Along with this checklist, I recommend you to check out my Dorm Room Essentials for 2019 post that shows ALL my top things that you should bring to college. It is my most popular post on this website and goes over a lot of dorm room products you would never think of needing).
WANT A FREE COLLEGE DORM PACKING LIST?
---
Simplify your college packing with our amazing FREE Dorm Packing List. Simply click the button below to get your College Dorm Packing List delivered straight to your inbox!
COLLEGE DORM ROOM CHECKLIST: Bedding Supplies
I loved my college bed.
I know, a lot of people hate their college bed but I can confidently say that my bed at school was SO much comfier than my bed at home. All thanks to my incredible mattress topper.
I also read A LOT that people recommended that you have two sets of sheets. In my opinion, that's a little overboard. When you clean your sheets, make sure you can do it in one day and you will be golden with one set of sheets.
The last tip, if you are planning on bunking your bed I highly recommend you get a small container that you can keep up there for random stuff instead of having them lay all over your bed and fly off. (You can find a picture of how I did this in my dorm room here: 5 Dorm Organizing Secrets Every College Student Should Know)
COLLEGE DORM ROOM CHECKLIST: Bathroom Supplies
There are so many things to think about bringing to your college bathroom that it can get really overwhelming!
Promise me, unless you have something really random, you won't need anything extra than on this list.
Biggest tip from me, bring lotion. Dorm rooms are really freakin' dry.
Check out my in-depth post on dorm bathroom supplies here: 6 Dorm Bathroom Essentials All-Freshman Need
2 Body Towels: I only brought one and then had my towel wrap, but a lot of people bring two!
Towel Wrap: This is the one thing I recommend the MOST for college. It's the best. You can find the one I have here.
Shower Caddy: I recommend a mesh one! I have had a plastic and mess shower caddy and liked the mesh one much more.
Makeup Organizer: I use this clear makeup organizer in my desk drawer.
Makeup Mirror: I recommend a light up mirror since lighting sucks!
Hair Wrap: This towel helps my hair dry MUCH quicker!
Basket for hair products: My saving grace for organizing hair products easily in college.
2 hand towels
Hair Dryer
Straightener
Curling Iron
Shampoo and Conditioner
Face Wash
Makeup Remover
Shaving Cream
Razor
Loofah
Lotion
Hairspray
Cotton Balls
Nail Polish Remover
Nail Polish: Only bring your favs... everyone has nail polish and are (usually) willing to share!
Makeup
Makeup Brushes: Unless you have a sink in your room, I don't recommend bringing a makeup sponge... It's a pain walking to the nearest sink whenever you get ready.
Perfume
Toothbrush
Toothpaste
Retainer
Tweezers
Deodorant
Tissues
Sunscreen
First Aid Kit: Maybe a little overboard. Just make sure you have band-aids.
Ibuprofen
Allergy Medicine
Tums
Cold + Flu Medicine
Tampons and Pads
COLLEGE DORM ROOM CHECKLIST: Electronics
Guys. Seriously, I cannot recommend a sound machine more!! It is the best thing ever for living in a college dorm.
I got mine from Amazon for less than $20 dollars. SO worth it.
Laptop + Charger
Extension Cord
Surge Protector
Calculator + Charger
Sound Machine- HIGHLY RECOMMEND!! It blocked out all noise so I could even if my roommates were still up and talking. Also, I can only study in quiet spots so this really helped. This is the sound machine I liked.
10FT Phone Charger
USB Drive- Especially if you are an art major or majoring in art classes!
COLLEGE DORM ROOM CHECKLIST: Clothing
I always say that if you're debating bringing a piece of clothes to college, bring it.
I promise you if you don't, you won't stop thinking about how much you want that dang shirt (or whatever you decided to leave behind).
When I went to school, I completely forgot about bringing anything for when it was raining! You can find a post all about this here: What They Don't Tell You To Bring To College: Rainy Day Edition.
Bras/Sportbra
Tank Tops
Shirts
Sweaters
Sweatshirts
Jean Jacket
Cardigans
Jeans
Leggings
Joggers
Socks
Dresses
Tennis Shoes
Sandals
Boots
Rainboots
Rain Jacket
Scarves
Light Jackets
Winter Jackets
Jewelry
Hats
Swimsuit
Pajamas
COLLEGE DORM ROOM CHECKLIST: Cleaning Products
I have an entire post on dorm cleaning supplies here and how I use them to clean my dorm! Check out the post here: 5 Dorm Room Cleaning Supplies I Used To Have The Cleanest Dorm On Campus.
Laundry Detergent
Downy Wrinkle Remover- A miracle worker.
Laundry Bags
Dryer Sheets
Trash Bags
All-Purpose Cleaner
Paper Towels
Small Vacuum
Disinfectant Spray
Dawn Soap
COLLEGE DORM ROOM CHECKLIST: Kitchen Supplies
Food Storage
Keurig
Paper Plates
Mugs
Ziploc Bags
Plastic Silverware
Water Bottle
Snacks
COLLEGE DORM ROOM CHECKLIST: School Supplies
Backpack- Only recommend North Face. They are the only backpacks big enough for all the books you'll have in college.
Pencils
Highlighters
Pens
Binders
Notebook- I get a 5 subject notebook so I don't have to carry around five separate notebooks.
Tape
Binder Dividers
Stapler
Hole Punch
Scissors
Ruler
Planner: My favorite planner!
It can be so overwhelming picking out everything you need to bring to a dorm room and having a checklist makes it much easier.
If you want to download the PDF version of the checklist, you can get it sent to your email here.
This post gave you a college dorm room checklist that will make sure you don't forget anything when you head off to school.
want ALL the free college printables?!
---
Receive all of my most popular College Printables for FREE! Simply click the button below and get all of these sent directly to your inbox.