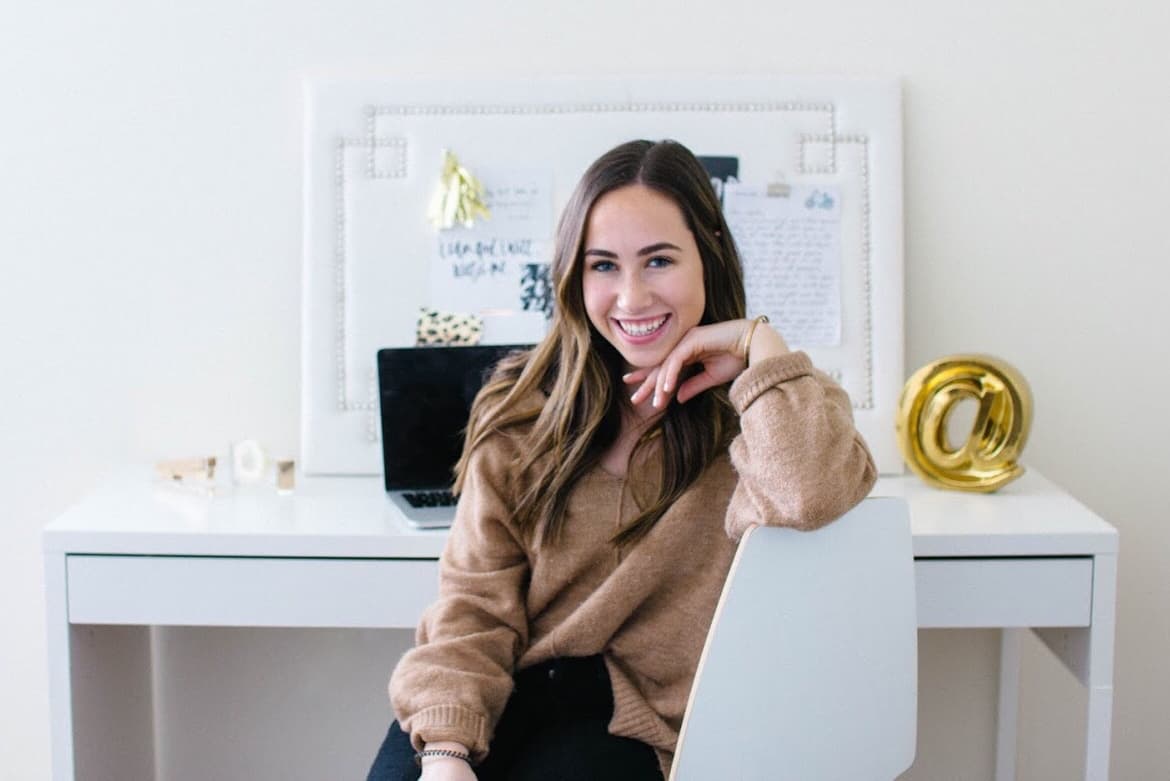 Hi! Sophie here.
I feel like you're one of my best friends. You love to make your life seem Pinterest perfect and completely together from the outside. You love to have your room/dorm room decorated and organized perfectly, you like to live in clean environments, and you strive for that perfect relationship with your boyfriend.
The truth is, you feel like a mess. You have been spending way too much money making sure you impress other people whether it's on the latest clothing or the cutest thing for your dorm. You love your boyfriend and rarely ever fight, but you're starting to get a little bored of the same dates and conversations. It doesn't help either that you two are long distance so the time you do spend together, you want to be perfect. And lastly, you need to figure out a way to start making money to afford your high-maintenance lifestyle (...let alone pay-off college debt, save for your dream wedding ring, get that Louis Vuitton bag, and oh yeah... afford that beautiful apartment you want to live in after you graduate).
Really though, you know you're doing pretty well compared to other people your age. You just need a little inspiration and guidance to keep your life from feeling like it's a mess. That's where By Sophia Lee comes in.
By Sophia Lee is a website all about making your not so perfect life look perfect.
I have been extremely blessed. I live in an upper-class small city in Wisconsin that I love, am extremely close to my sister's, I have a boyfriend that I've dated since sophomore year of high school who is truly my better half, and the best friends I could ask for. From the outside, I really do live the perfect life.
But let me tell you, these last few years have thrown me in a loop. My parents got divorced, one week before I went to college (which I thought was being fully paid for by my parents) I was told I would be paying for my own education, my long-term boyfriend was moving eight hours away from me to go to college, and when I went to college, I was absolutely miserable. My sister and I joke that I truly hit rock bottom.
Look, I know. I am SO lucky that those were my problems. So, so lucky. But I still felt like my life was a disaster.
Two years later, and I have never been happier. I started realizing that I may have a little gift of making my life look very put together from the outside when I was going through all of that and people were still saying they wish they had my life.
This website shows you exactly how I make my life look so good from the outside and how you can too. Because really, when your outside life looks good, your inside life feels a lot better. And we all have issues, so why not have it look like we got our shit together, right??
This blog shows you exactly how I decorate, clean, and organize my dorm room, my favorite dates, relationship tips, and all things long-distance relationships, and most importantly, how I am doing this while sticking to a serious budget and paying off my thousands of dollars of debt (in the last year, I have paid off over $8,000 because of this blog while being a full-time college student).
Thanks so much for reading along!
Posts You Don't Want To Miss:
-32 Easy Costumes to Copy Perfect for a Halloween College Party
-The Secret to Throwing a Graduation Party People Will Remember
-42 Best Deep Questions to Ask Your Significant Other
-32 Budget Friendly Date Ideas You Have to Try
-8 Disgusting Things In Your Dorm Room That Need to Be Cleaned Immediately
PS: Because I am making over $1,000 dollars on this blog monthly, I have decided to go anonymous. (Click here to see how you can start a blog of your own). Because I haven't always been anonymous, it won't be too hard to find me on social media if you're that interested in finding my personal accounts. Put those stalking skills to work;) You can find my Instagram for this website HERE.
ALSO, I am here to vouge that starting a blog has been one of the best things I have ever done. Like I said above, I make thousands from it every month without people knowing who I am. I also had to completely start my blog over in September of 2017, so I have gone from making zero dollars to making over $11,000 this past month (May 2019) in just under two years.
Plus, I get to do it all from my dorm room around my own schedule. Have I convinced you to start a blog yet 😉 ? I also don't do any Instagram marketing (yet at least, which shows that you don't need to use Instagram to become a successful blogger!). I would highly recommend checking out my posts on starting a blog and how I have had so much success in less than a year. I am going to start posting income reports in July so you will be able to see exactly how I make my money and from where on my blog.
CHECK OUT ALL MY POSTS ABOUT STARTING A BLOG HERE: