This post is all about dorm organizing tips for college students.
1. Have a catch-all container on your bed.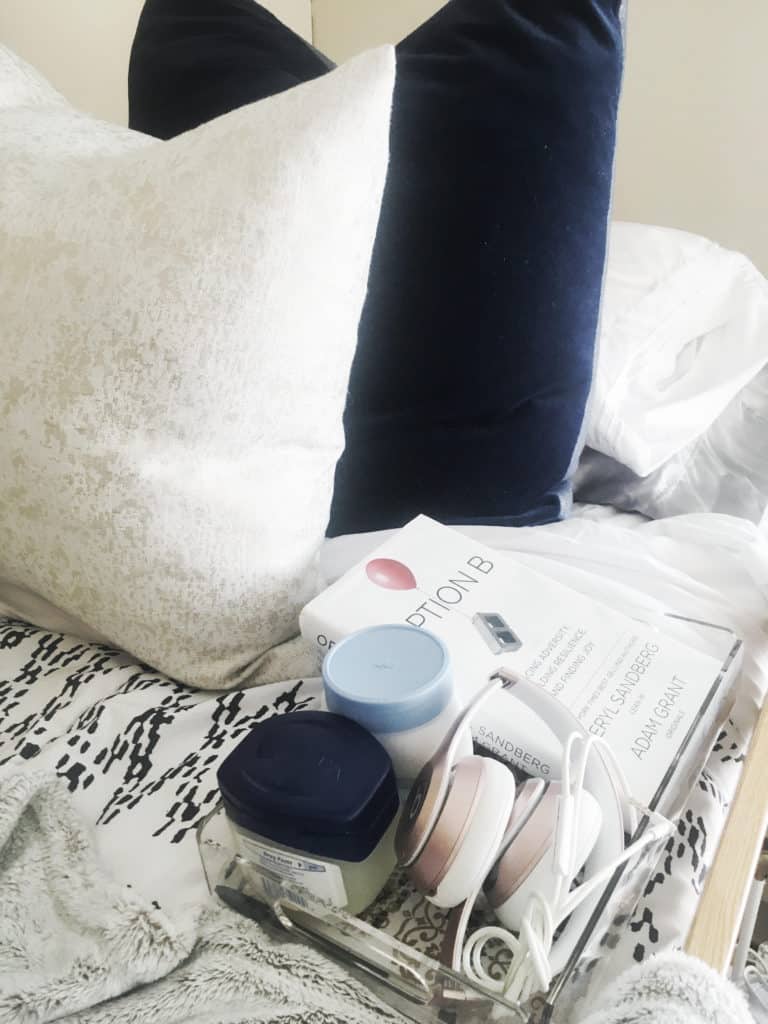 This might be one of my most recommended tips for anyone living in a dorm. Your bed is high, so anything you bring up there either gets thrown all over it OR you just throw it on the ground and deal with it later (guilty;).
Having this "catch-all" container gives you a place to put things that you use every day and then when you wake up, you can grab whatever doesn't stay in the container permanently and put it away.
I keep my face moisturizer, vaseline, headphones, and my book up there all the time because those are things I use every night so I don't have to keep climbing down off my bed to get them.
2. Use under-bed-storage under your futon for items.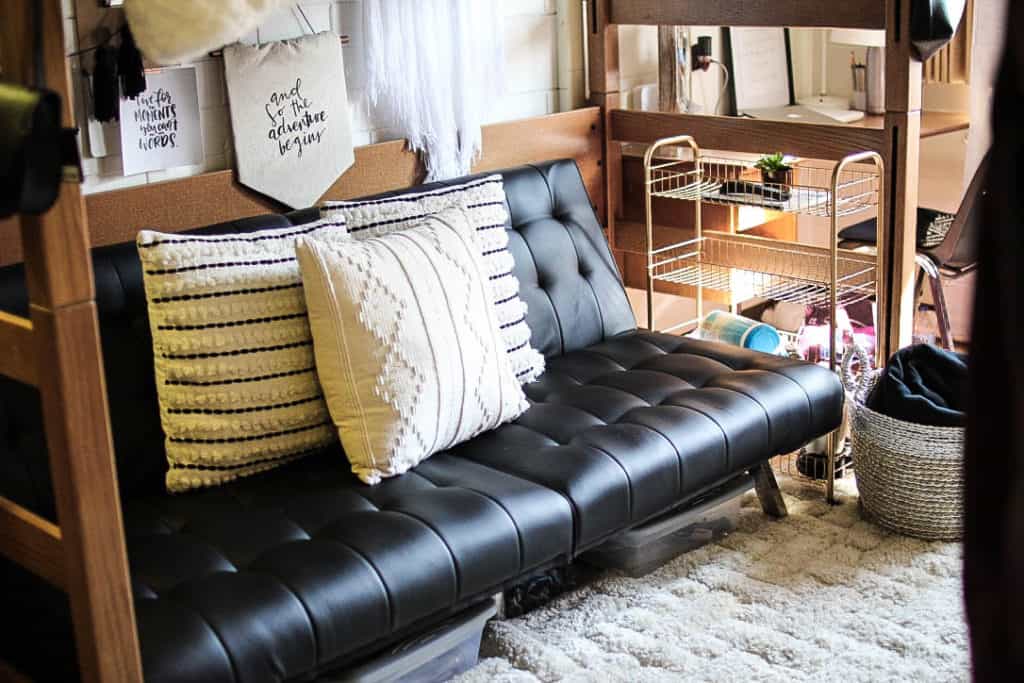 (pic from my freshman year dorm room... you can kind of see the storage!)
There is no place for wasted space in a dorm room so using this extra floor room under your futon is pretty genius if you ask me ;).
When I have done this, I have stored plates, cups, cleaning supplies, extra snacks, etc in it. But, you could also store clothes for other seasons or extra shoes in there as well.
This cute black and white storage is from Amazon and is on sale for $11.99.
I also know I will get questions about my futon so it is from Amazon (here is a link to it) and was really nice! Honestly, the best part about it was that it had a secret compartment in the bottom of it to hold alcohol ;).
3. Use desk dividers to organize your makeup.

I personally like sitting down at my desk to put makeup on and hate when it is not out in the open for me to see.
Instead of just having my makeup sit in a random desk drawer laying everywhere or in a makeup bag, I organized it in a desk drawer divider. These are super cheap (mine is from IKEA but here is an online version) and is perfect for what I use on the daily.
I keep all my makeup brushes on the left (ugh, yes I know they have to be cleaned) and then my makeup products on the right. I have a mirror that sits on my desk so when I get ready in the morning I have a makeshift "beauty desk".
I swear this type of hanger was made for a dorm room! You can easily triple the amount of hanging space you have with this neat little invention.
I have always been a gal that likes to hang her clothes up and find that my clothes are much more organized hanging but the dorms I have lived in only have a super small section for hanging clothes.
Hangers like these are super cheap (this is under $12 on Amazon) and can you allow you to squeeze in those extra t-shirts you want to bring to school.
5. Hang your jewelry on the wall.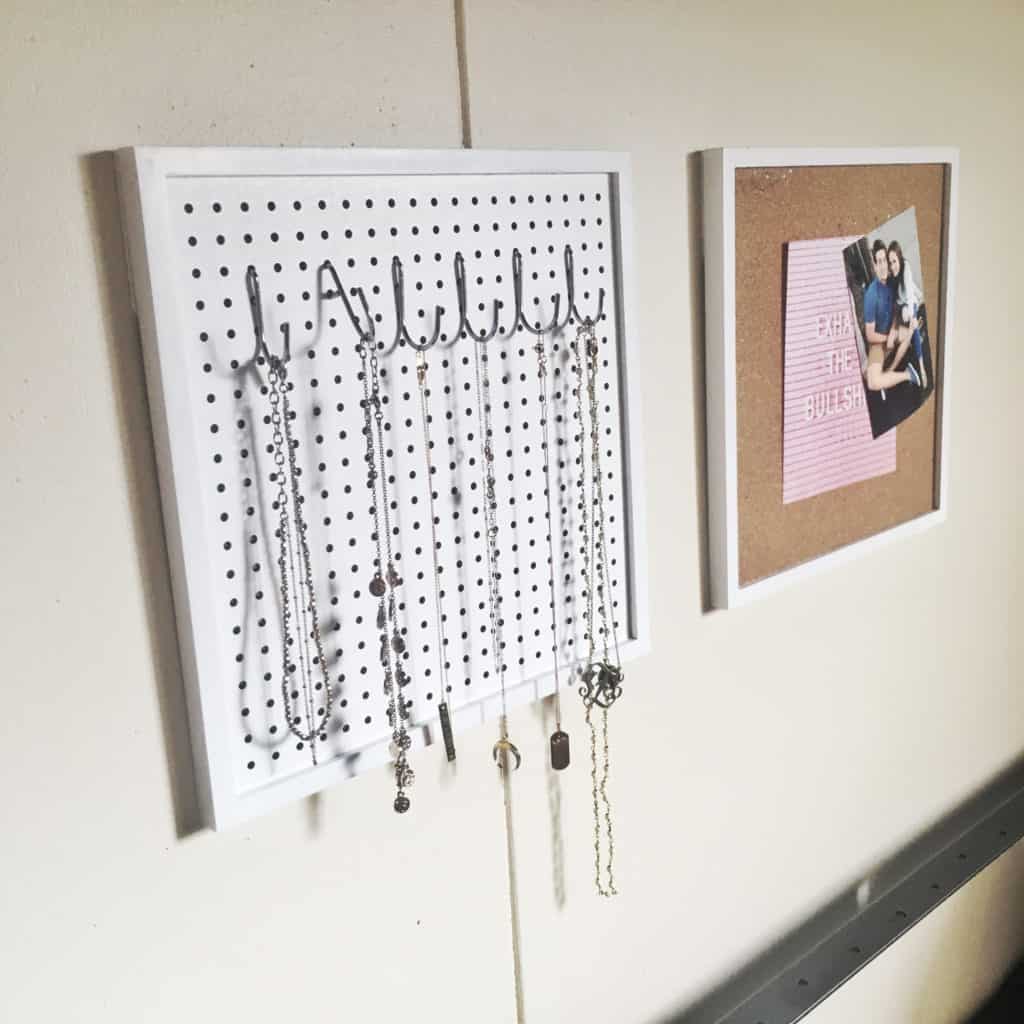 This has been a game changer for me and keeping my necklaces from getting tangled. This is a great way to stop just throwing your necklaces on the desk or on a small plate, and hang them up.
The great thing about this was that it was only $3 dollars in the Target dollar section and doubles as "art" for my dorm room (you have to deal with what you got;). .
I also hang my bracelets on there and it works out great.
UPDATE: I have been getting emails from people on where they can find this jewelry holder from. Unfortunately, I can't find it but usually every year near college move-in time they bring it back!
These dorm organizing tips for college students will make your dorm room one of the put together rooms in college.
Your dream of having a clean space where everything is organized is possible with these five organization tips. These have been extremely helpful in keeping my dorm free of clutter and unnecessary mess and think it could help yours too.
What is your favorite organization product for college?