This site contains affiliate links, view the disclosure for more information.
Looking for the ultimate dorm mattress essentials? Here are a variety of dorm room bedding essentials that will make every night's sleep perfection.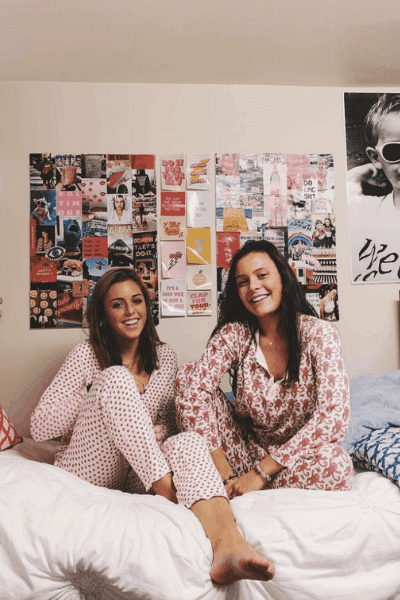 sourced from: @fashfuncult
Your mattress might be the most important part of your entire dorm room… Without a good night's sleep, you might as well expect for the rest of the day to go down the drain. At least for me, sleep is essential and it's no secret that dorm mattresses suck. They're absolutely horrible. I'm sure colleges found the cheapest beds they possibly could and said, "yep. These will do." BUT, have no fear, I have mastered making-a-dorm-mattress-feel-like-a-luxury-bed whose materials are bought from Bamboo Harbor. It's all about what you put on top of it.
To begin, it's essential you know that most dorm beds are TWIN-XL, not twin. So, if you go and buy all these cute bedding items and then come to find they're too small for your dorm mattress, know that I warned you
.
Secondly, a mattress topper is a necessity. I have one from Amazon that I absolutely love (more details below) and highly recommend. I can't live without a mattress topper now, I've been converted thanks to my $hitty dorm bed. But, it's for the best. I sleep like a baby now!
Finally, when it comes to the actual bedding, go wild! I've shared some of my favorites, but it's whatever works best for you. I've added some basics and also some unique, bold duvet covers and sheets that will make your bed a unique beauty.
This post is all about dorm mattress essentials.
OUR TOP DORM MATTRESS ESSENTIALS:
Best Mattress Topper: Twin XL Mattress Pad
"This is simply amazing. Took a chance on this one due to the reasonable price and good reviews. Could not be happier!"
Best Pillows: Beckham Hotel Collection Bed Pillows
"I have been searching for over a year for some pillows that were amazing without spending a small fortune. So happy I ordered these pillows! They are the perfect combo of soft and firm."
Best Sheets: Mellanni Bed Sheet Set
"I love these sheets! I just bought a new bed, and I'm really picky of the sheets we use. I like them so much, I'm planning on ordering a few more sets. The price is completely reasonable, I highly recommend them."
Best Duvet Cover:UO Grid Tufted Duvet Cover
"I love this duvet cover I got the shams too, and it's super super cute and goes perfectly with my room super comfortable and just like the picture!"
Best Duvet Cover: Utopia Bedding Comforter Duvet
"I didn't want to break my bank when I got a new bed set but I was worried that buying the cheaper product would result in less comfort. I was wrong! this cloud-like duvet is sooo comfortable and soft."
Best Pillow Cases:Bedsure Satin Pillowcases
"LOVE THESE! They are a beautiful, well-made and a perfect price! I ordered these to help protect against hair-breakage and I've already noticed a huge difference!!!"
BEST DORM MATTRESS TOPPER IDEAS
1. EASELAND Twin XL Mattress Pad
This mattress pad has a cult following and I've jumped on the bandwagon. I cannot tell you how amazing this makes your bed feel. It's almost dangerous. Once you lay down, you may never get up. Oh also, it's only $49 which is cheap for a mattress topper!
2. Tempur-Pedic Mattress Topper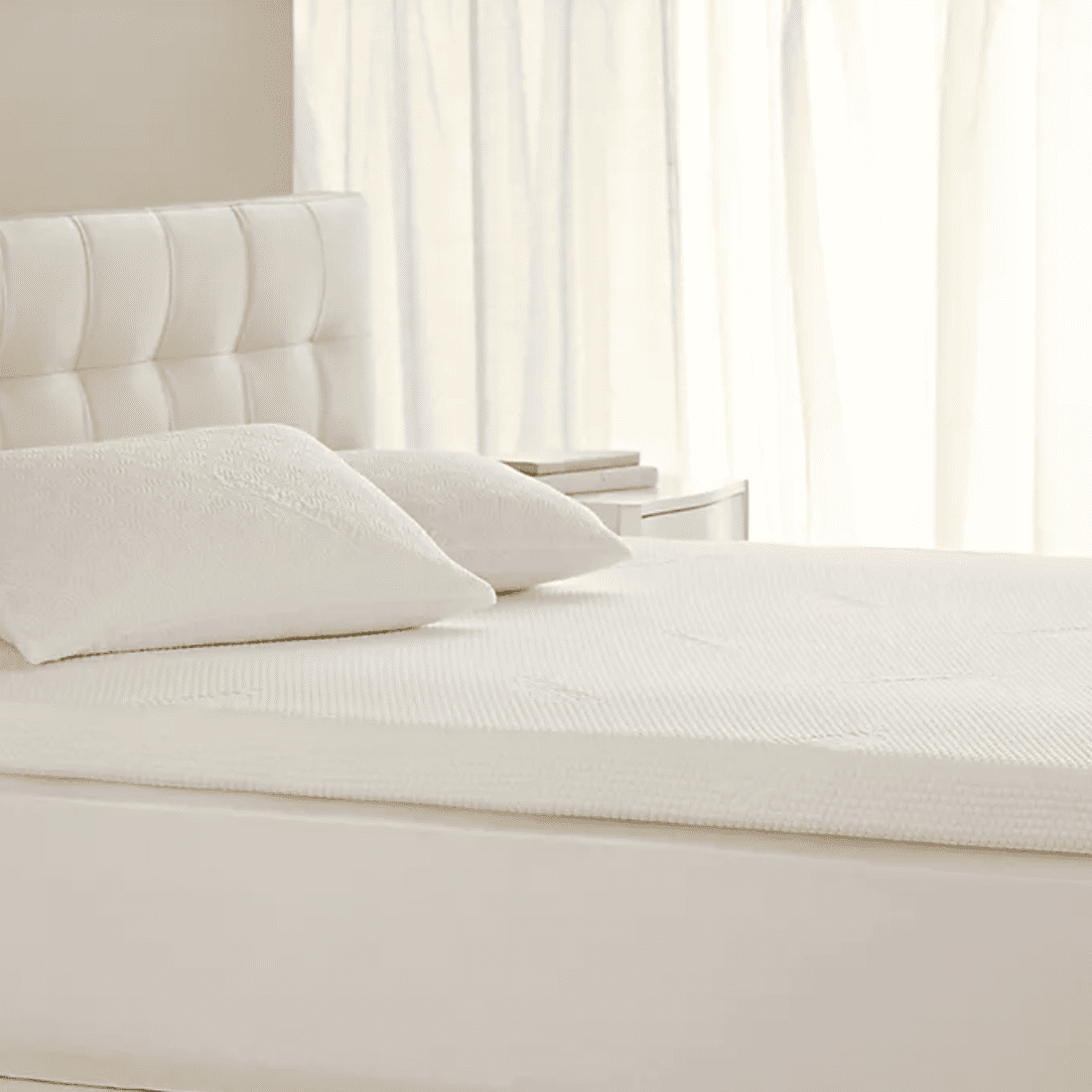 I could not talk about mattress toppers without bringing up Temper-Pedic. Honestly, these mattress toppers are so expensive. If you have the money, the topper is amazing and I know a lot of people who had them when I lived in the dorms but if you can't afford it, don't worry about it. There are so many more options!
3. Memory Foam Mattress Topper
A super fancyyy "gel-infused" mattress that will transform your sleep
or at least that's what it says on Amazon. Joking aside, this mattress topper has amazing reviews and had straps to stick tight onto the mattress which is a bonus.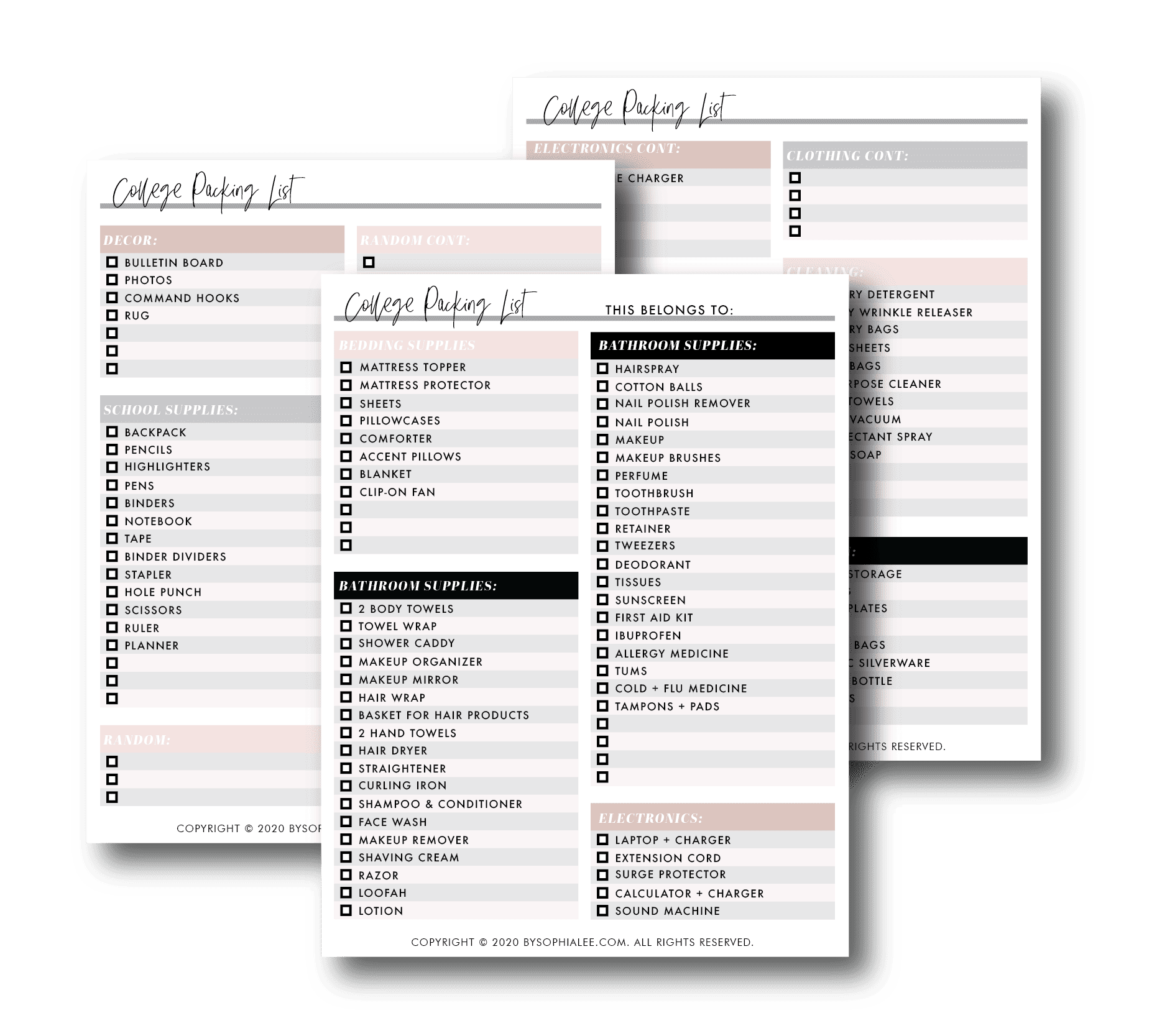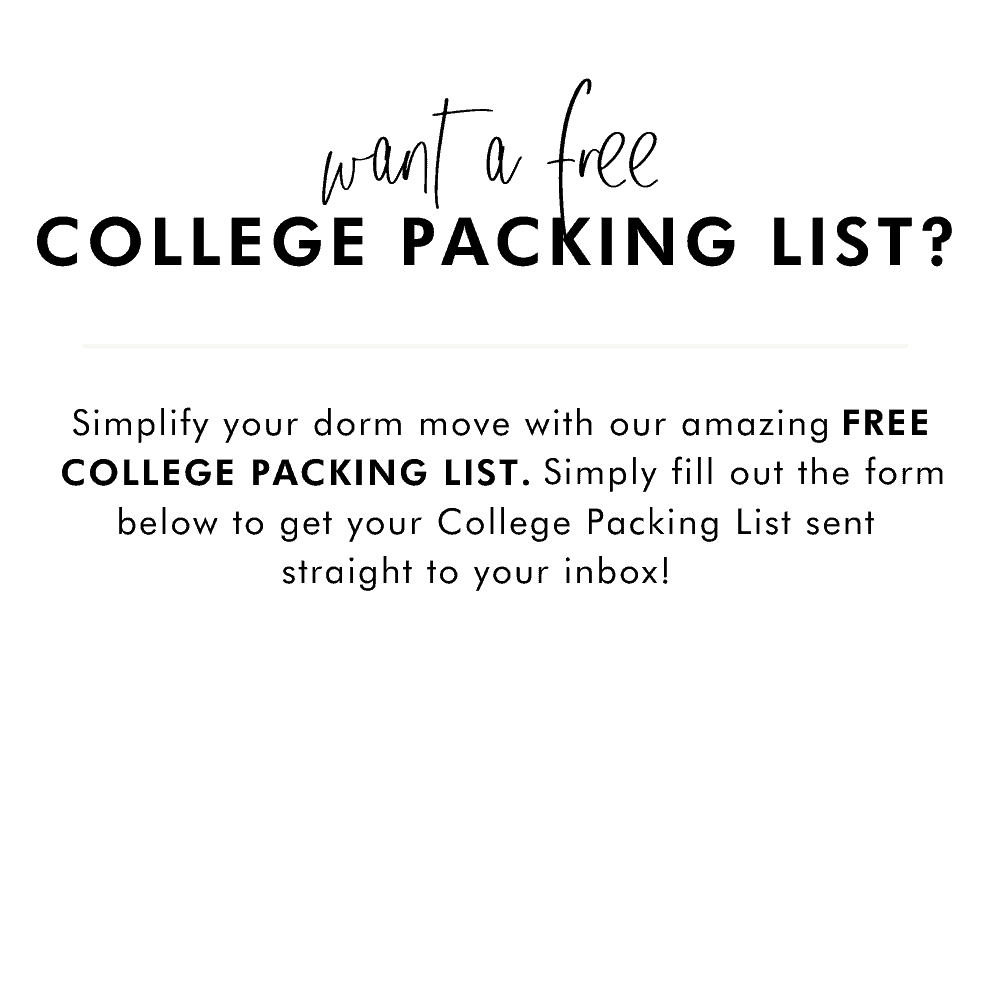 [tcb-script src="https://bysophialee.activehosted.com/f/embed.php?id=14″ type="text/javascript" charset="utf-8″][/tcb-script]
4. Beckham Hotel Collection Bed Pillows (BONUS)
This is a bonus, but I couldn't not bring up pillows – they're essential to the bed. I have these hotel pillows and oh my gosh they're amazing. I get the king-sized ones and you should too. One pillow will probably fit the width of the bed (in the perfect way) and they are amazing. I absolutely love them.
TRENDY DORM BEDDING
5. Brushstroke Dot Sheet Set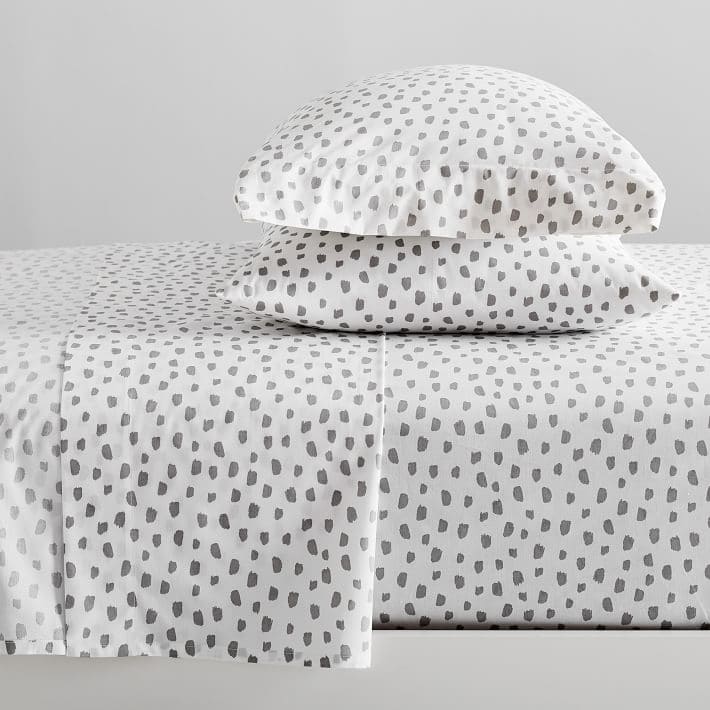 Onto bedding! I thought I would start with a cute sheet set. I love when the duvet is super minimal and the sheets are a hidden surprise pop! West Elm is the best and whenever I'm looking for home-related things, I always go there first.
6. Mellanni Bed Sheet Set
I have these bed sheets and they are amazing!! They feel extremely luxurious, super soft, and check all the boxes for me. If you want simple sheets, these are for you.
7. Bia Sheet Set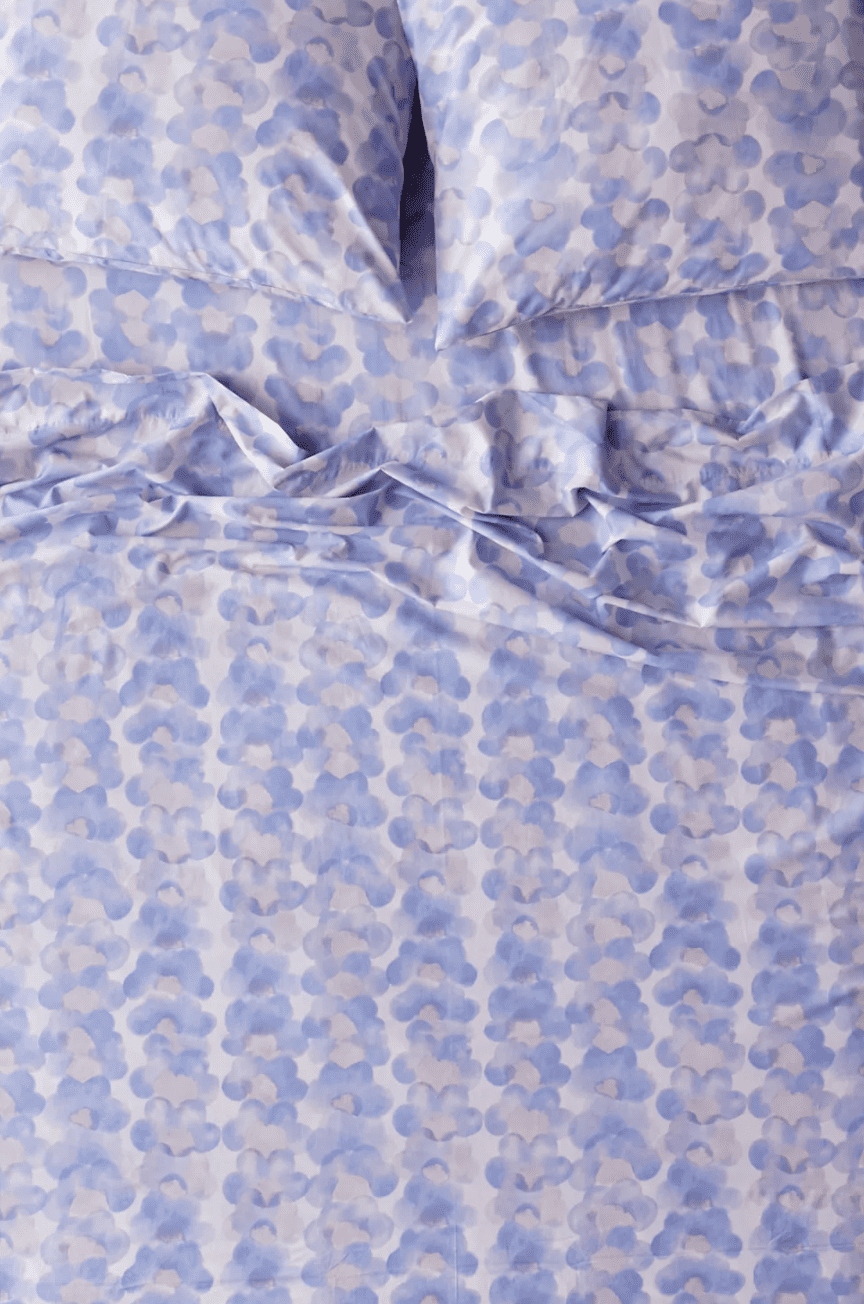 Okay, this is what I was talking about when I said a little surprise pop! I love these and I feel like your dorm is the perfect opportunity to go wild. Some of my favorite dorm rooms are one's with super bright color. It shows you're confident and not afraid to be bold.
8. Panthera Sheet Set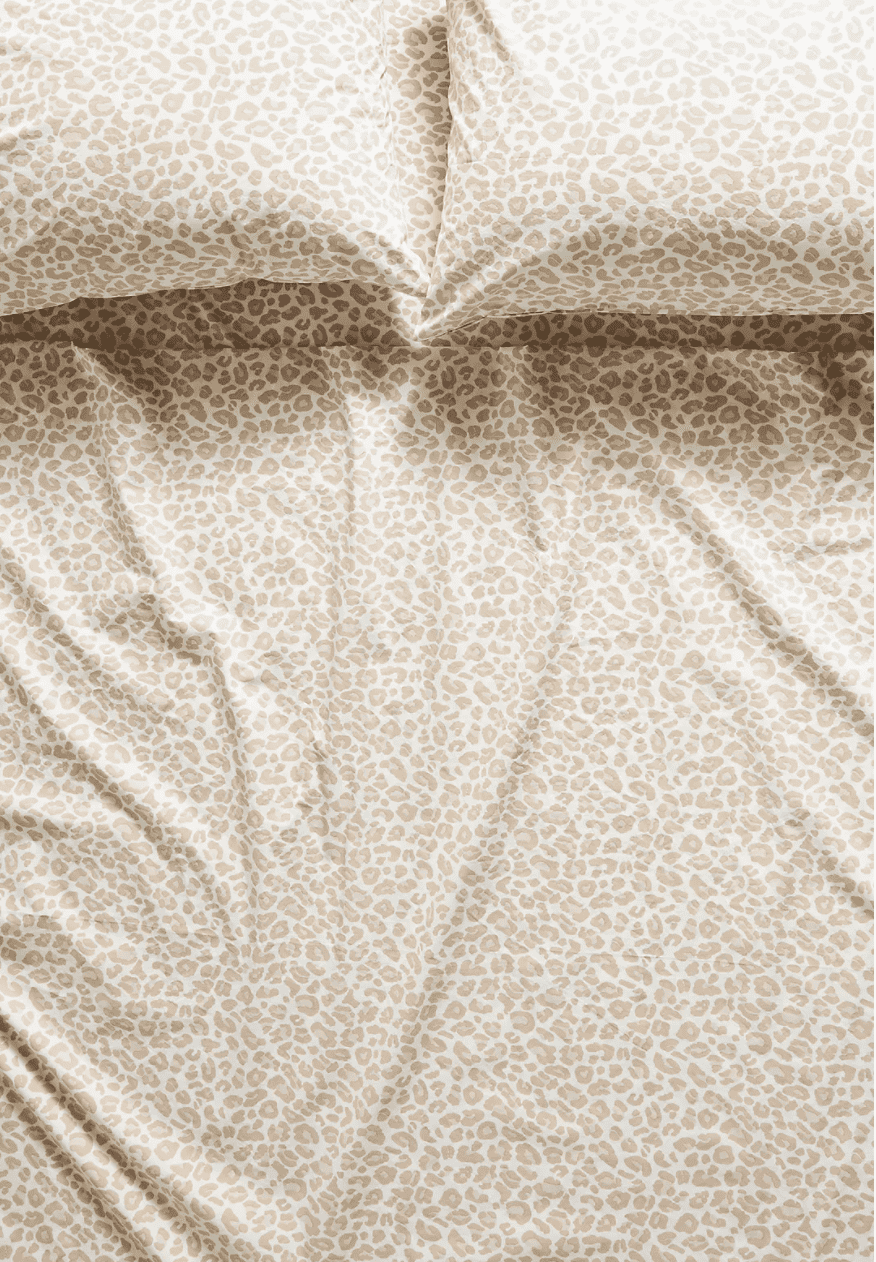 This is a more neutral version of bold. I love a good cheetah moment and think this would look amazing under a white duvet.
9. UO Grid Tufted Duvet Cover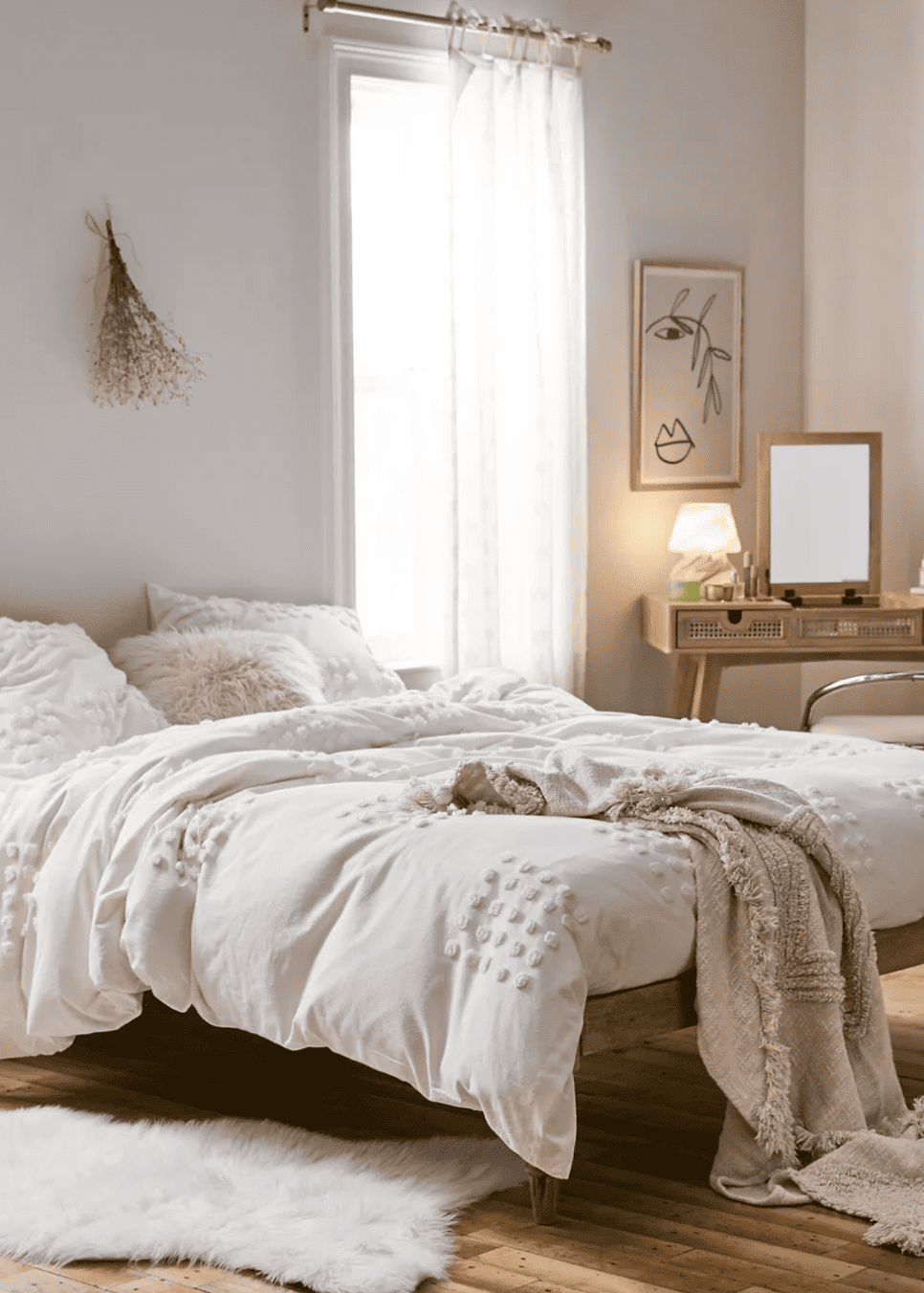 Urban Outfitters has the best bedding. Ever. If you scroll through their bedding section you'll know what I mean. However, I've only included one duvet cover so that I don't overwhelm you. I love the texture created by the little pom poms and the neutral color.
10. H&M Cotton Duvet Cover Set
H&M is another store I will immediately go to if I'm looking for anything home-related. Some of you may not have even known that H&M has a home decor line! It's amazing. I'm sharing two color options because they're both amazing.
11. Kay Cotton Jacquard Duvet Cover Set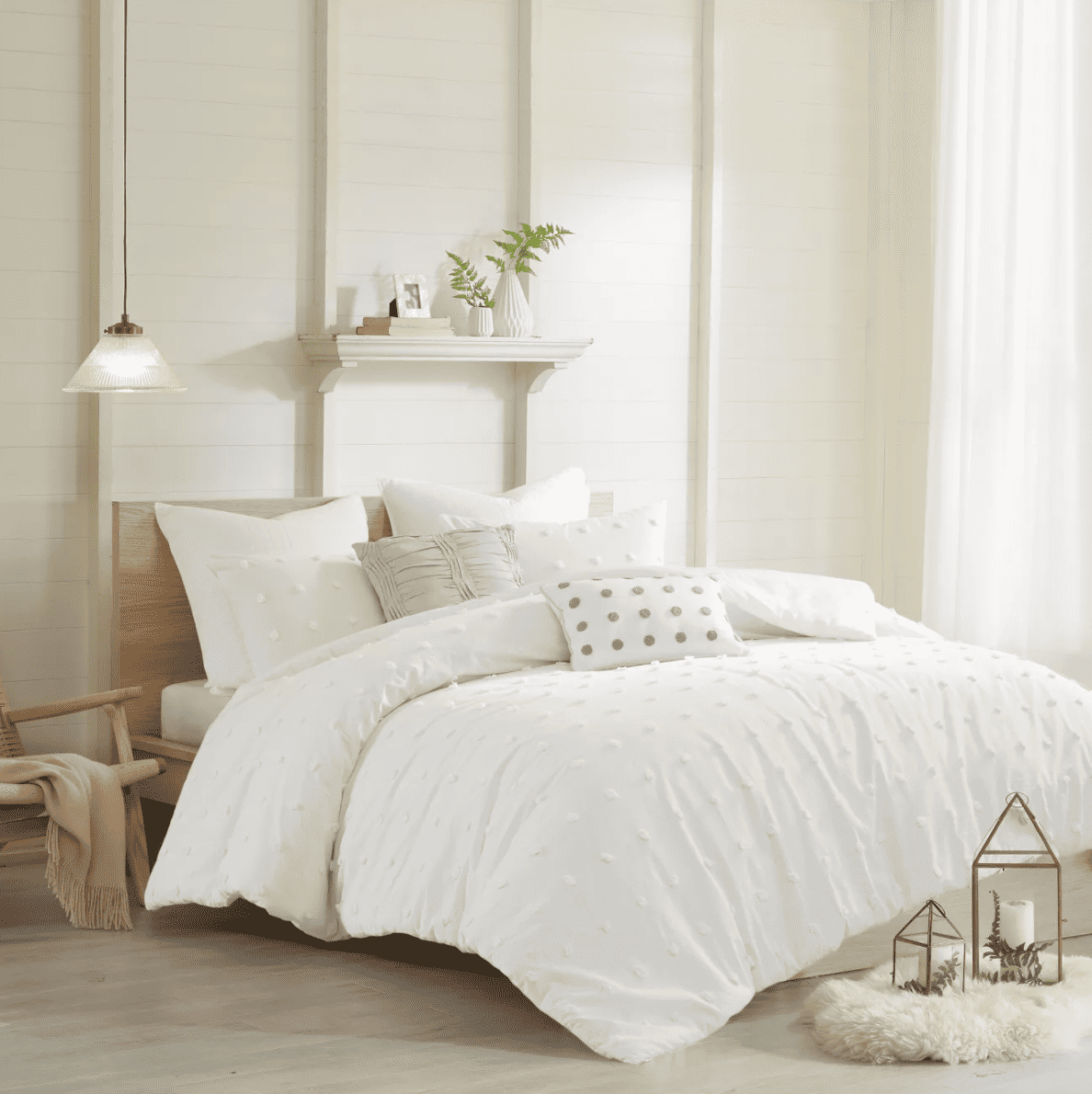 Target pulling through with a great textured white duvet. Target is always a safe choice when looking for… anything.
12. Tencel Sunrise Duvet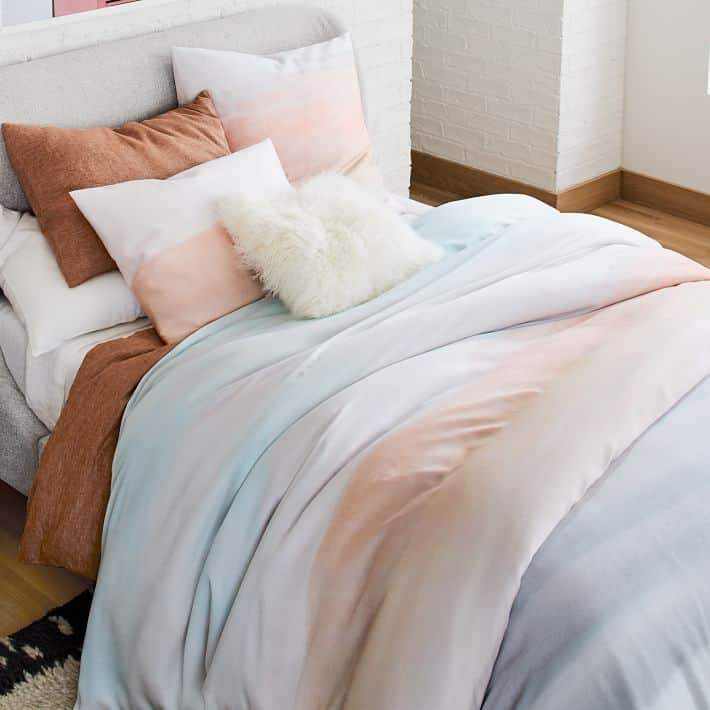 I mean gorgeous, right? I love the colors and think it would be perfectly paired with a collage wall (Tezza inspired).
13. Amazon Basics Light-Weight Microfiber Duvet Cover
I have this duvet cover in both rooms of my apartment. I love the simple white, minimal look and if you want to go a little bold with your sheets, this would be perfect on top.
14. Bedding Comforter Duvet Insert
If you have a duvet cover, you'll obviously need a duvet! Pro tip: I always double up!! Instead of buying one duvet insert, I'll buy two and then put them both inside the same duvet cover; this is what gives that super fluffy, five-star hotel bed look.
15. Bedsure Satin Pillowcase
Can't talk about your dorm mattress essentials without talking about pillow covers. I am a silk (a.k.a. Satin because I can't afford silk haha) pillowcase ride-or-die. Regular cotton pillows are horrible for your hair and skin. Silk/satin pillows have a smooth feel and are stain-resistant. Highly recommend.
16. Silk Pillowcase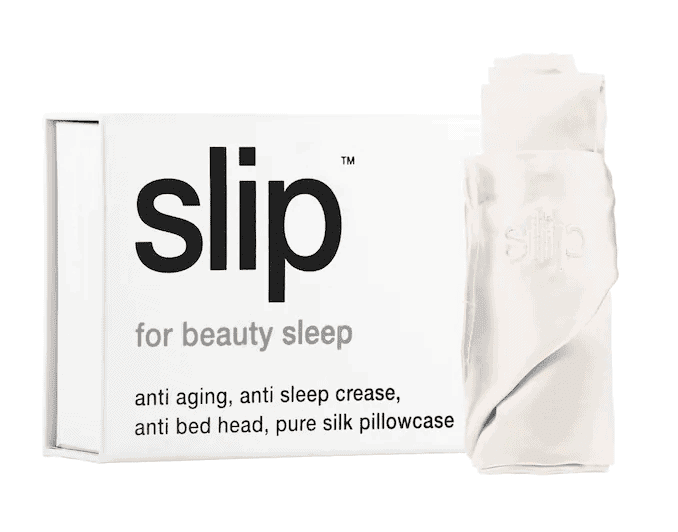 Okay, this is the GOAT of all pillowcases. Slip is an iconic brand and if you can afford it, get it. I've eyed their pillowcases for years. I have their eye mask which I love, but haven't gone all out with the pillowcases yet, but I will. They're amazing and the benefits for your hair and skin are out-of-this-world.
This post is all about dorm mattress essentials.
Other Posts You May Like: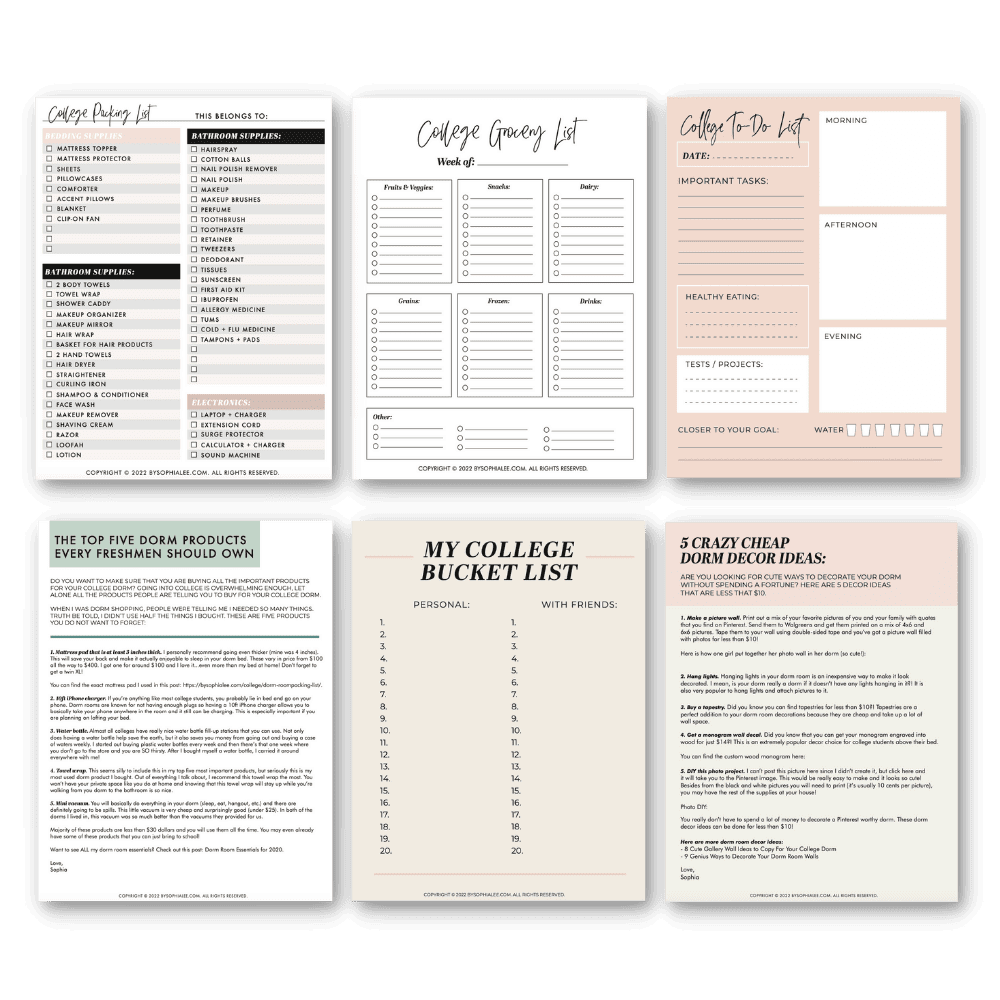 [tcb-script src="https://bysophialee.activehosted.com/f/embed.php?id=42″ type="text/javascript" charset="utf-8″][/tcb-script]