Need college bedroom inspiration? Check out Hannah's bedroom in her college apartment that we just can't get enough of!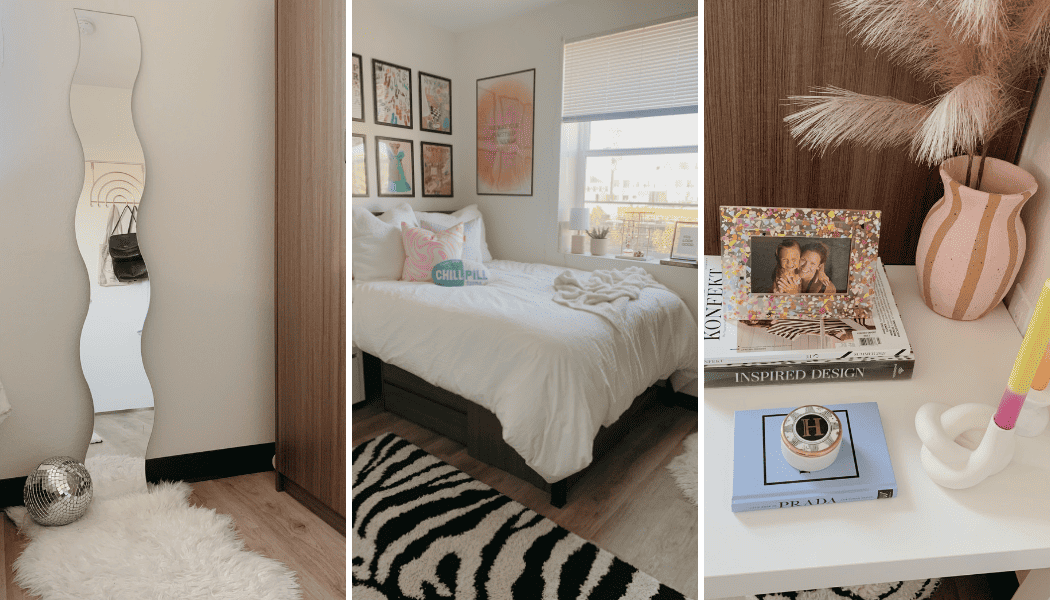 Hey, it's Hannah, a BSL content creator, and current sophomore at San Diego State University in California. I am all settled into my new apartment, and I can't wait to share where I got everythinggg in my college bedroom. If you're going for that bright, colorful, trendy look, you're going to want to copy this whole room.
Everyone always assumes I spent a TON of money on my room, but I really don't feel like I did. My biggest tip for buying room decor is to buy it over time and collect it instead of buying it all at once! I made sure I got a lot of stuff from thrift stores, yard sales, and clearance sections!!
I am linking absolutely everything in my room and will let you know where I got everything that I can't link. I will give you the full rundown on how I printed and picked out my wall decor, and how to get an expensive look on a budget. Trust me when I say, you need to read this if you are going for this trendy look.
Going into this year, one of the only things I was really looking forward to with my living situation was decorating my room. I didn't know my roommates, I didn't know how nice my building was going to be, it was my first time in in-person college classes, and I didn't know what to expect. The one thing I knew I could count on was that at least I would have a cute room and a little sanctuary that could escape to.
Picking out how I was going to decorate my college bedroom made me so excited to come back to school. Now that I am here, I am so happy with my room every single day and love crashing here after long days in classes.
This post is all about Hannah's college bedroom.
TRENDY COLLEGE BEDROOM INSPIRATION: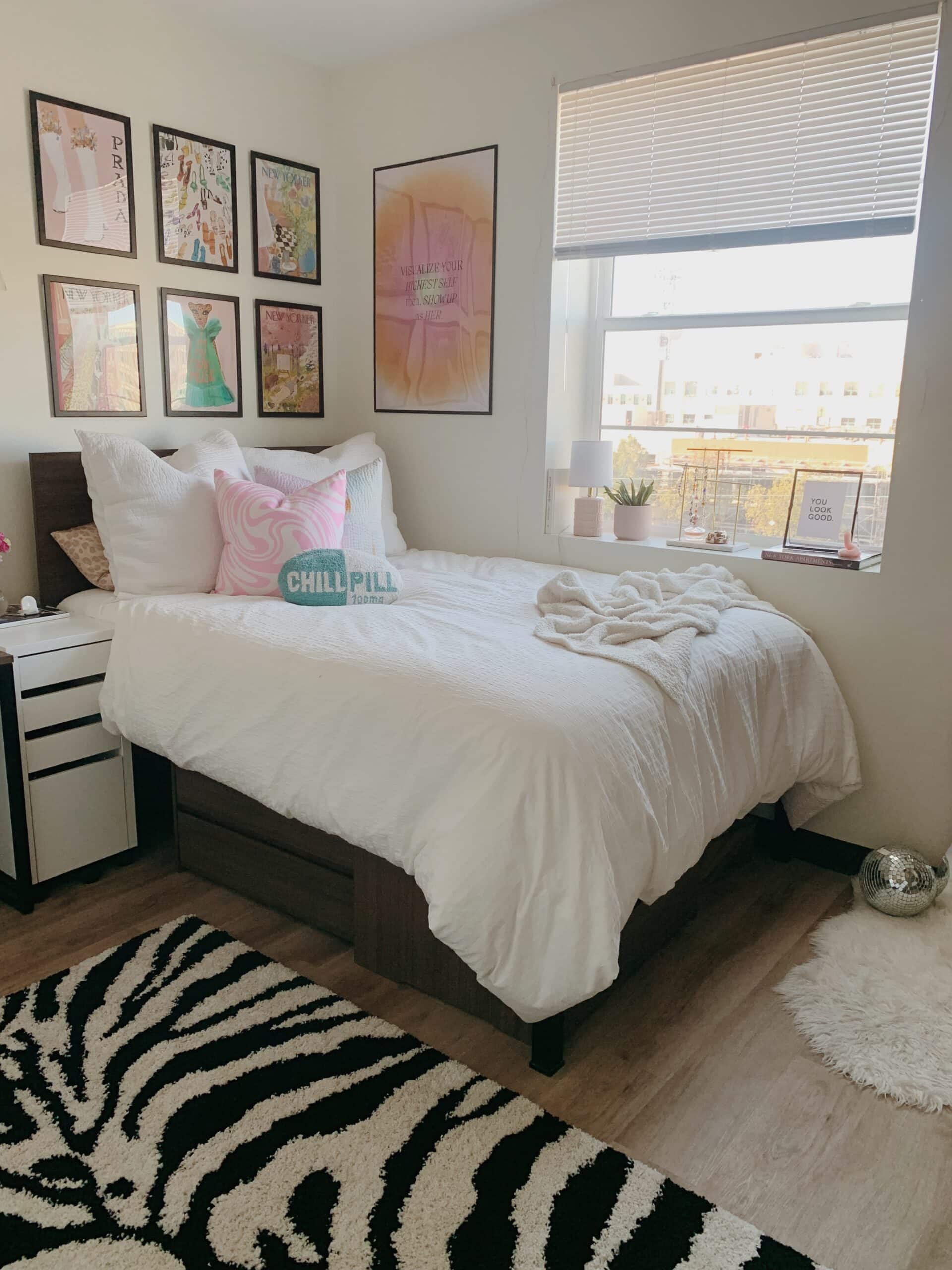 Here is a good idea of the size of my college bedroom and the space that I was working with. It's pretty small, but the way it is configured makes it plenty big! I am going to get into all the details of the bedding and the wall decor later in the post, but I first needed to share the zebra rug.
This was a last-minute addition, and let me just tell you, one of the best decisions I made. I am obsessed with this zebra rug because it makes such a statement and ties in with the black in my picture frames.
THE RUG: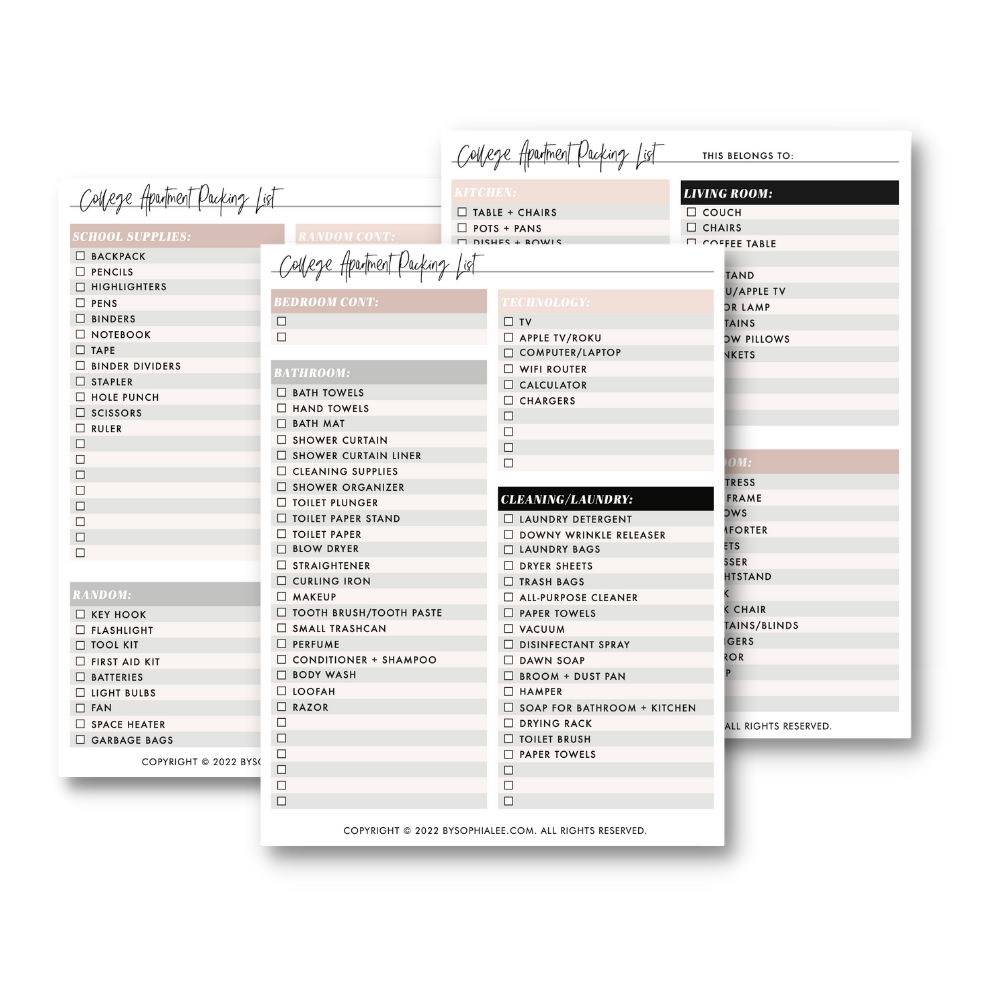 [tcb-script src="https://bysophialee.activehosted.com/f/embed.php?id=118″ type="text/javascript" charset="utf-8″][/tcb-script]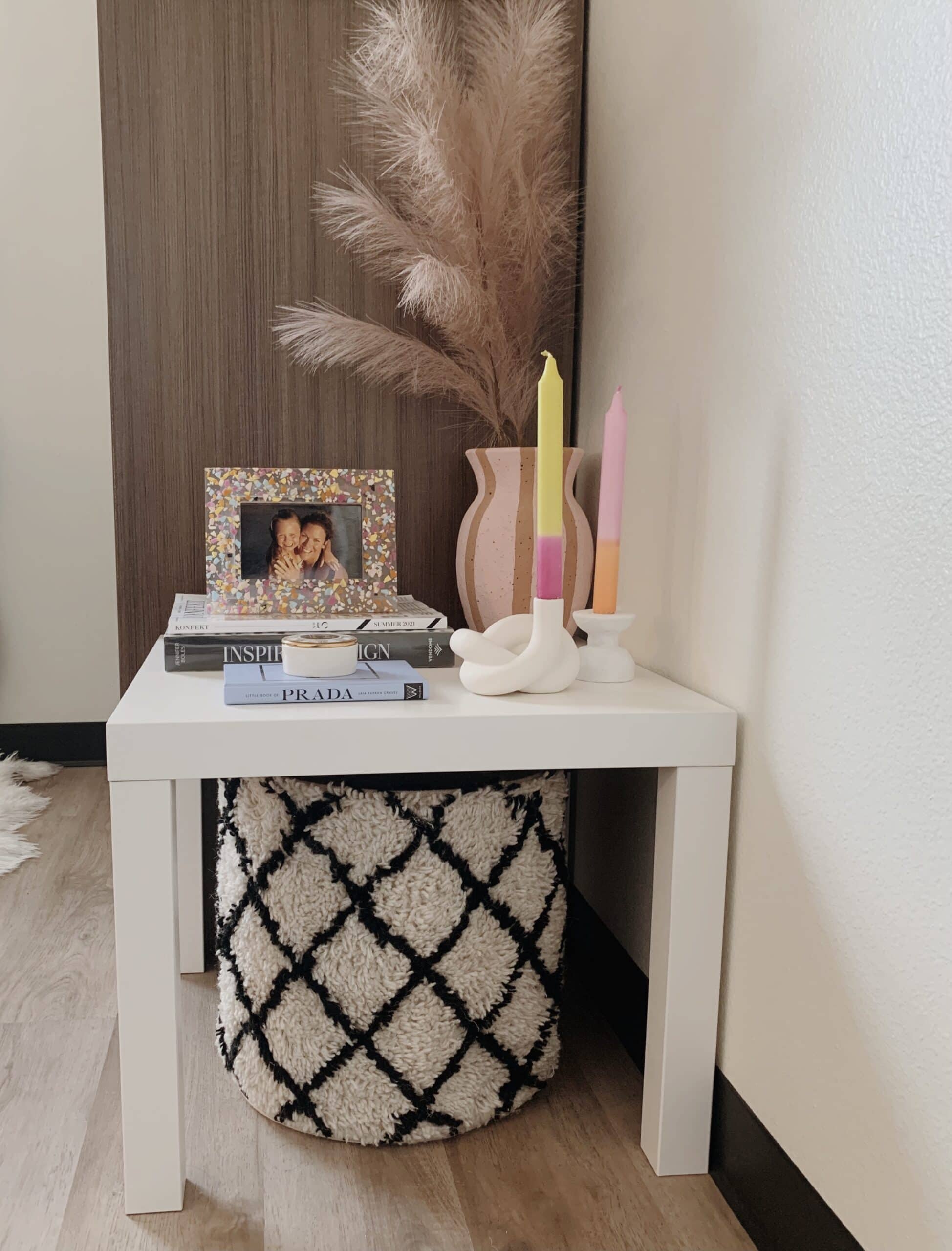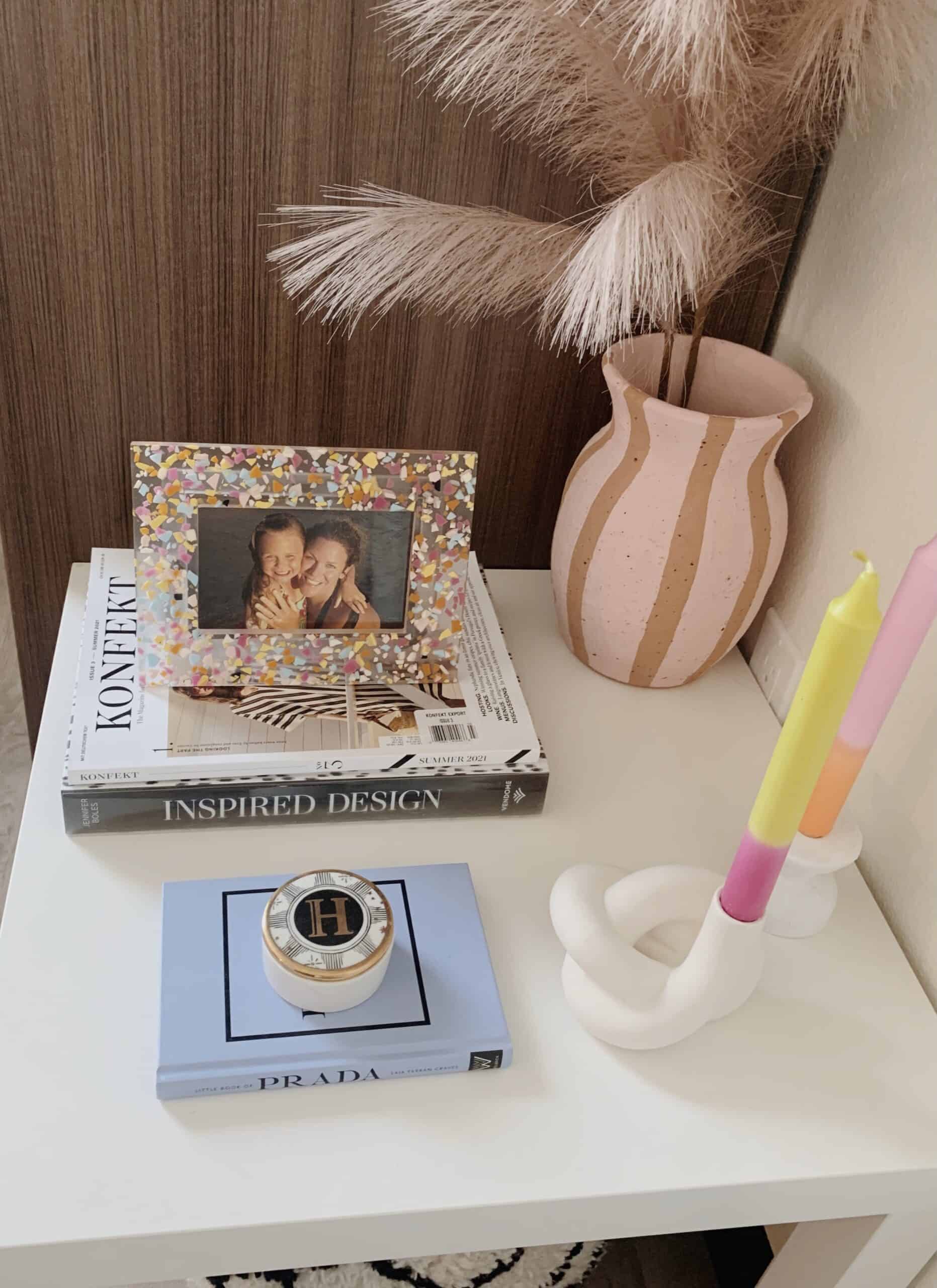 So I ended up putting together this little table because I had wayyyy too much decor. It is now one of my favorite parts of my room that you see right when you walk in. There's a closet that came with the apartment that you see literally right when you walk in, so I wanted to make it as cute as possible.
I got a super cheap $10 table from IKEA and then decorated it with coffee table books, a vase, and fun taper candles. I am beyond obsessed with the picture frame. I got it from Paper Source and looked everywhere for it online, but I can't find it! I linked one that has a very similar look and vibe.
As for all of the books, the Konfekt one is a magazine that I grabbed at Barnes N Noble, the Inspired Design book I found at a Serena & Lily Outlet for really cheap, and the mini Prada book was an Amazon prime steal!
The candles were from a boutique in San Francisco, but Urban has similar ones. As for the basket under the table, that was an amazing HomeGoods find that I use as a laundry basket!
The little jewelry dish with the "H" on it was an Anthropologie sale section find from years ago!
THE TABLE DECOR:
The bedding that I brought from the Comfy Bamboo Sheets site is really the star of the show in my apartment as it matched the color of the other bedroom decors that I have in my room. My chill pill pillow is everyone's favorite. I had to order it from some random boutique (not the one linked) and get it shipped here from Maine. Doesn't it feel crazy to order something not from Amazon these days?
The watercolor pillow was an Anthropologie sale section find for $27! I was so excited. The large white pillows in the back are from HomeGoods, so unfortunately I can't link them. Always make your bed a cute, cozy spot so you are happy to crash there at the end of the day.
THE BEDDING:
My personal favorite part of my college bedroom is the wall decor! For the small frames, I picked out all of the art on Pinterest, and then I printed them out at Walgreens. Walgreens photo is my favorite place to print out photos because there are always discount codes and I get my prints for 50% off!!
One life hack I will give to you is to copy and paste each print into Canva to see what they will look like together before you print them!! I wanted all of mine to color coordinate. The larger poster was a download from Etsy that I also printed for 50% off at Walgreens!
THE WALL DECOR:
I was so obsessed with this gold wire photo hanger at IKEA because it is so funky and different. My desk lamp was from Target, but I linked a really similar one that is also pretty cheap. The mini gold picture frame next to it was a $5 HomeGoods find. My pen and pencil holder is actually made for air plants, and it is from my favorite small business in San Diego, Pigment. Their online store is just as good!!
Another one of my life hacks that I will always share with incoming college students is to use a magazine holder to store your notebooks and school textbooks. There's not enough room on a college desk to store stuff stacked or laying down, so storing it vertically takes up hardly any space on your desk!! For me, it also creates a little separation between my side table and my desk and functions to hide a power strip behind it.
THE DESK SETUP:
I ended up buying this side table super last minute (after moving down) and it fits perfectly in the space! I wanted something with drawers and something that was cost-efficient 🙂 this had both! I decorated it super simple with the recent issue of Vogue and a $1.50 vase from IKEA with fresh flowers.
THE SIDE TABLE:
I got this lamp from Target last year and they no longer have this exact same one. I linked a very similar one that is just as cute! The little potted plant was a $5 IKEA find that matches the lamp and color scheme in here so well.
When you have a deep window sill, you have to take advantage of it and decorate it with some cute decor!
THE WINDOW SILL DECOR:
This post was all about Hannah's college bedroom.
Other Posts You May Like: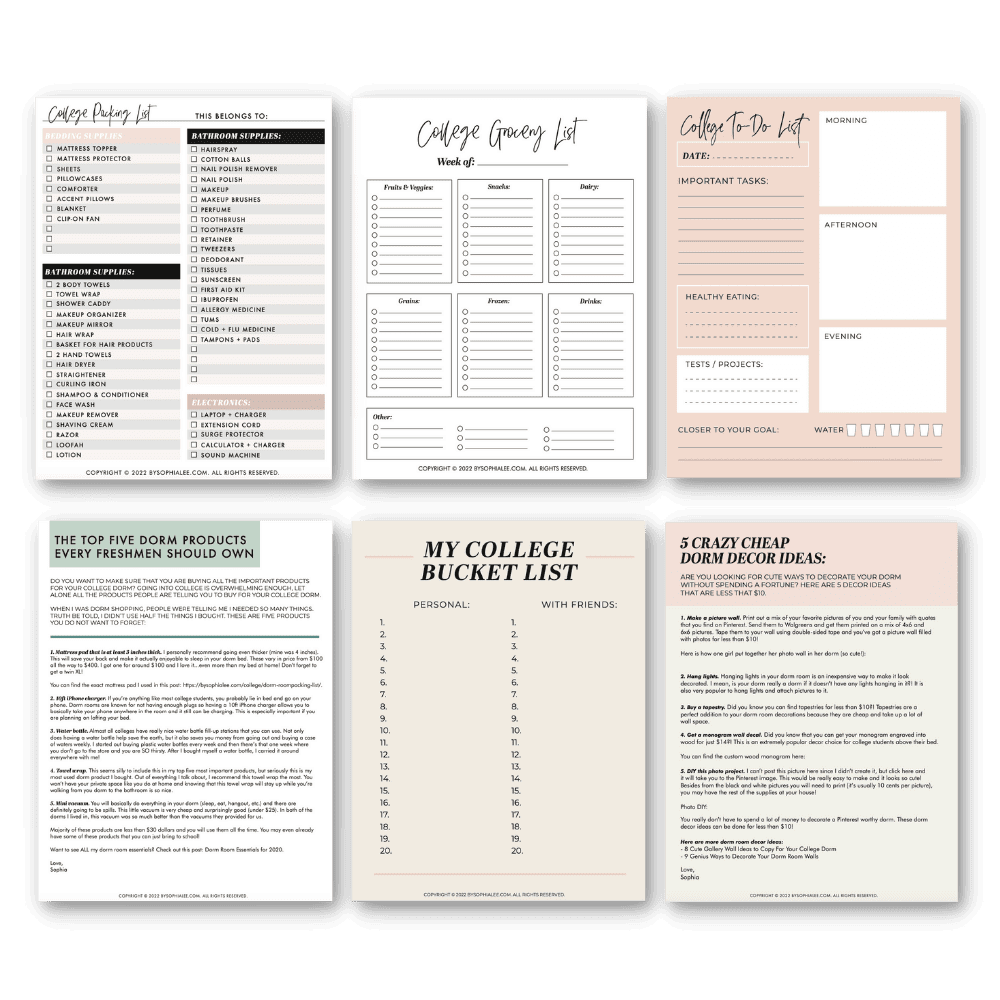 [tcb-script src="https://bysophialee.activehosted.com/f/embed.php?id=42″ type="text/javascript" charset="utf-8″][/tcb-script]