This bean slow cooker soup can be thrown together in just 10 minutes and is guaranteed to be a crowd-pleaser...or you can eat it all by yourself. Whatever you choose, I know you'll love this slow cooker meal.
Not kidding - I started making this bean slow cooker soup at 6:55am this morning and was done by 7:05am. You don't have to throw this in the slow cooker as early as I did but let me tell you, you can put this together so fast and have it completely done by the time you get home from work/school.
I love this soup for a few reason, one as mentioned above that its so easy but two it is REALLY cheap. You can get all of these ingredients for less than $10 (even including the meat) and it makes so many servings.
I usually freeze it and then microwave it over the next month and it tastes just as good as the first day you made it.
Here's some common questions for this bean slow cooker soup...
What type of ground turkey should you use?
This is completely personal preference. I personally use 99% lean ground turkey because I can't taste the difference between that and the 95% lean ground turkey. If you do use regular ground turkey, I would just make sure to discard the fat before adding into the slow cooker.
Can you used canned corn?
Yes, of course ;). I just bought the frozen corn because it was cheaper but you can definitely use canned corn. I would use one 15.25oz can of corn.
Can you freeze this?
This is one of my favorite things to do! This makes a big batch so last year when I was in college, I would freeze these in individual containers and then whenever I needed a quick dinner I would just throw it in the microwave. It was sooo good and made it super easy to meal prep.
What do you eat this with?
Here's two ways I suggest eating this...
1) Pour it into a bowl (like a soup) and top it with crushed tortilla chips. I like to top my bowl with a little more salt...it's delish (but I also like a lot of salt).
2) Make some brown rice (Trader Joe's frozen brown rice is the BEST) and put this bean slow cooker soup mixture overtop of it. When I eat it over rice, I don't bring as much of the liquid over so it's more like rice and a topping, not soup.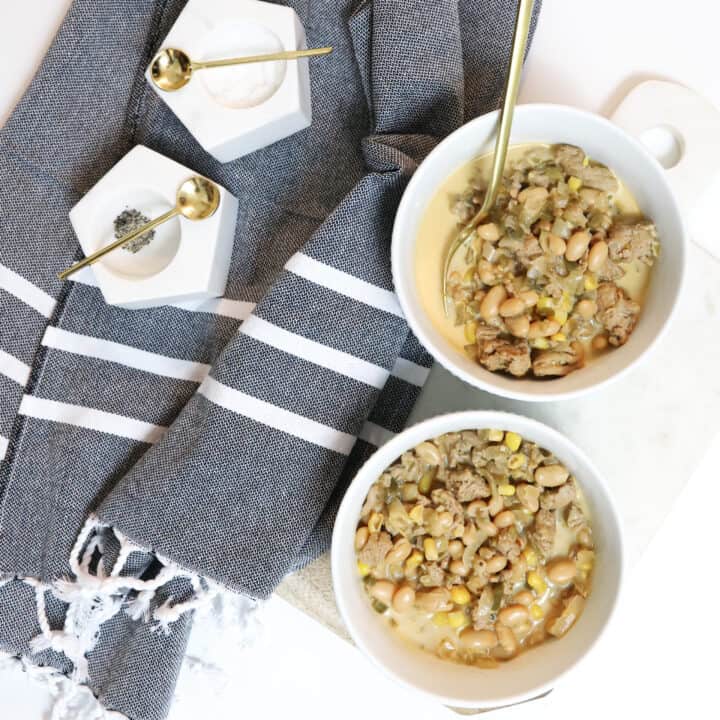 White Bean Slow Cooker Soup
Total Time:
8 hours
10 minutes
This soup practically makes itself with how easy it is. The perfect cozy soup that you can throw in the slow cooker in less than ten minutes in the morning and come back to after the long day with it completely done.
Ingredients
16 oz lean ground turkey
(2) 15.5-oz great northern white beans (drained)
(2) 4-oz cans jalapeno and/or green chiles 
1 cup corn 
1 onion (diced)
1 tbsp garlic
28oz chicken stock
1/2 cup heavy whipping cream
1 tbsp chili powder
1 tsp red pepper
1 tsp cumin
2 tsp salt and pepper (or to taste)
Instructions
In a pan, brown the ground turkey. I usually use 99% lean ground turkey so there's not much fat, but if yours has fat after you brown the turkey, get rid of the fat appropriately.
Add ground turkey to slow cooker.
Chop onion into small pieces and add to slow cooker.
Add beans, jalapenos/green chiles, corn, onion, garlic, chicken stock, and spices into the slow cooker. So basically, add in everything else besides the cream. Mix together.
Cook on high for 3-4 hours OR on low for 7-8 hours.
Right before you eat, mix in the heavy whipping cream.
I like to top mine with a little more salt (I love salt though so do it to your taste preference) and some crushed tortilla chips. Orrrr over a bed of rice.
Notes
I use 99% lean ground turkey.
I use frozen corn but if you prefer canned corn you can just get (1) 15.25 oz can. Make sure to drain this!
I used (1) 4-oz can of hot jalapeno and (1) mild can of green chiles and it was delish but you can intermix those depending on what you like heat-wise.
I freeze this!!! That way I can heat it up over the next two weeks and it tastes just as good as the day I made it.
Recommended Products
As an Amazon Associate and member of other affiliate programs, I earn from qualifying purchases.