This site contains affiliate links, view the disclosure for more information.
This salsa recipe-ish went viral on Tiktok in the height of quarantine and ever since it has been a staple in our lives. I say ish because I have tweaked it a little bit here and there to what we like but it is SO good.
I am a sucker for an easy recipe and I love that you can get all these ingredients for under $10 and the best part, you just throw everything into the blender. It truly takes 5 minutes to make. I like to chill mine in the fridge for 30 minutes but thats fully based on preference!
It makes A LOT so we usually make it for friends one night and then the rest of the week use it for recipes. It is delish to dip into with quesadillas.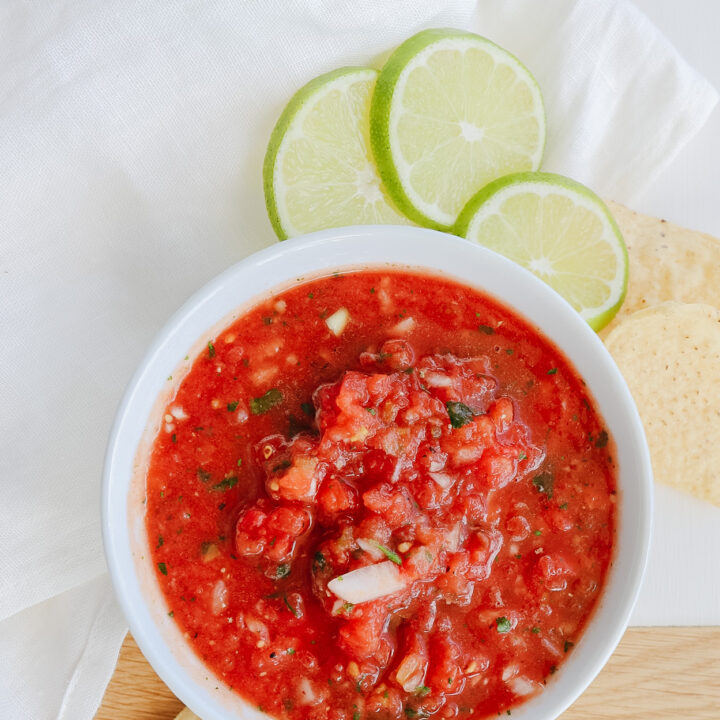 A Real Good Salsa Recipe
One of my favorite quick recipes to make for when friends and family come over. It makes a lot so you can continue using it for recipes throughout the week! Throw all the ingredients in a blender and you're good to go.
Ingredients
28oz Petite Diced Tomatoes
1/2 of a White Onion
1 Can Rotel
1 to 2 Jalapenos
1/2 a Lime
Handful of Cilantro
Spoonful of Garlic
Spoonful of Sugar
Salt + Pepper (to taste)
Instructions
In a blender, add all ingredients. I like to chop the white onion and the cilantro before adding them to the blender.
Give it a quick blend. The consistency is really to preference! I usually do two to three pulses and it gives me a great consistency.
Believe it or not, that's it!