We are finally *almost* hitting warmer temperatures in Wisconsin which means my brain starts going to summer decor. After a long winter, I am ready for some real plants and COLOR!
My apartment is unique because each unit has a front door…almost like a town house situation. I personally feel like your front door is the first impression into your home, so I always like to have it cute-cute.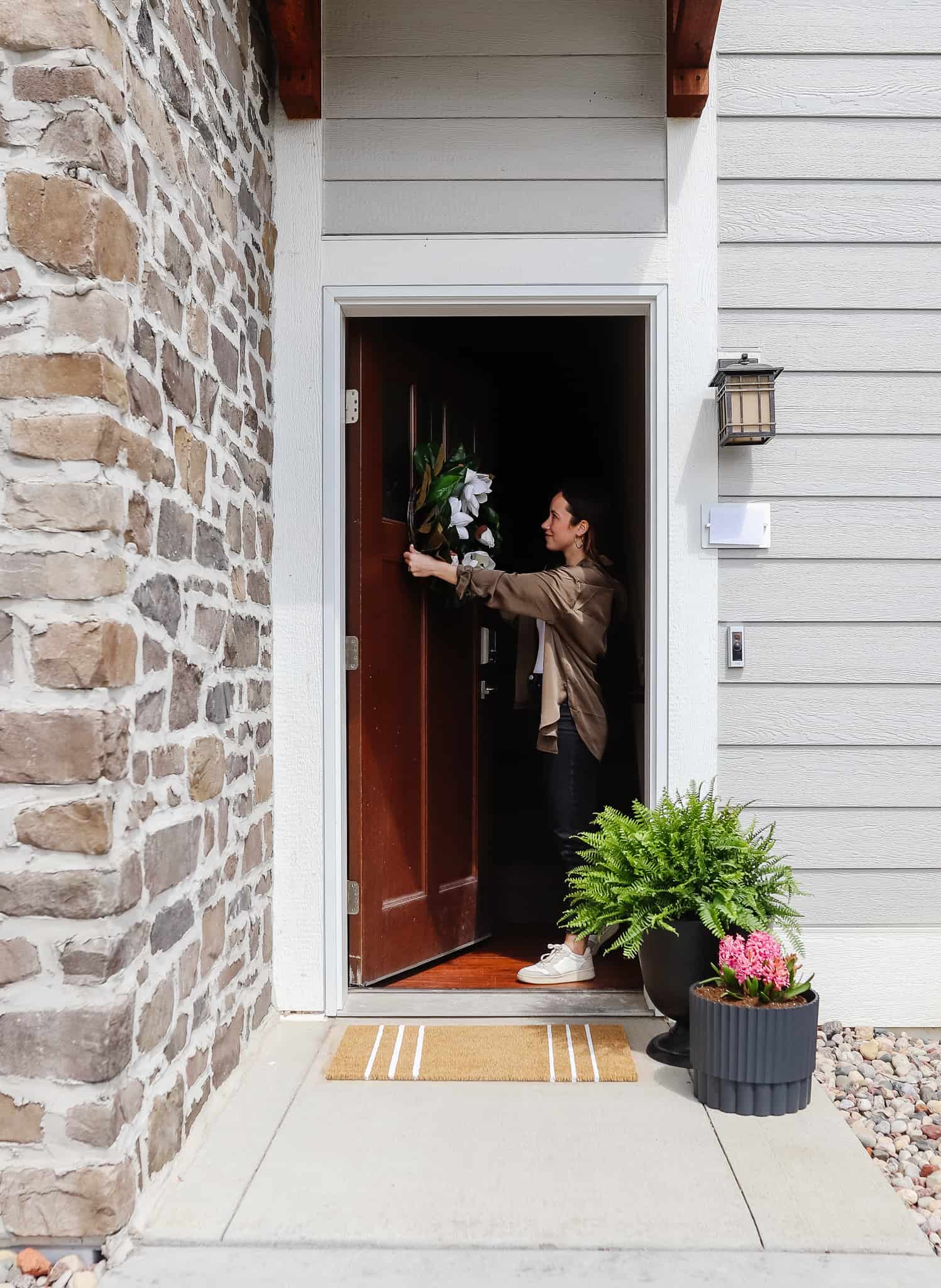 Here's the cute lil' front door. Honestly, I kill everything that comes my way (all you insta story people know what I am talking about 😅 poor baby fiddle leaf tree!) so I need to make sure that it is easy peasy to keep up. I'll probably get some hate from plant lovers on how I handled this potted situation. hah!
The green plant is a hanging plant from Home Depot that was $12 and I just caught the hanging part off of it and stuck it in the pot. The pretty pink flower was even cheaper (I want to say $8!). I have a little hack (you can see it in this Tiktok!) where I cut a pool noodle and fit in the bottom of the pot. I then place the plastic flower pot the flowers come in on top of the pool noodle. The rest of it gets filled with dirt to create the illusion of a nice planted flower. Fake it til' ya make it in full effect ;).
You know I love a good neutral color palette, so I found some cure neutral options that will complement anyone's porch! I also threw together some mockups so you can figure out how to combine all of these pieces for the perfect front porch look.
This post is all about summer front door decor.
THE BEST SUMMER FRONT DOOR DECOR:
MY FRONT PORCH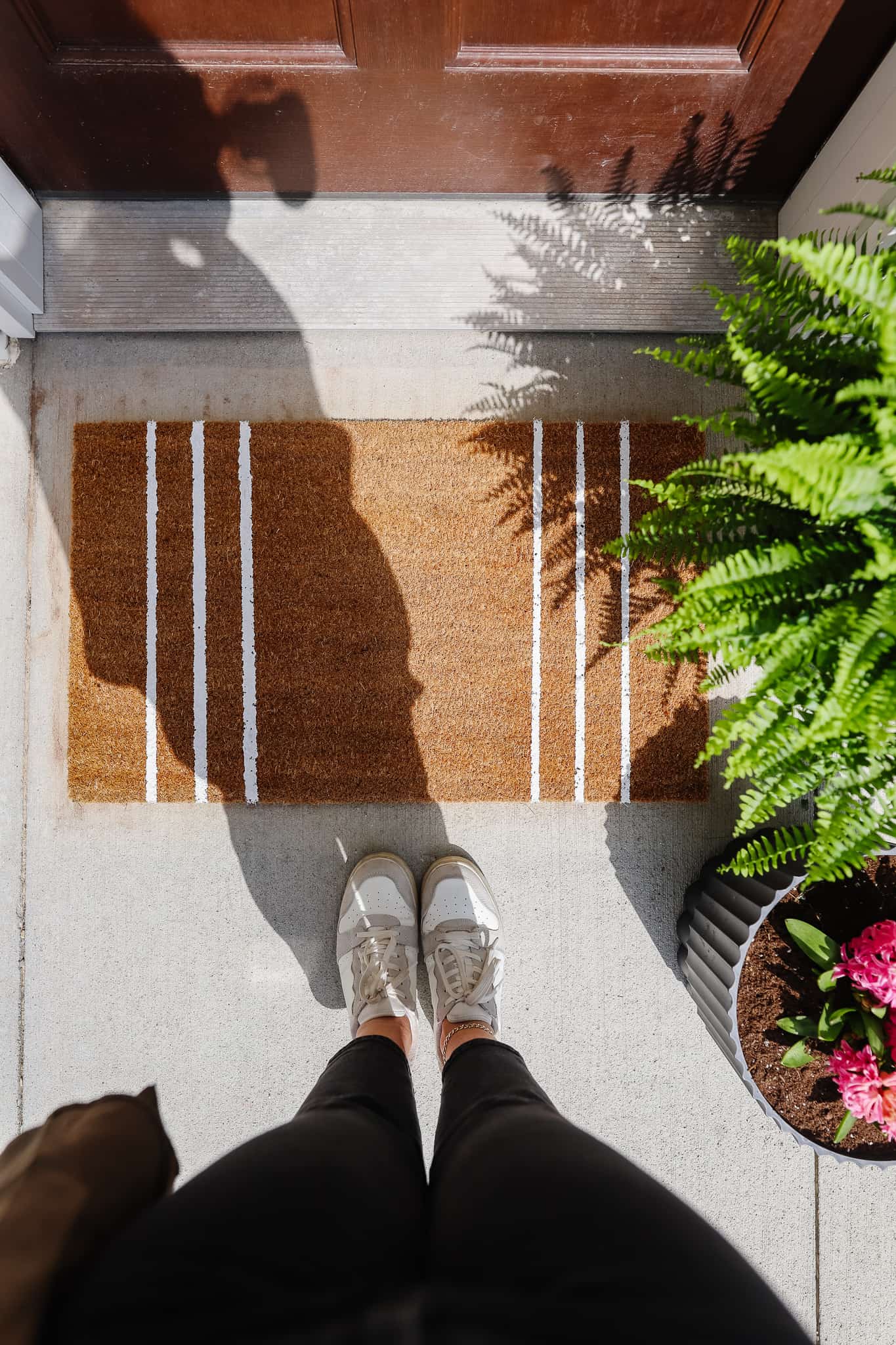 The doormat was a last minute DIY situation. I have this doormat ordered that I am obsessed with, but sadly its backordered! No idea when I'll get it, so I figured I would buy a $10 door mat from Target and try to copy the backordered one. I just used painters tape and white acrylic paint. I've used this method for my halloween doormat for the last two years and it lasts all season (but keep reading for the real holy grail of it surviving).
It's definitely not perfect, but it's pretty dang close to the one I ordered and WAY cheaper!
One of my favorite hacks I've discovered from Tiktok is this Flex Seal Spray that will keep your doormats looking brand new ALL season. It's crazy! I've used it on the doormats I've had since I discovered it and will probably now forever use it.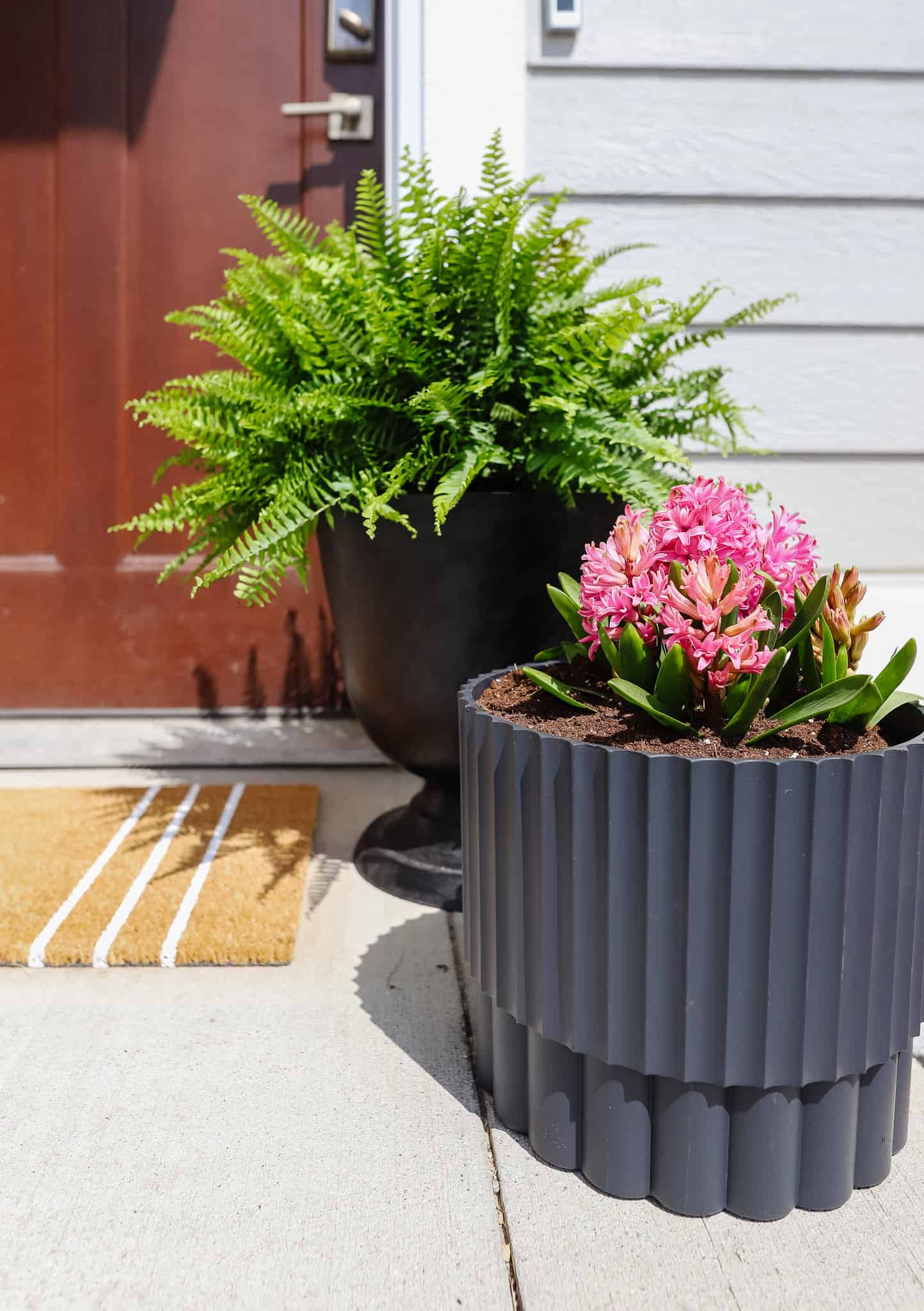 Target has been absolutely killing it with the pots lately. I ordered this one online and was surprised that it was plastic when I picked it up. Definitely my favorite thing out there.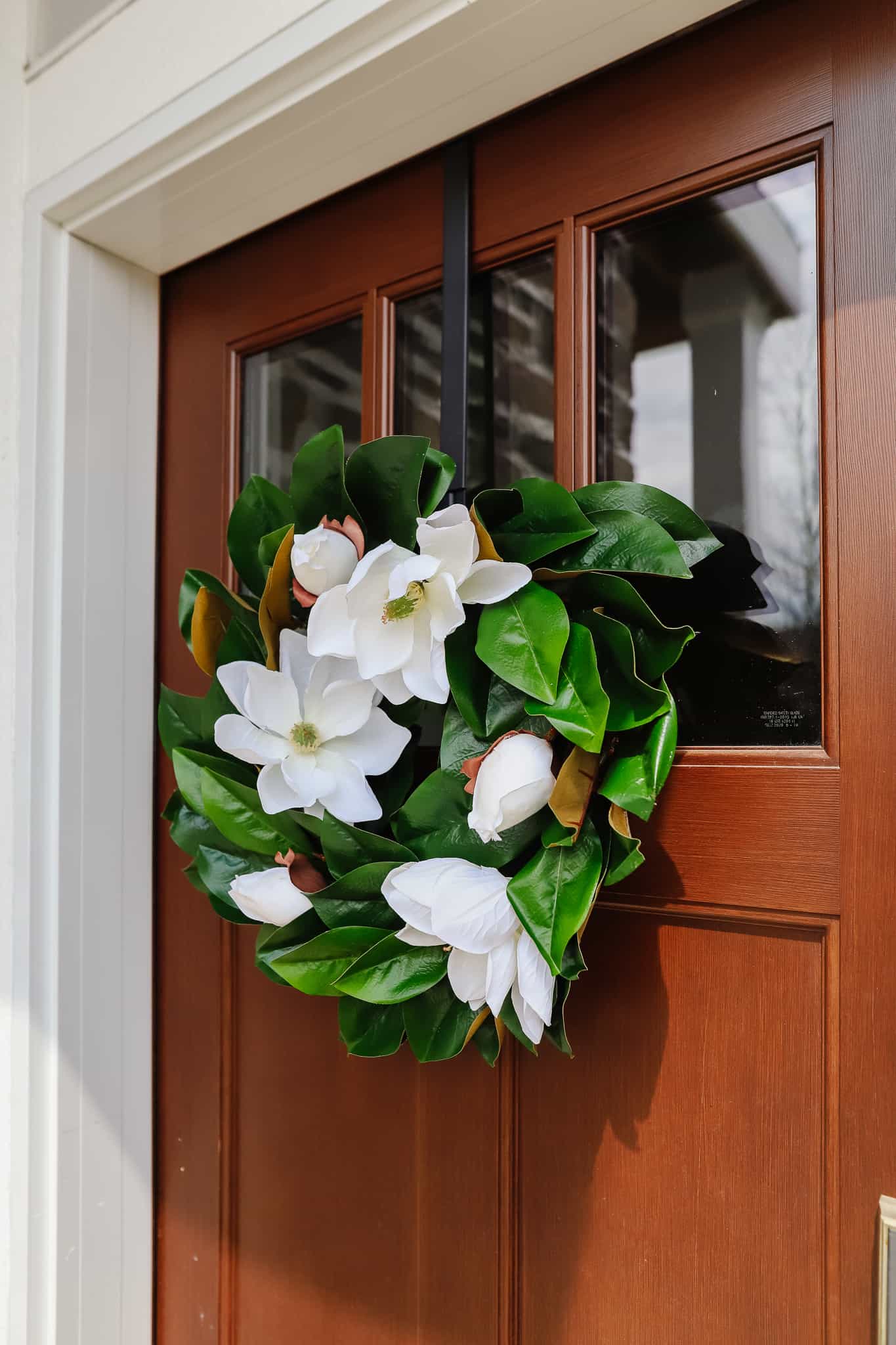 This wreath is from Afloral. Honestly, I'm debating if I like it or not…it kind of looks really fake in real life. I'm going to let this one marinate for a few days and then decide if I want to return it or not ;). It WAS a really good price though compared to the other wreaths I was looking at!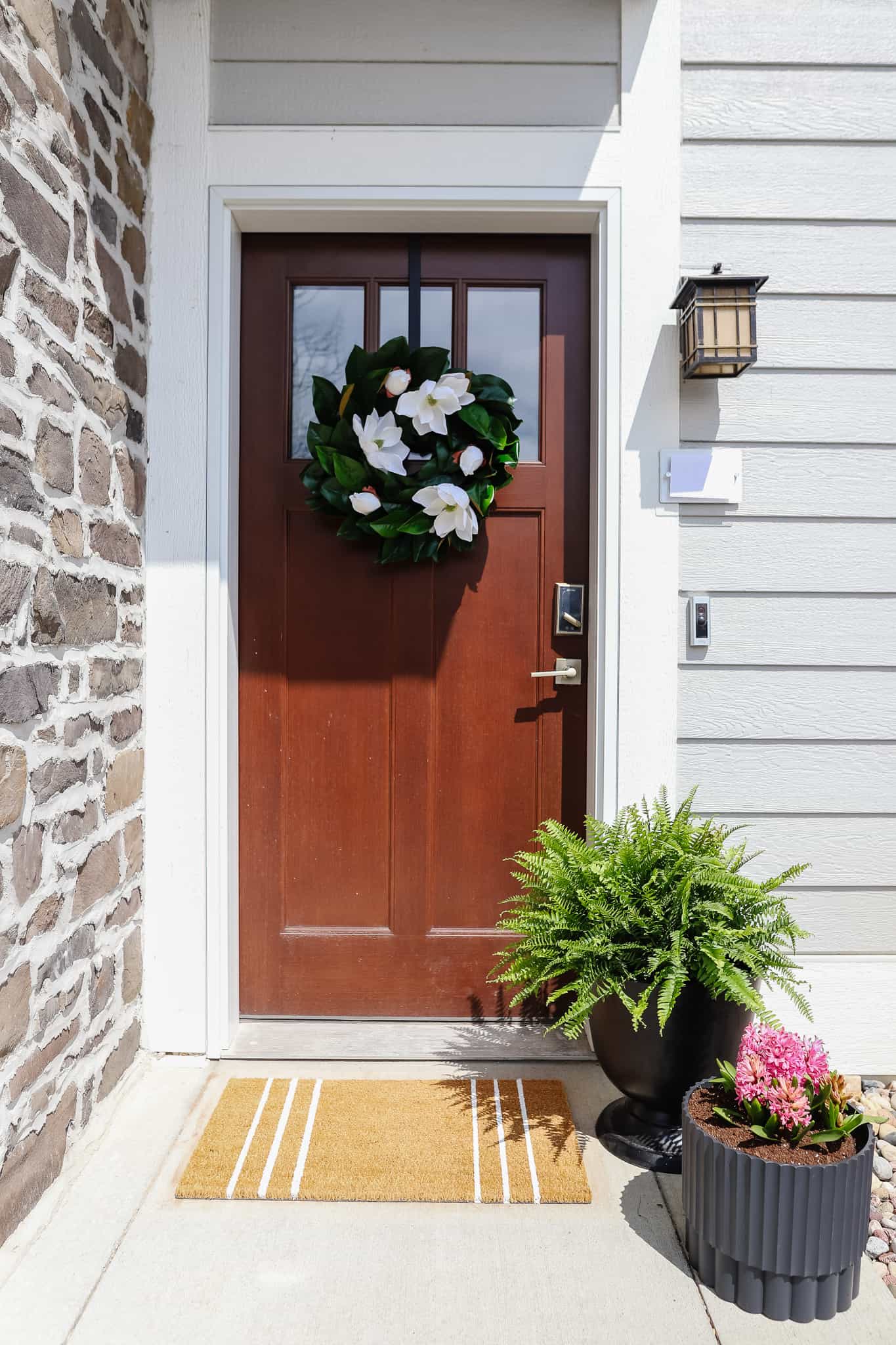 DOORMATS
Is it just me, or does it seem like every doormat is so tacky? I searched high and low for doormats that looked classy and homey, and these were by far my favorites! I ended up ordering one for myself because I was so impressed by Pottery Barn's selection! Now, we just have to wait to see how long it takes for it to come ;). Click through my favorites below to find one for your summer front porch!
[tcb-script type="text/javascript"]!function(w,i,d,g,e,t){d.getElementById(i)||(element=d.createElement(t),element.id=i,element.src="https://widgets.rewardstyle.com"+e,d.body.appendChild(element)),w.hasOwnProperty(g)===!0&&"complete"===d.readyState&&w[g].init()}(window,"shopthepost-script",document,"__stp","/js/shopthepost.js","script")[/tcb-script]

[tcb-noscript]JavaScript is currently disabled in this browser. Reactivate it to view this content.[/tcb-noscript]
MAILBOXES
Another great way to elevate your front door decor is to set a mailbox post that complements your doormat and overall style. A stylish mailbox can add a charming touch to your home's exterior and make your mail delivery more convenient. Consider adding a fresh coat of paint to your mailbox post or adding a decorative flag to complete the look. With the perfect doormat and mailbox, your front porch will be the envy of the neighborhood!
[tcb-script type="text/javascript"]!function(w,i,d,g,e,t){d.getElementById(i)||(element=d.createElement(t),element.id=i,element.src="https://widgets.rewardstyle.com"+e,d.body.appendChild(element)),w.hasOwnProperty(g)===!0&&"complete"===d.readyState&&w[g].init()}(window,"shopthepost-script",document,"__stp","/js/shopthepost.js","script")[/tcb-script]

[tcb-noscript]JavaScript is currently disabled in this browser. Reactivate it to view this content.[/tcb-noscript]
WREATHS
I have a pretty good wreath collection, but of course, I had to get a new one for spring and summer. I wanted something simple and classic that would match everything and look good year-round. I ended up choosing an Afloral wreath with magnolia leaves and flowers. Now that I have it up I'm debating if I like it or not…as I said, I am going to let it marinate for a hot second and then decide ;).
[tcb-script type="text/javascript"]!function(w,i,d,g,e,t){d.getElementById(i)||(element=d.createElement(t),element.id=i,element.src="https://widgets.rewardstyle.com"+e,d.body.appendChild(element)),w.hasOwnProperty(g)===!0&&"complete"===d.readyState&&w[g].init()}(window,"shopthepost-script",document,"__stp","/js/shopthepost.js","script")[/tcb-script]

[tcb-noscript]JavaScript is currently disabled in this browser. Reactivate it to view this content.[/tcb-noscript]
PLANTERS & POTS
If you have room on your porch, I always think it looks nice to have a potted plant or two to add some life to the space. I have had this black pedestal planter for a while now, and it looks so cute for all seasons; I have even made a little pumpkin tower on it for fall. This summer, I am pairing it with a small black pot from Target that adds a fun texture, but I have always wanted to try white pots too! For my future home, I think I will have pots that look very weathered and beautifully aged on my front porch!
[tcb-script type="text/javascript"]!function(w,i,d,g,e,t){d.getElementById(i)||(element=d.createElement(t),element.id=i,element.src="https://widgets.rewardstyle.com"+e,d.body.appendChild(element)),w.hasOwnProperty(g)===!0&&"complete"===d.readyState&&w[g].init()}(window,"shopthepost-script",document,"__stp","/js/shopthepost.js","script")[/tcb-script]

[tcb-noscript]JavaScript is currently disabled in this browser. Reactivate it to view this content.[/tcb-noscript]
PORCH ACCENTS
If you have a little extra space on your porch, you may want to add another accent, like a lantern or some form of signage. I linked a ton of cute lantern options below. I have very simple black metal ones from Target that I really like. I also included a super pretty wreath hanger!
[tcb-script type="text/javascript"]!function(w,i,d,g,e,t){d.getElementById(i)||(element=d.createElement(t),element.id=i,element.src="https://widgets.rewardstyle.com"+e,d.body.appendChild(element)),w.hasOwnProperty(g)===!0&&"complete"===d.readyState&&w[g].init()}(window,"shopthepost-script",document,"__stp","/js/shopthepost.js","script")[/tcb-script]

[tcb-noscript]JavaScript is currently disabled in this browser. Reactivate it to view this content.[/tcb-noscript]
FRONT PORCH IDEAS
If you're having trouble imagining how this all comes together, I made some mockups with some cute combinations below. You should definitely copy these summer front door decor ideas on your own porch and send me pics when you do!
mat with black accents + black pots + magnolia flower wreath
I love this simple look with the black accents. The black detail in the door mat pair so nicely with the pots.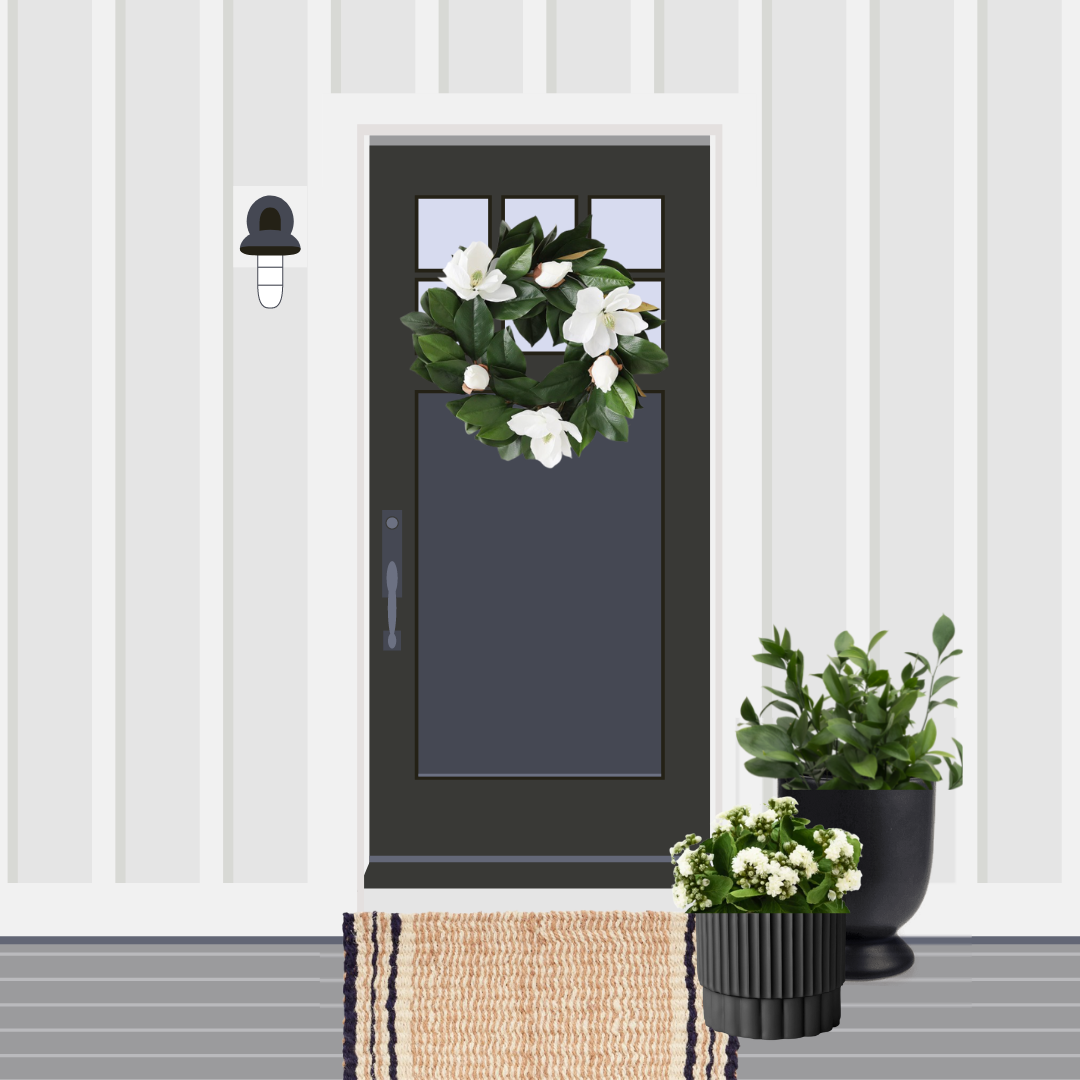 tulip wreath + cement pot + chunky doormat + lantern
This warm look is perfect for spring. The white tulips pair so well with the white accents in the jute doormat. Also, obsessed with the lantern!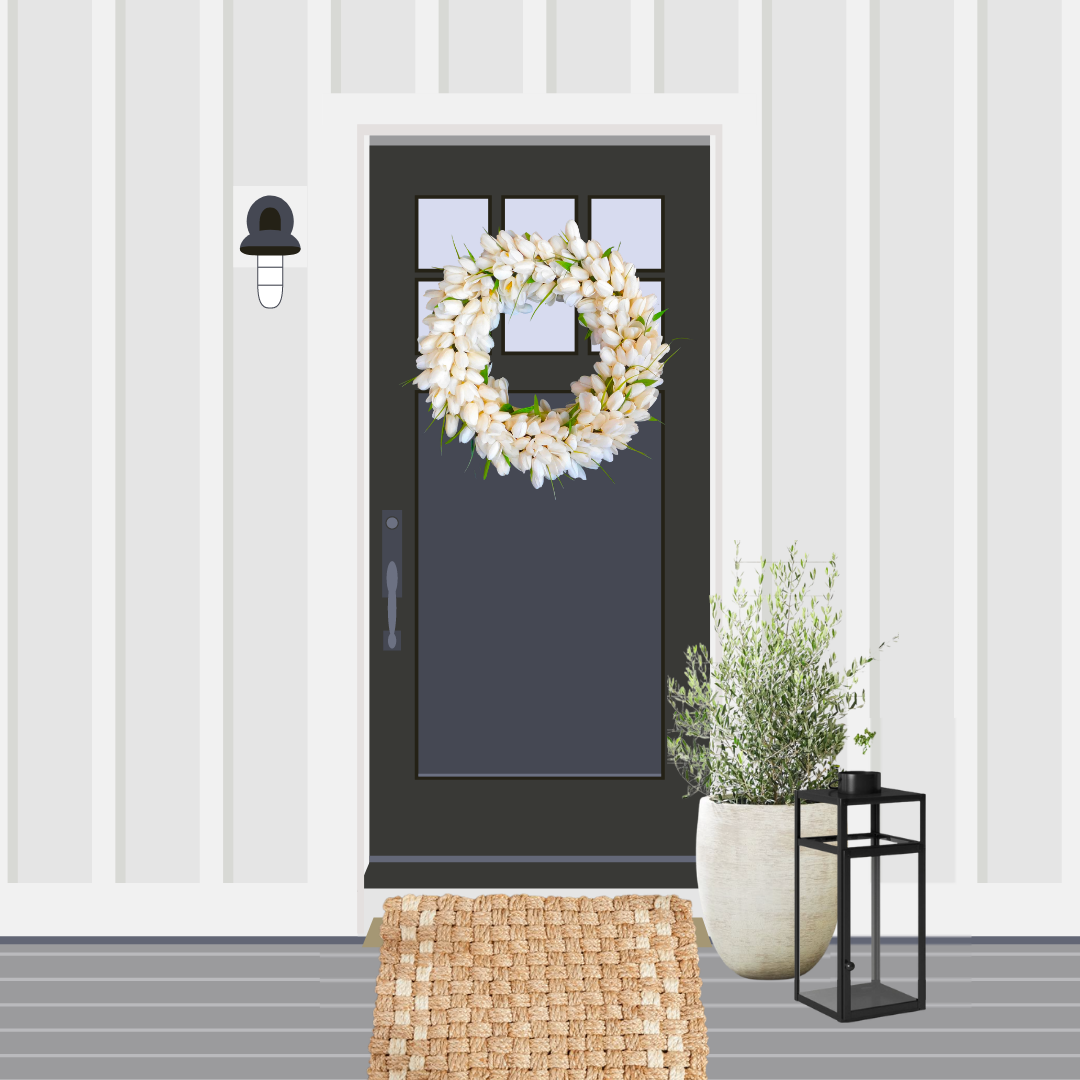 gold pots + white striped mat + preserved olive wreath
How cool and trendy are these gold pots? I am obsessed with this doormat, I literally ordered it for my own front porch. Also, shoutout to Target for the best olive wreath!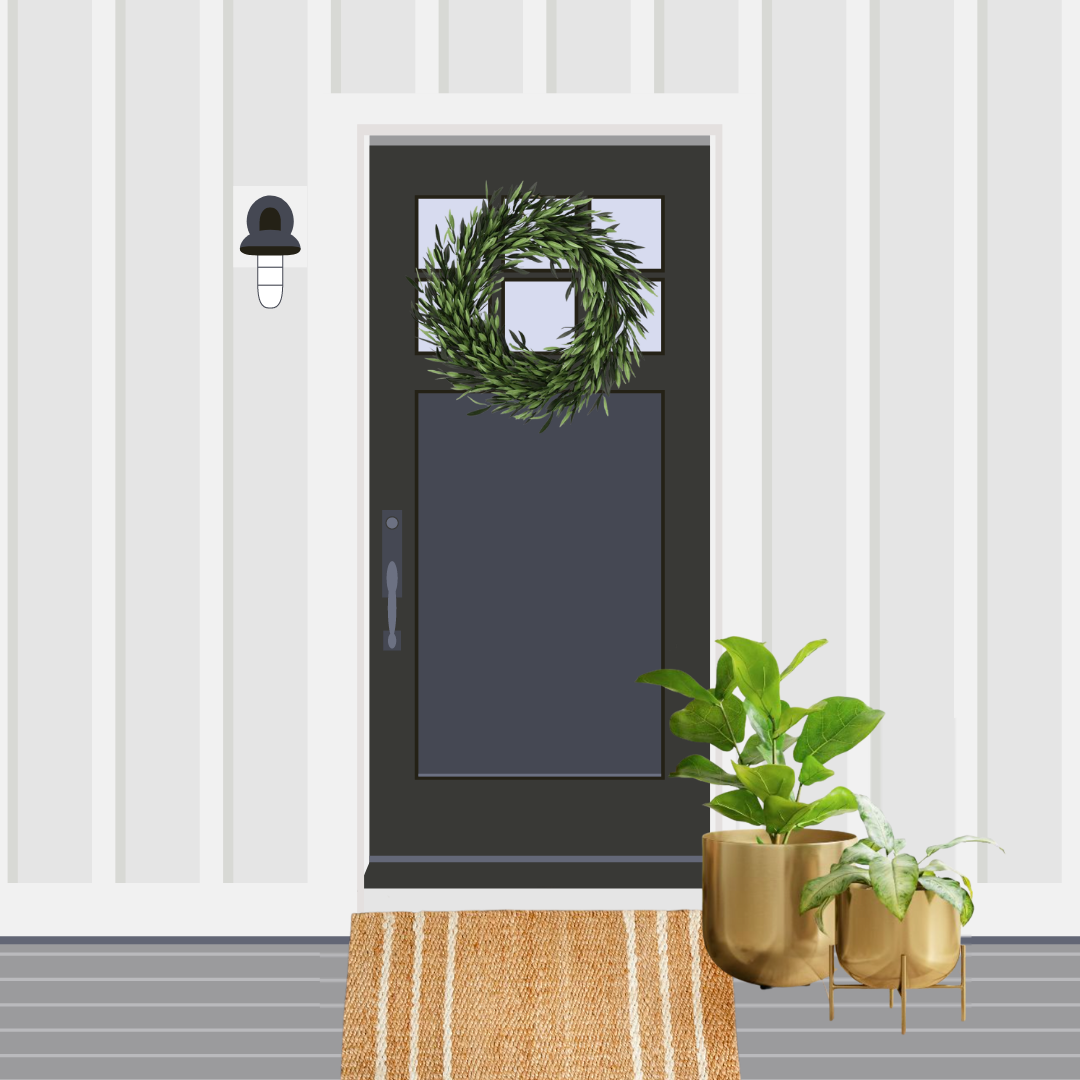 white pots + white tulip wreath
+ woven jute doormat
This is such a light and bright front porch, I love it! The white tulips match so well with the white planters, and the chunky doormat adds the best texture!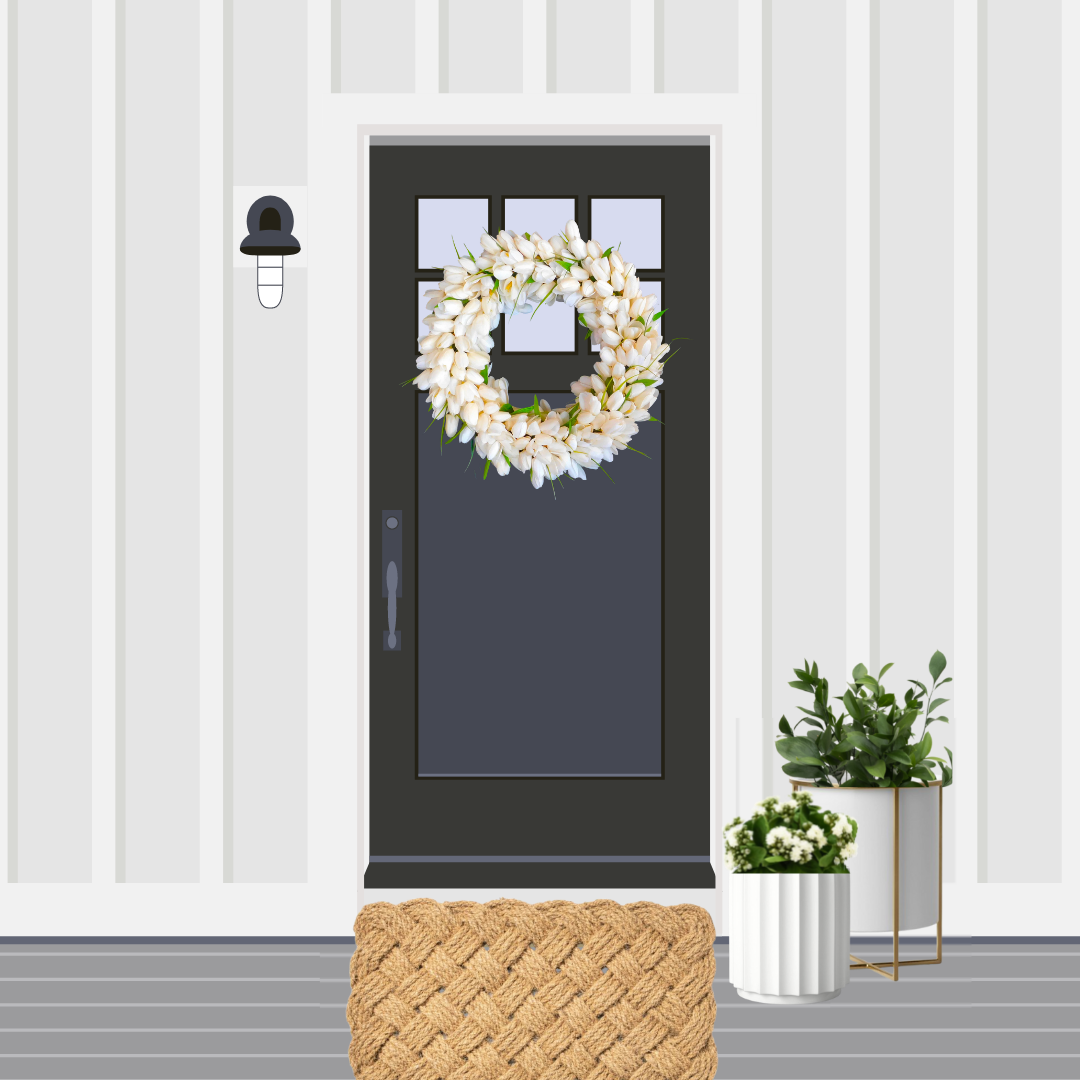 This post was all about summer front door decor.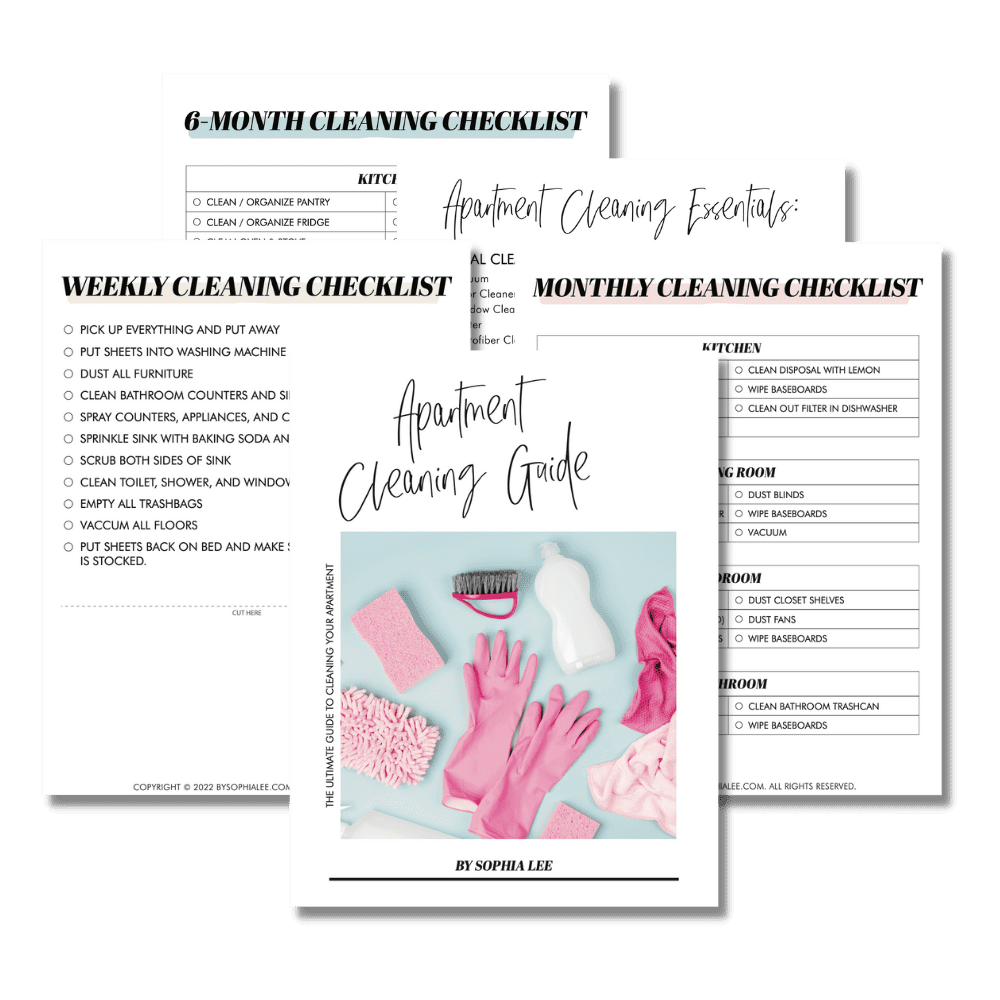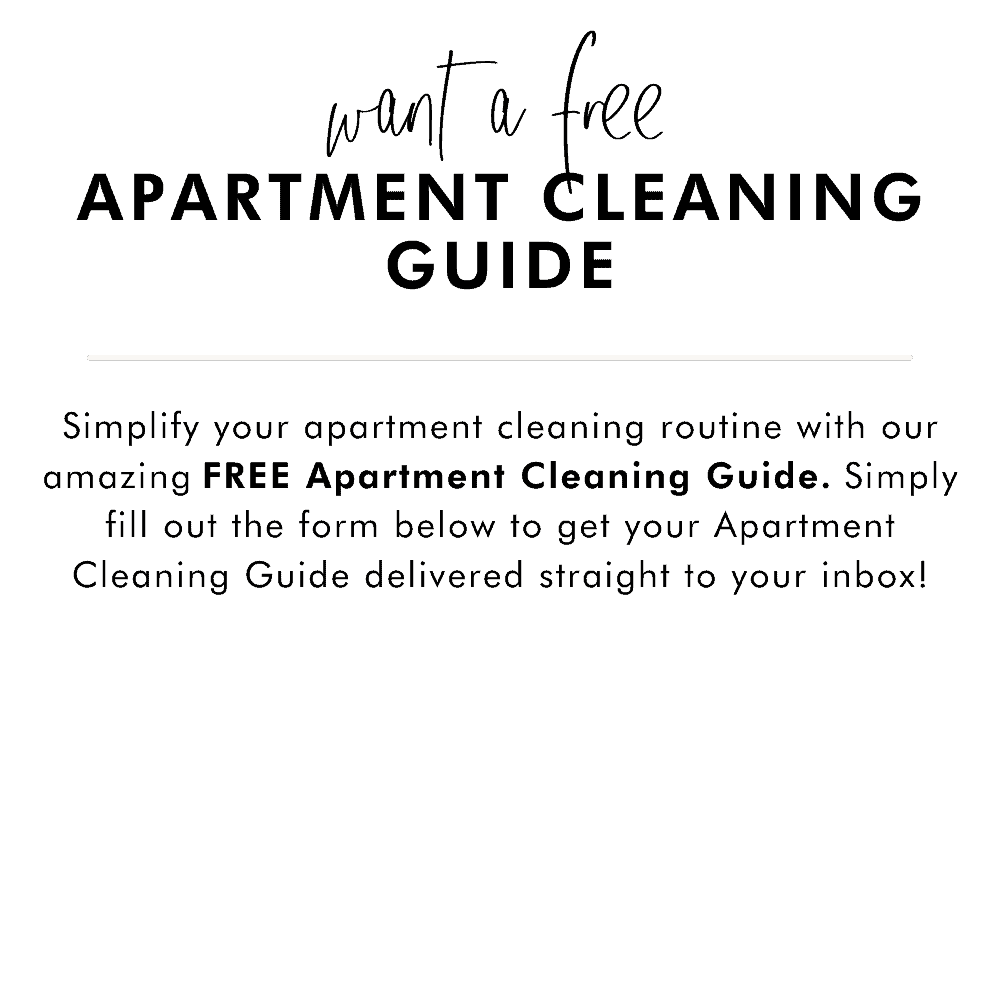 [tcb-script src="https://bysophialee.activehosted.com/f/embed.php?id=38″ type="text/javascript" charset="utf-8″][/tcb-script]