Get ready for the world's best nachos...these are GOOD. I don't know why, but I was dreaming up these sheet pan nachos for awhile now and knew they would make the perfect appetizer.
I love making tortilla soup in the crockpot and the flavor it has. I decided to essentially make that but put less chicken broth in it, drain the mixture once it's done cooking, and top it on a bed of chips.
These were gone in less than 30 minutes and were approved by some pretty tough food critics ;).
I love making this in the slow cooker because it's one of those things that you can easily throw in canned goods (only think that isn't canned is onion and chicken) and then walk away. When you come back, it takes 15 minutes to actually set everything up and just looks a lot more intense than it actually is.
I am convinced that Qdoba has the best queso in the world so instead of getting a can of queso, I had Ben pick some up and we drizzled it on top of the chips + chicken mixture. o - m - g. SO GOOD!
Also, if your store carries Donkey Chips - use them! I think they are the best chips but they're also thick. The shredded chicken mixture retains a little juice so I don't think thin chips would be the way to go for this.
Next date night I think I am going to just make this for dinner!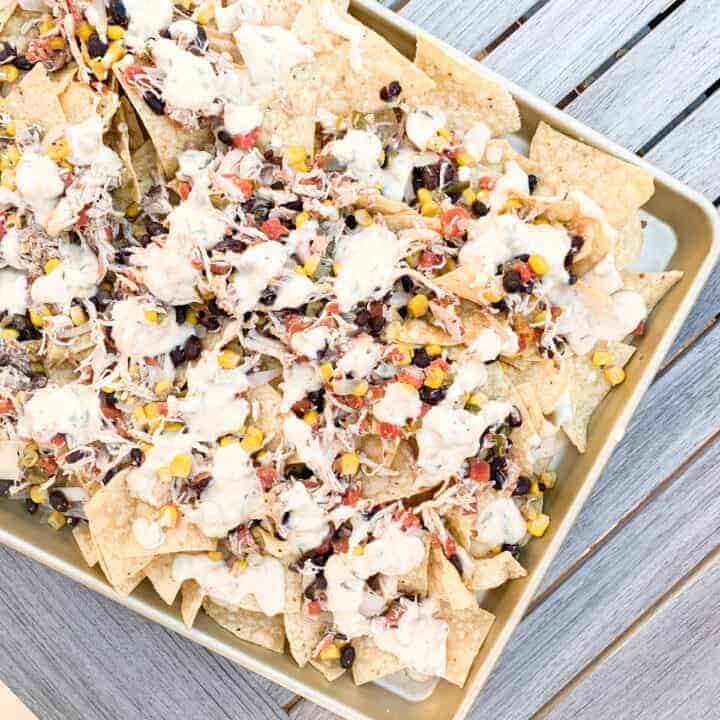 World's Best Sheet Pan Nachos
Total Time:
4 hours
15 minutes
These sheet pan nachos are one of those appetizers that you can guarantee will be fully gone by the end of the night. It's really easy to make and full of flavor. Your family and friends will be obsessed (and impressed)!
Ingredients
2 Chicken Breasts
1 Yellow Onion
(2) 10oz Cans Rotel
2 Diced Jalapenos (I did one can mild and one can hot!)
1 Can of Corn
1 Can of Black Beans
3/4 Cup Chicken Broth
1 Tablespoon Chili Powder
2 Teaspoons Ground Cumin
1/4 Teaspoon Red Pepper Flakes
Salt + Pepper
Bag of Tortilla Chips (Donkey Chips are my fav!)
Queso (I bought some at Qdoba and it was delish but you could just buy a can!)
Optional: 4oz Cream Cheese (room temp)
Instructions
Throw all the ingredients into the crockpot besides tortilla chips, cream cheese, and queso. I like to place veggies first, then put the chicken down, and put spices on top of chicken.
Mix around everything.
Place crockpot on high for 3-4 hours. You should be able to tell at 3 hours by pulling the chicken out to see if it's cooked all the way through.
After the 3-4 hours, shred the chicken. If you want to easily shred your chicken, throw it in the mixer!
Mix in room temperature cream cheese. You want it room temp so that it doesn't get clumpy. If it's not, stick it in the microwave for 30 secs!
Add in shredded chicken and mix everything around.
Drain the mixture so the liquid is removed (hear me out on this one haha).
Preheat oven to 400 degrees.
Place chips on a sheet pan. Sprinkle chicken mixture all over chips. Drizzle queso on top.
Place in the oven for 5-10 minutes. Watch this! You want the chips getting crispy but not burned!
Enjoy!