Alright girls! (and guys
). I have a dinner for YOU!
We had a little flatbread party last night. I had to use up some ingredients before they went bad and created a dinner we will be going back to over and over again.
We made a Mexican-style flatbread and a bruschetta flatbread. I'm going to be honest, weird combo but on their own they were so good.
Perfect as a summer meal, too! I keep thinking how good this would be grilled. Delish!
Here's the recipe for the Mexican-style flatbread: Mexican Flatbread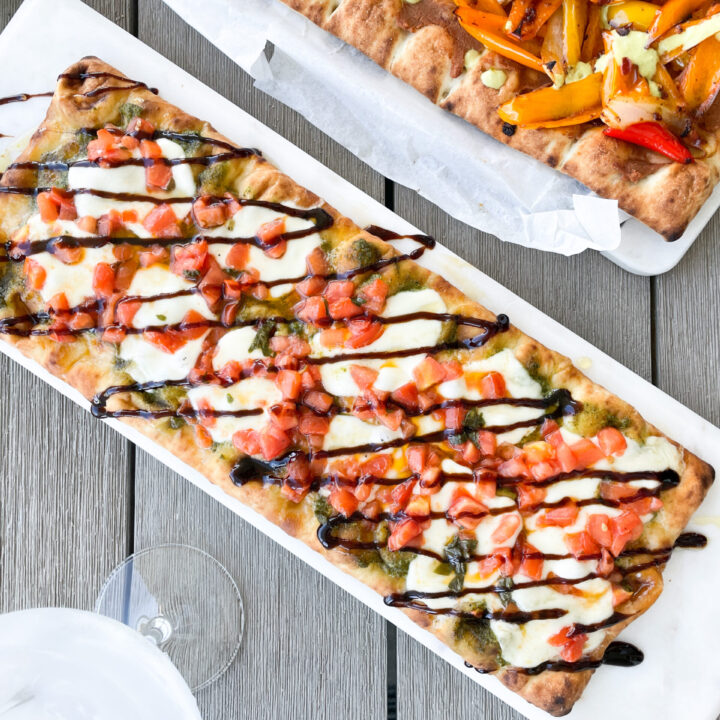 Bruschetta Flatbread
Ingredients
Flatbread
Pesto
Mozzarella Log
Bruschetta (I buy at Trader Joe's)
Honey
Balsamic Reduction
Instructions
Lay flatbread out on parchment paper.
Spread a thin layer of pesto on flatbread (think of this as the pizza sauce of the flatbread).
Cut thin slices of fresh mozzarella cheese.
Using a fork, spread out bruschetta on top of cheese (I say fork because TJ bruschetta can be super oily).
Place in 425 degree oven for 10 minutes (or until cheese has melted).
Drizzle honey and balsamic reduction on top of flatbread.
ENJOY!
Notes
This would be super good grilled, too!!