This slow cooker chicken tacos recipe is insanely easy...like two ingredients easy. You pop it in the slow cooker and basically forget about it for the rest of the day.
I learned this recipe from a family I babysat for during college and was fascinated that two chicken breasts and a can of salsa could make such good tacos. I've been making it ever since and am always experimenting with different kinds of salsa.
I eat this either like traditional tacos or I'll put this over some rice and do it burrito bowl style. It's delish
.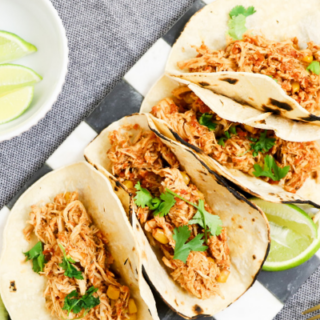 THE WORLD'S EASIEST SLOW COOKER CHICKEN TACOS
Total Time:
4 hours
2 minutes
This slow cooker chicken tacos only require two ingredients...not kidding. It's so fast and perfect to put in taco shells or eat over rice.
Ingredients
2 Chicken Breasts
1 Can of Salsa
Optional: 1 Cup Corn
Optional: 1 Chopped Onion
Sides + Toppings: Tortilla, Rice, Beans, Sour Cream, Cheese, etc.
Instructions
In your slow cooker, place the chicken breasts down and put the entire can of salsa over top.
Optional: Add in onions and corn.
Cook on high for 3-4 hours or low for 7-8 hours.
Shred chicken. I like to throw it in my mixer for the easiest shred ever (and no forks scraping the bottom of the dish...yuck!).
ENJOY!
Notes
No, seriously, that's it. SO EASY.
Recommended Products
As an Amazon Associate and member of other affiliate programs, I earn from qualifying purchases.