Alright girls! (and guys
). I have a dinner for YOU!
We had a little flatbread party last night. I had to use up some ingredients before they went bad and created a dinner we will be going back to over and over again.
We made a Mexican-style flatbread and a bruschetta flatbread. I'm going to be honest, weird combo but on their own they were so good.
Perfect as a summer meal, too! I keep thinking how good this would be grilled. Delish!
Here's the recipe for the bruschetta flatbread: Bruschetta Flatbread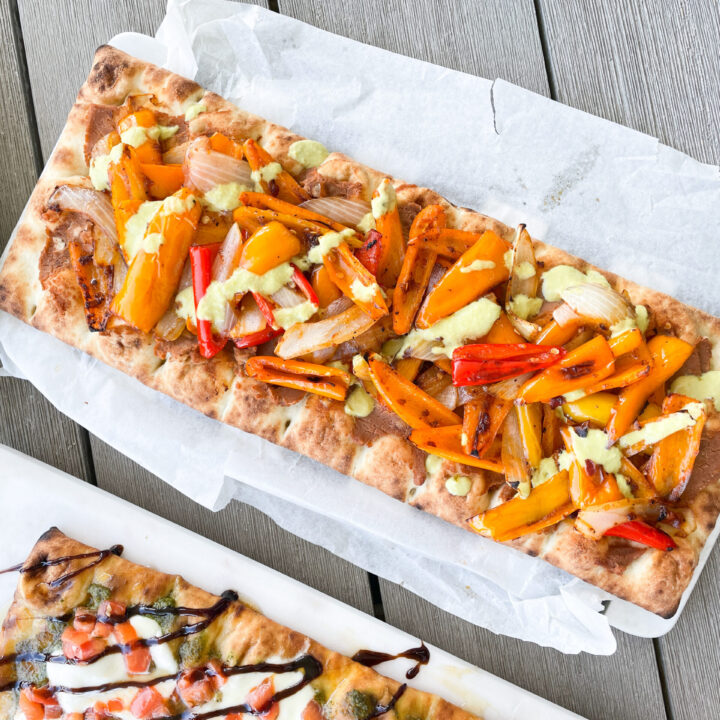 Mexican Flatbread
Ingredients
Flatbread
3 Bell Peppers (the more colors the prettier it is 😜)
Onion
Taco Seasoning
Refried Beans
Jalepeno Sauce (I get mine at Trader Joes but I think a lot of grocery stores carry something similar)
OPTIONAL: Chicken. Adding some rotisserie chicken on top would be delish.
Instructions
Caramelize bell peppers and onions in a frying pan. I add some oil into pan and have it get hot while I cut the bell peppers and onions. Once peppers and onions are added, add a packet of taco seasoning. You want them to get a little burnt on the bottom so put the stove on medium and try not to mix them too often! That's what gives it the charred look.
While that cooks, we can start on the actual flat bread. Lay flatbread on parchment paper.
Do a thin spread of refriend beans on top of flatbread (think pizza sauce but refried beans style).
Add cooked onions and peppers on top.
Throw in 425 degree oven for 10 minutes.
Drizzle with jalapeno sauce.
ENJOY!
Notes
This would also be sooo good grilled!