I whipped this dinner up the other night and it was GOOD. Talk about the perfect mix of not being too heavy of food but feeling full.
It's such an easy weeknight meal that you can easily throw together. I had everything I needed for this recipe at home besides the chicken, lemon, and broccoli which was nice because it also felt like a really cheap meal.
You'll have to let me know you like it (even though I know you will ;).
PS - The burned parts of the broccoli are the BEST!
PPS - I realize I spelled broccoli wrong in the recipe card and I can't figure out how to change it. Dang it.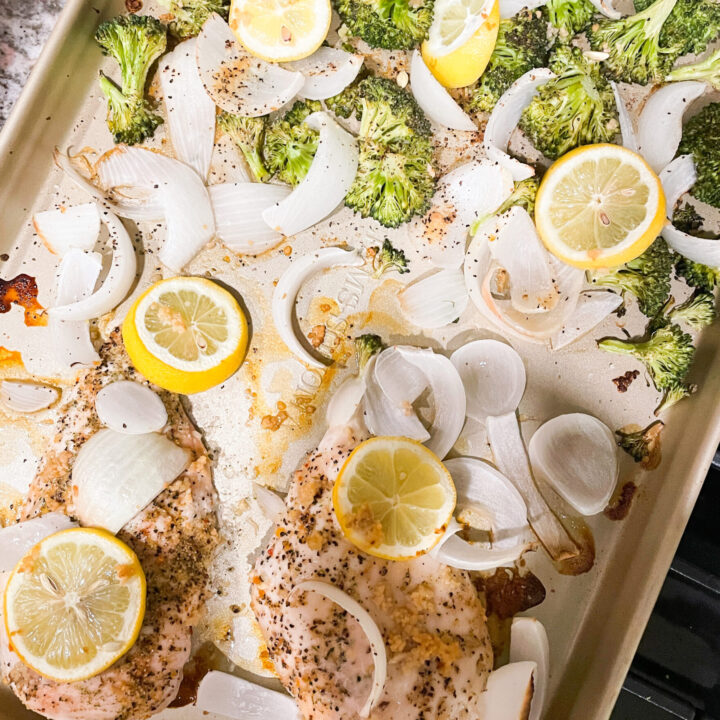 ONE-PAN LEMON CHICKEN DINNER
Ingredients
2 chicken breasts
2 lemons
1 head of brocolli
1 sweet onion
Chicken seasoning (I used Mrs.Dash Original Blend)
Minced Garlic
Honey
Olive Oil
Salt + Pepper
Instructions
Preheat oven to 375.
Cut the brocolli into small pieces and put on one side of the pan. Drizzle olive oil and spring with salt, pepper, and garlic powder (or minced garlic - this is preference for whatever is easiest). Mix it up so the brocolli gets evenly coated.
On other side of pan, lay out two chicken breasts. Sprinkle with chicken seasoning. Drizzle honey over the top of the chicken (I promise, it's yummy!).
Cut onion and place around pan.
Squeeze lemon juice over the chicken and brocolli.
Cut the other lemon into thin pieces and lay all over the pan.
Cook in oven for 20-ish minutes based on how large your chicken breast is.