This site contains affiliate links, view the disclosure for more information.
Welcome to the BSL office! I am still pinching myself about it…
I started By Sophia Lee when I was a sophomore in college and spent every single day working from my dorm room, then my college apartment, and then coffee shops. As the team & business grows, it was time to get ourselves an office. Sarah, BSL's head of operations, and I had so much decorating this space.
We had been looking at offices for about 3 months and I randomly went into this space. There was one office space open and I swear to you, it was like divine intervention. It's a corner unit in a building built in the 1800's. From the windows to the beams, I couldn't love it more! When Sarah and I looked at it for the first time we had to keep our excitement down and when we got into the car we were like "holy sh*t, is that place real?!".
However, if you find yourself in Denver and are on the hunt for your ideal workspace, a dedicated commercial property management team from the Warehouse Hotline can turn your vision into reality. Much like the excitement you felt when you first stepped into your new office, working with the right commercial real estate brokerage in Denver can ignite that same passion for your business space. With their expertise, you can secure a workspace that not only accommodates your current needs but also fosters an environment where your business can flourish and your team can thrive. Let your next office space be a testament to your dreams and ambitions, facilitated by professionals who understand the importance of finding the perfect commercial space tailored to your unique requirements.
We cleaned it up, painted it, and spent hours building furniture to make this place our own.
So, you should also invest considerable time and effort in transforming your new office space into a reflection of your brand and vision. From selecting the perfect color scheme to arranging the layout, every detail should be carefully considered. One essential aspect of creating a functional and inspiring workspace is choosing quality office furniture. You definitely want to have furniture that not only matches the aesthetic of the office but also provides comfort and durability for your team. With meticulous research and deliberation, you should handpick each piece, ensuring that it meets your standards for both style and functionality. The result will be a beautifully designed office adorned with high-quality office furniture that enhances productivity and fosters a pleasant working environment.
Here's a video tour of the office:
Thanks to Zach Steinbach Co. for recording this video!! (we love Zach!!)
Here's what the office looked like when we first saw it…
And here's what the office space looks like now…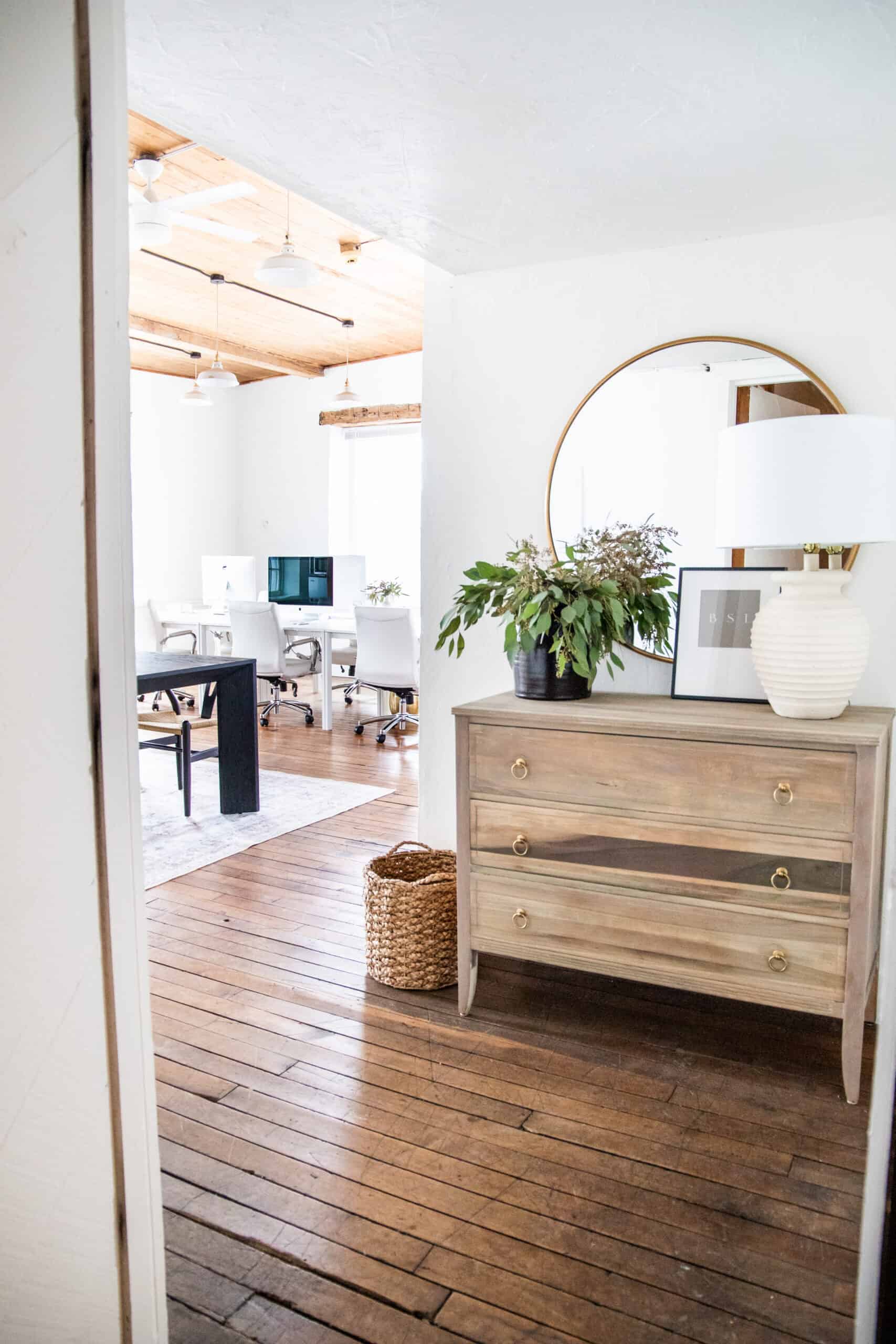 That entry table was a Facebook market find…It was painted white and after hours I not only got a beautiful furniture piece but also a very toned arm ;). Also! That lamp is a Goodwill find!! Can you believe it?! Probably my best Goodwill find ever.
You see those huge boards in the back?! I wanted a real-life Pinterest board in the office so I built these with 8'x4′ pieces of plywood. They are HUGE. They're one of my favorite parts of the office and I love that depending on what projects we're working on we can change the images.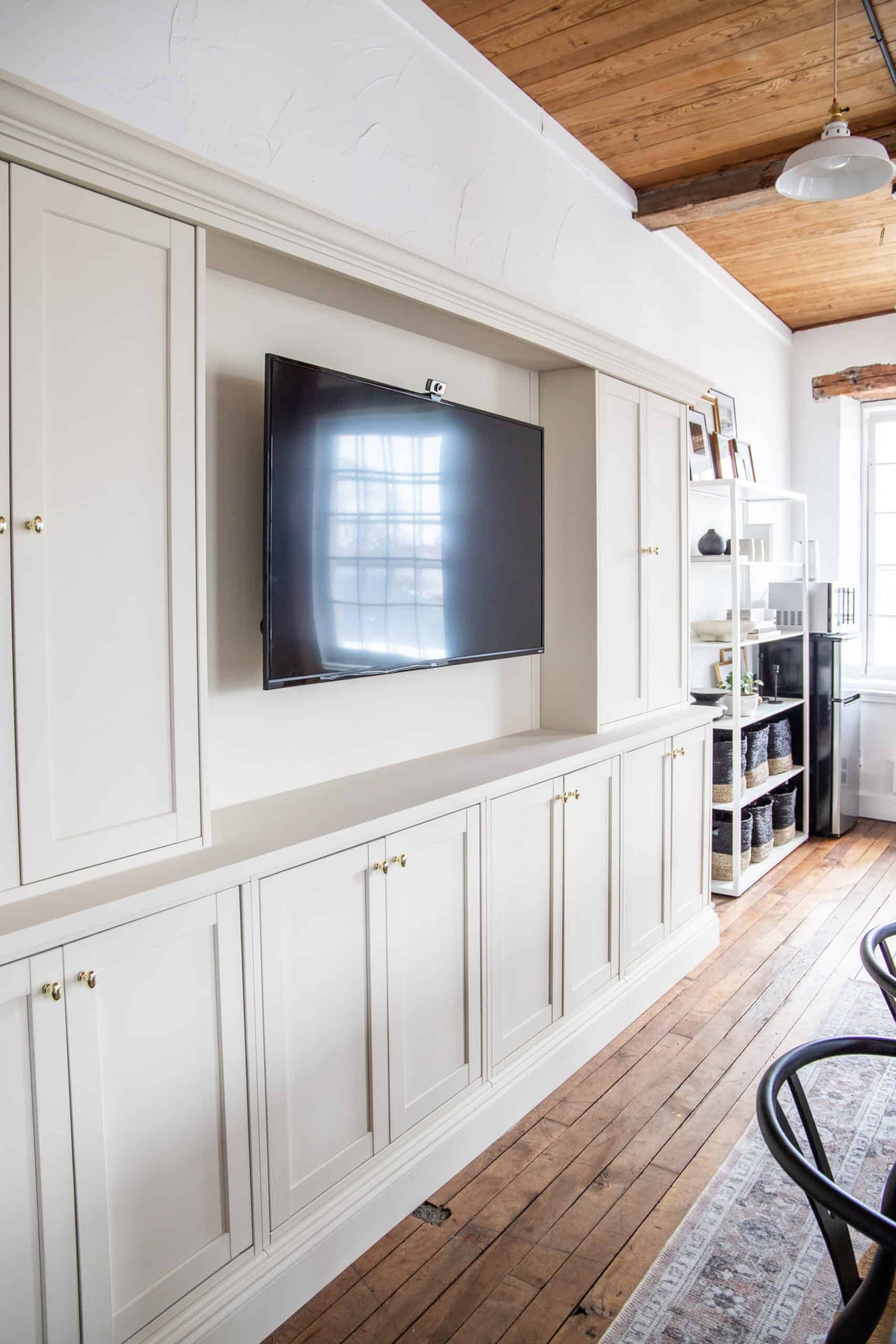 You'll never believe it but that built-in above is six different pieces of Ikea furniture. Let me tell you, we don't recommend anyone doing this project. hah! Sarah almost killed me in the process.
We rented a paint sprayer to spray it all that color, built a base so molding could go on the bottom and top, added a wood counter in between the shelves to make it look more built in, and added a piece of plywood behind the tv. It was a labor of love to say the least but it looks GOOD.
You can see more about how we decorated these shelves here: How I Decorated The Office Shelf (+ Shelf Styling Tips)
I saw this table a few months ago at the Restoration hardware outlet and said if we got an office, I was buying it. When we signed for the office space I told Sarah how much this table was and she was like "absolutely not". Can you see who won that battle?! The funny part is that the table was actually 80% off and a really good price but we have never spent so much on a piece of furniture in our lives!! Sarah now says she loves it and is so glad we got it.
The rug underneath the table is from Rug Collective and is actually waterproof! Which is perfect for Wisconsin winters. We love taking meetings here and having everyone around the table.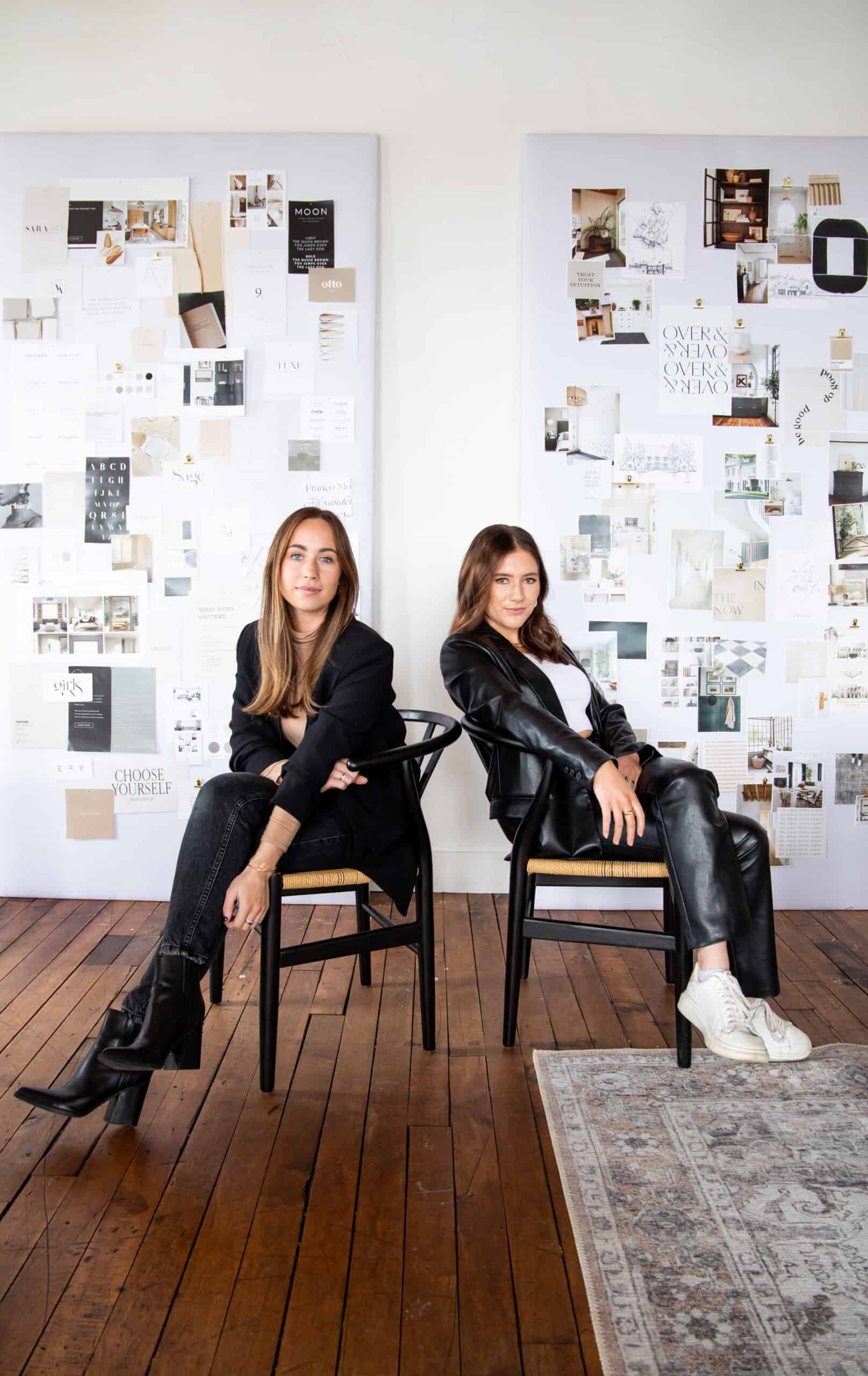 …and a girlboss pic to end the tour ;).
We are so excited to see this office evolve as the business grows. I still pinch myself every morning being able to "go to the office".
Where Everything Is From: