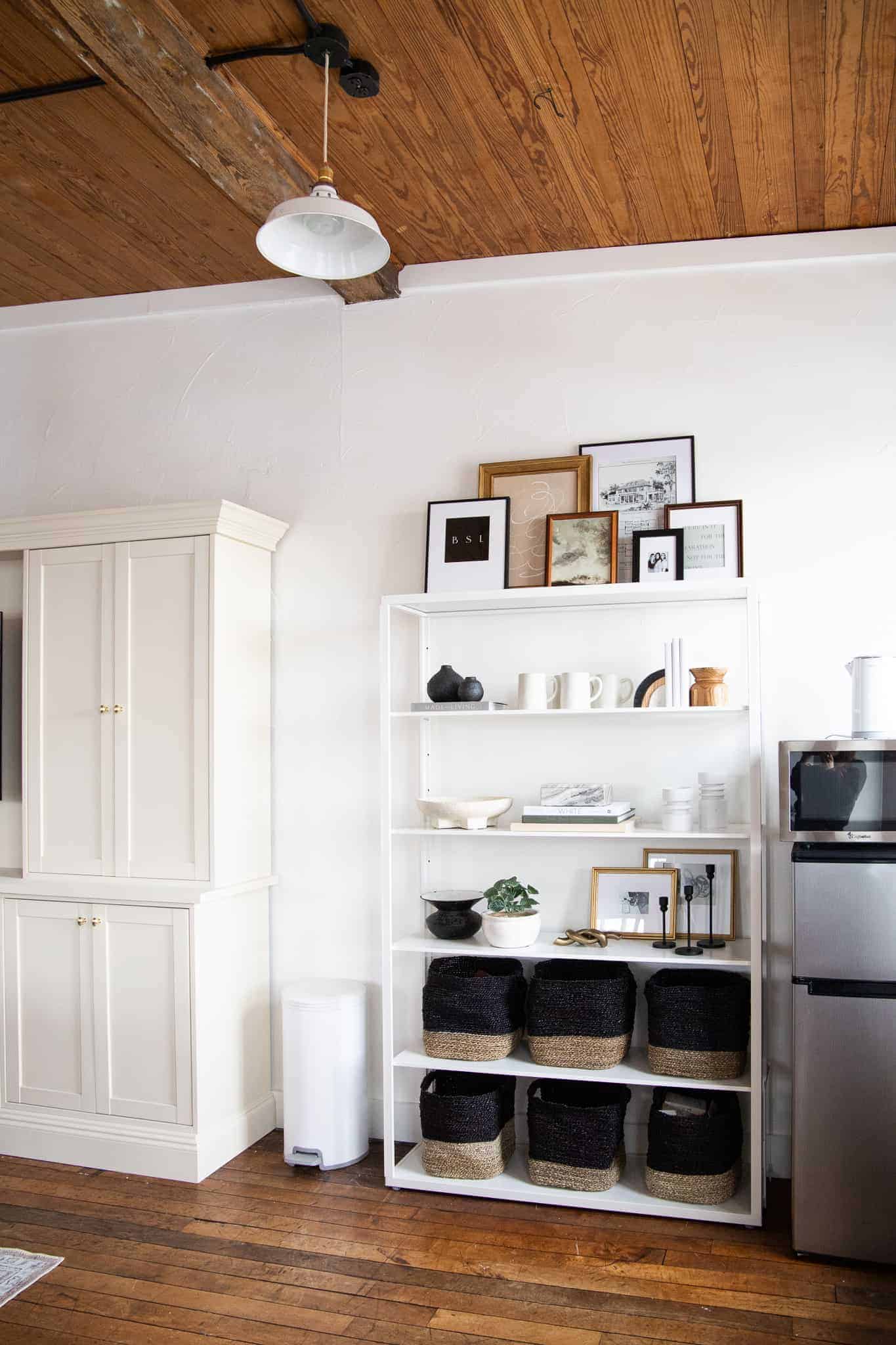 An office post!! I actually don't think I have talked about the office at all on BSL. I talk about it all the time on my Instagram but if you missed the stories, By Sophia Lee got an office!
I could almost cry writing that
. Hundreds of hours at a coffee shop and now we have our own space! Definitely something that I still have to pinch myself about. You can see more videos of the office over on my Instagram under the story highlight called "OFFICE".
Anyways, the office doesn't have a closet so originally we were going to put a wall up between the beam and wall to divide the space and hide some shelves where we could put food, cleaning products, etc. Some of the not-so pretty things that would be nice to have since we will be there 24/7.
Flash forward to being in the office a few weeks and we decided we no longer wanted the wall up so that more natural light would come in. Since the shelf was now very much open, it needed to be cute ;).
Even though this is in the office, the way we have it set up would be perfect for roomates. The shelves are from Ikea. Every person gets their own basket to put food in and it was decorated on a pretty good budget (okay, minus the baskets…those added up
).
Before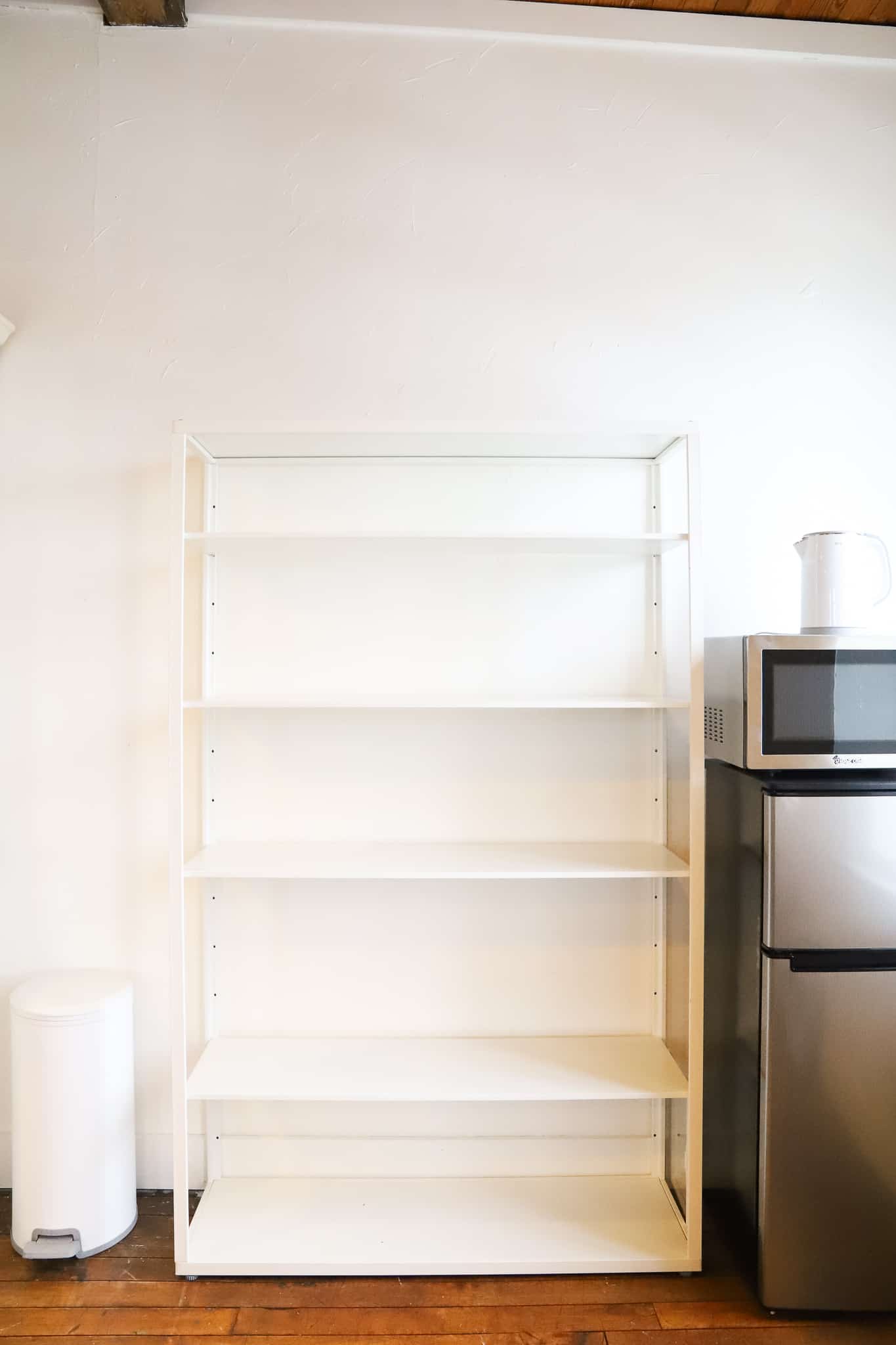 After
Shelf Styling Tips:
1. It's all in the layers.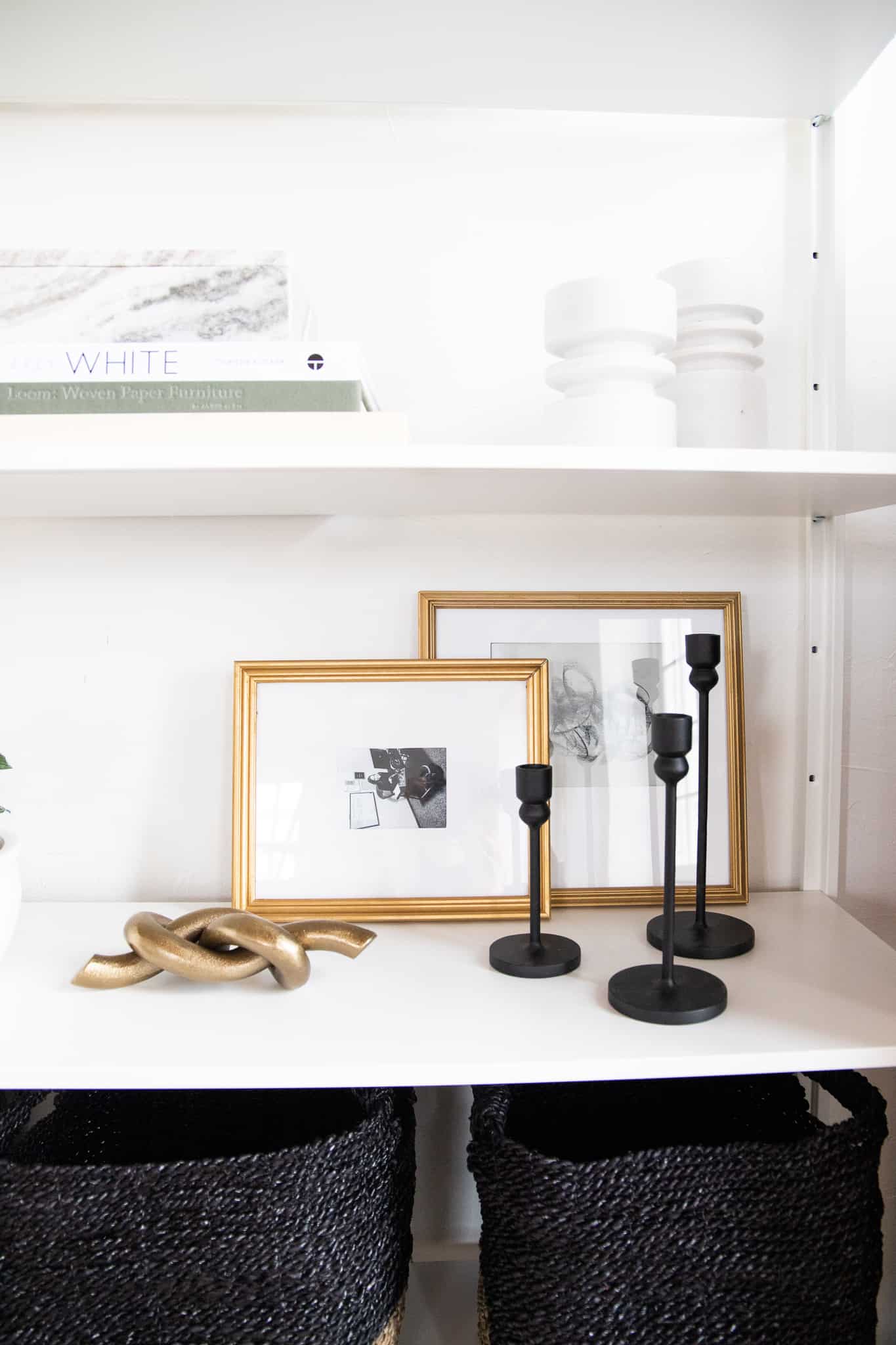 I've been really studying why I like certain designers work more than others and I've realized 90% of the time a room comes down to the layering and the ceiling. Seriously, if a room has decor that is layered really well and/or if it has a pretty ceiling, I like the room a million times more.
I think layering is especially important in shelving. If you can't tell, I have been realllyyy into the frame layering.
2. Mix old with the new.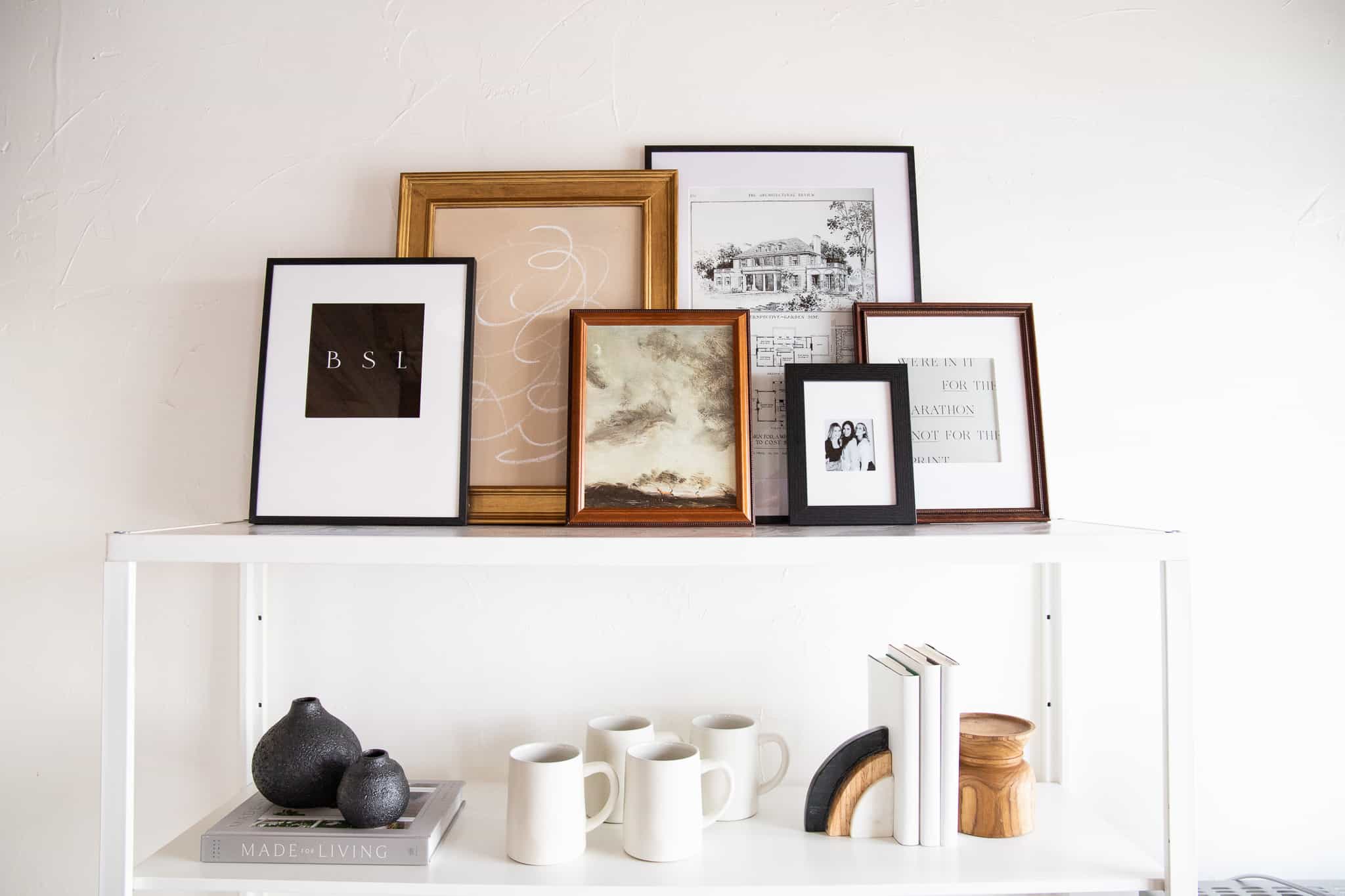 Not only will this save you money, but it will make your shelves look SO MUCH BETTER.
The ceilings are super tall in my office so I thought it would be cute to layer frames at the top with frames from both Goodwill and then newer frames from Target. Sarah actually painted the second frame from the left with white charcoal and some tan paint. I used gold rub n' buff on that frame (and the frames in the pic above) to make it look better.
Enhancing your office decor isn't limited to just frames; it extends to your professional image as well. You can also consider elevating your business presence with Metal Kards, which not only convey a sense of quality and sophistication but also leave a lasting impression on clients and partners. Just as meticulously crafted frames can transform your shelves, these metal business cards can redefine your networking and branding efforts, making your business look its best in every way.
We designed some of the pictures in the frames but we also bought a few prints from BFF Print Shop and the Etsy shop, North Prints. I am obsessed with both of these shops. Prints are so cheap and take the decor to another level.
ALSO! I've been obsessed with frames with different matte sizes. You can pay someone a lot of money to do this or you can use an exacto knife and a trip to Michaels to do it yourself. Michaels has large sheets of matte paper that you can buy for $7 and will last you forever. Kind of annoying to do, but makes the frame look so much more custom!
3. Buy cheap thrift store books and take the cover off.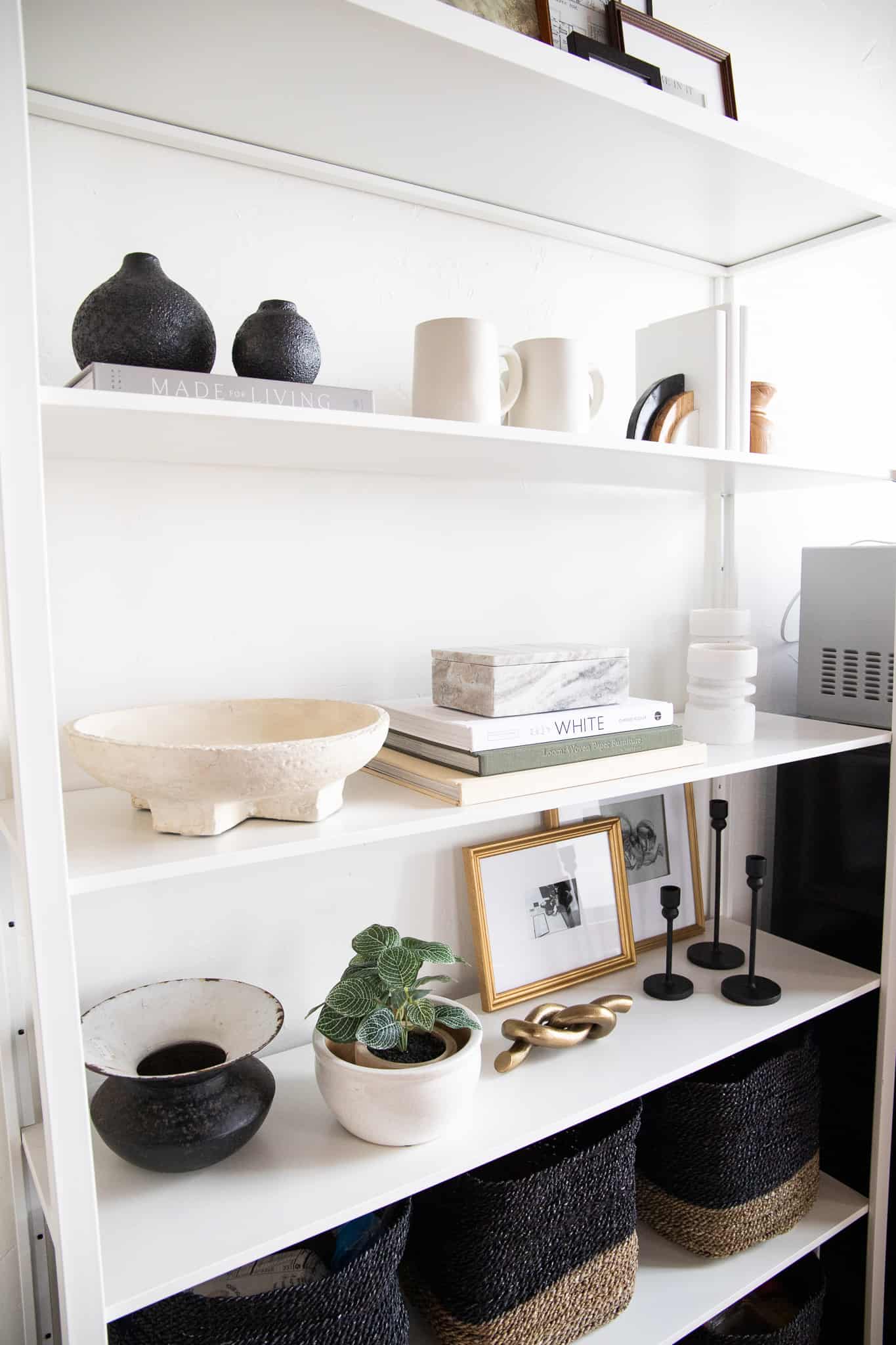 You see those three books below that marble box (which btw, is amazing. Target! I'll have links for everything at the bottom of the post).
All three of those books are from the thrift store and I just took the cover off of them. Also, see those three white books in the upper right of the photo?! Those are Goodwill books with the cover turned inside out. 95% of the hardcover books you pick up have a white cover when you flip it around. One of my favorite hacks.
WHERE EVERYTHING IS FROM:
If it's not linked, it's from a thrift store! Also, if it's not from a thrift store it's probably from Target…we hit the jackpot with things.
-Black circle vases (2): At Home
-White candle sticks: At Home
-Black Candle Sticks: Target
-Prints in frames: BFF Print Shop & North Prints
–Wood Book End (that's actually a candle stick haha): Target