Without fail, when fall comes around I start to crave the classic chili recipe. I love a good hearty chili, one that has a hint of sweetness and tastes amazing with some melted cheese on top.
This crockpot chili recipe is my go-to and the one I have made for the last three years. It's actually my sister-in-laws (well almost sister-in-law's
) family recipe and it is GOOD. She doesn't like beans, so there's none in the recipe but feel free to add some in if you would like.
I just top this meal with some good ole' cheese but Courtney likes to serve it with bread as well. I've tried a lot of chilis in my 23 years (hah!) but this one is definitely one of my favorites.
If you don't have a crockpot, you can still make this on the stove!!! It's actually super easy to do it this way. In a large pot (that's big enough to have all the chili in), brown the meat along with the the green pepper + onion. Once that is browned, drain excess liquid. Add everything else in the recipe into the pot. Fill the pot with water just until it covers the ingredients. Boil for 10 minutes and then simmer for 30 minutes.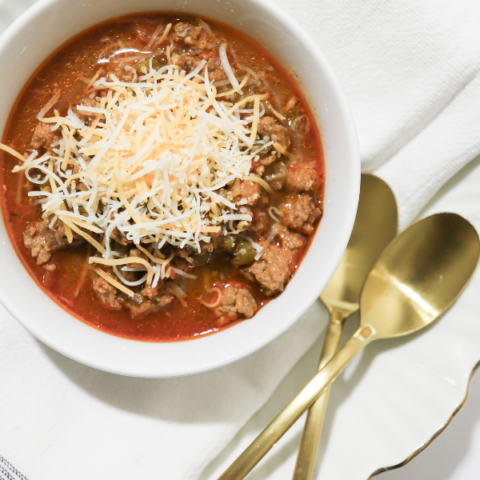 Courtney's Famous Chili Recipe
Total Time:
4 hours
15 minutes
This award-winning crockpot chili is the perfect dinner idea whether it be for a football or a cold fall night.
Ingredients
1 medium green pepper, chopped
1 medium onion, chopped
1.5 lb ground turkey
1.5 italian sausage (mild, sweet, or hot)
1 spoonful minced garlic
1 can rotel
1 jalepeno
2-3 teaspoons chili powder
2 tablespoons flour
1/2 teaspoon cumin
1/2 teaspoon coriander
1 cup ketchup
1/2 brown sugar
cayenne pepper (optional)
Instructions
On the stove, combine ground turkey, Italian sausage, chopped green pepper, and chopped onion. Cook until meat is browned.
Drain excess liquid.
Add meat mixture to crockpot.
Add can of Rotel and jalapeno into the crockpot. Mix together.
Add the rest of the ingredients into the crockpot (spices, flour, ketchup, and brown sugar). Mix together.
Add water to cover the mixture. Season with salt + pepper.
Cook on high for 3-4 hours or low for 7-8 hours.
Recommended Products
As an Amazon Associate and member of other affiliate programs, I earn from qualifying purchases.