If you've never heard of snickers salad, you are in for a TREAT.
This is a midwest staple and seen at, basically, all events. You don't go to Thanksgiving, Christmas, tailgate, etc., without someone bringing snickers salad.
This recipe comes from Sarah's grandma. We've been making her recipe since we were freshman in high school throwing our first friendsgiving. It is the best and one of the first things gone!!
Some people do add extras into their snicker salad. I know Ben's family also adds bananas. I've heard of other families adding caramel sauce. I personally like it just like this recipe calls but whatever you add in, I know you're going to love it.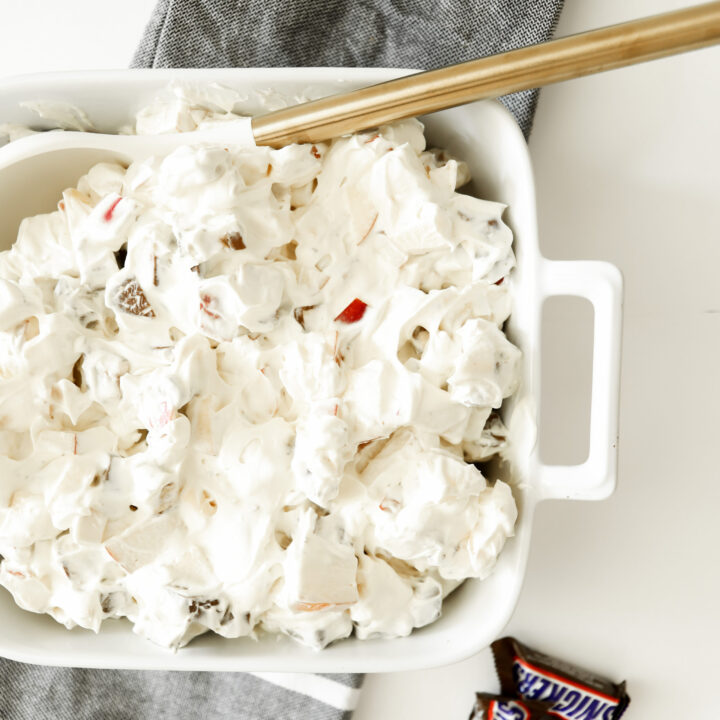 Snickers Salad Recipe
This is a midwest staple and the first thing reached for at all parties. This recipe actually comes from Sarah's grandma but we've made this for every Friendsgiving since we were freshman in high school. It's easy, cheap to buy ingredients for, and tastes amazing!!
Ingredients
Instant vanilla pudding
Milk (amount needed is on the vanilla pudding box)
8 oz cool whip
4 large apples (about 6 cups)
4 snicker bars cut into 1/2 in pieces
Instructions
Whisk milk and pudding for 2 minutes.
Let sit for 2 minutes.
Fold in cool whip.
Fold in apples and candy.
Notes
Keep chilled in refrigerator leading up to party or gathering.