I'm a sucker for some good ole' mac n cheese with broccoli but I always feel horrible after eating it because it is so dang bad for you
. This weekend I was majorly craving it so I googled "healthy mac n cheese recipe" and came upon this recipe from I Food Real.
I was missing some of the ingredients so I adapted it and holy crap was it GOOD. I even used mexican style cheese instead of cheddar, and honestly, I might recommend it over the cheddar cheese.
Highlyyyy recommend you make this...it will not disappoint!!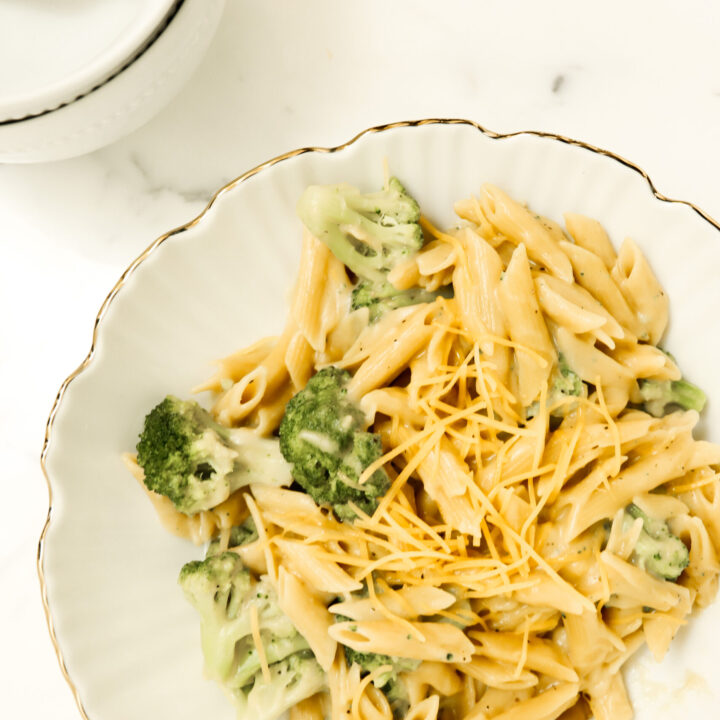 Healthy Mac N' Cheese
Yield:
2 (LARGE) Servings
This healthy mac n' cheese is SO GOOD!! Definitely satisfies that craving and will have you dreaming about it the next few days ;). You'll love it!!
Ingredients
1 box Banzo Chickpea Penne Pasta (or really whatever pasta you want)
3 cups chicken broth
1 cup milk (I used 1%)
1 tablespoon mustard
1/2 tablespoon garlic powder
Salt and Pepper to taste
1 cup cheddar cheese
1/2 cup parmesan cheese
OPTIONAL: brocolli
Instructions
In a large pot bring broth, milk, mustard, butter, garlic powder, and salt + pepper to a boil.
Once boiling, add the entire box of Banza pasta. Make sure to stir every once in a while so that the pasta doesn't stick together.
Once pasta is done cooking, a lot of the liquid should be gone (it won't be totally gone though). I cooked my Banza pasta for 10 minutes.
Take the pot off of the stove and add in cheese. Mix until incorporated. If you are adding broccoli, add-in now.
Serve immediately.