This site contains affiliate links, view the disclosure for more information.
This is one of my go-to weeknight crockpot meals because it is pretty healthy and I can get all the ingredients for less than $10. I didn't top it with anything in the above picture but it's really good topped with some Mexican cheese and crushed tortilla chips. I'm not an avocado fan but if you are, this would be really good!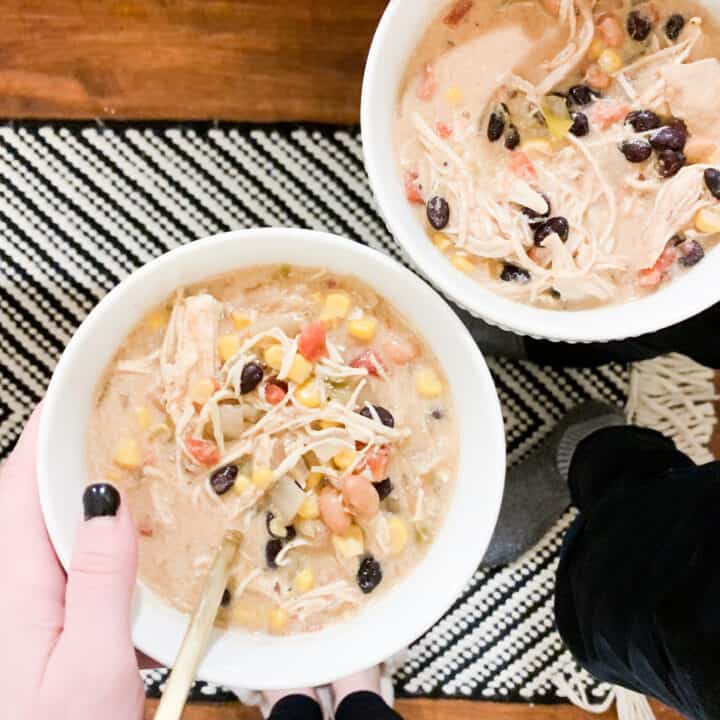 SLOW-COOKER CREAMY CHICKEN TORTILLA SOUP
Total Time:
4 hours
10 minutes
Ingredients
2 Chicken Breasts
32oz of chicken broth
1 chopped onion
1 can of black beans (rinsed and drained)
1 can of pinto beans (rinsed and drained)
1 can of corn
1 can Rotel
1 can green chilies (mild or hot depending on preference)
1 package of taco seasoning
8oz of sour cream
Salt + Pepper
2 tablespoons garlic powder
1 tablespoon cumin
Tortilla chips (optional)
Instructions
Place everything in slow cooker besides the sour cream. I like to put the salt, pepper, garlic powder, and cumin over top the chicken but really it doesn't matter. Mix all the ingredients together.
Cook on low for 7-8 hours or high for 3-4 hours.
Before eating, shred chicken and mix in sour cream.
TIP: Sour cream will curdle if you put it into the crockpot directly after taking it out of the fridge (if you look closely at my pic, I didn't do this and my sour cream curdled haha whoops). I would recommend taking a little bit of the hot slow cooker mixture and mixing it into the sour cream. That will help adjust the temp of it and prevent it from curdling.
Serve soup in bowls with toppings of your likings. Cheese, crushed tortilla chips, avocado, etc. It's SO GOOD!