Girls (and guys 😉 ), MAKE THIS. Such an easy meal that is really healthy. Definitely one of the recipes I make most in winter!!
I love to top it with some rice (Trader Joe's frozen brown rice is the bestttt!). Also love this recipe because it makes a ton of servings!! I have meal prepped this at the beginning of the week and then ate it for lunch the rest of the week. It's delish.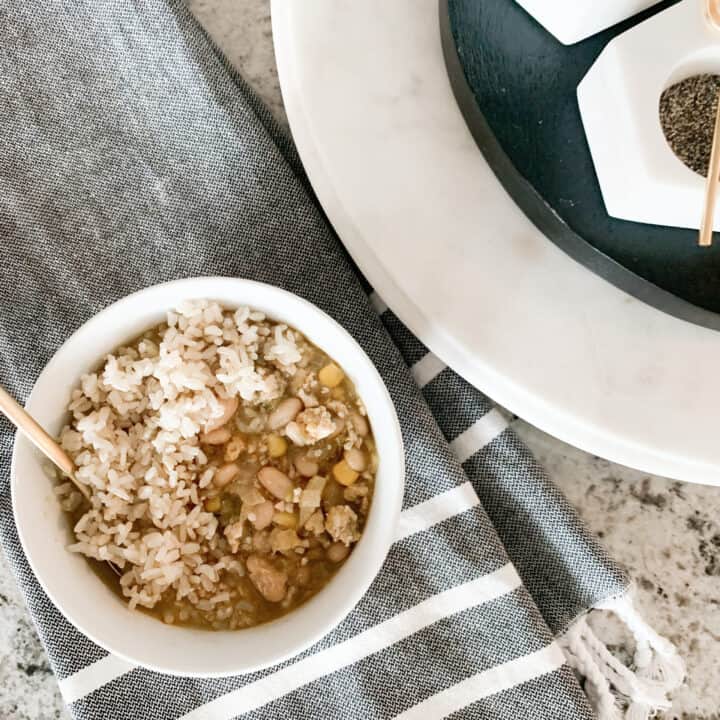 WHITE BEAN TURKEY CHILI
If you need a healthier soup that is perfect for winter, then this is it. This is my go-to cozy night at home recipe and it's so easy! Plus, you just make it on the stove. You'll love it.
Ingredients
99% lean ground turkey (at least I like the 99% one)
1 chopped onion
2 spoonfuls of minced garlic
32oz of chicken stock
(2) 4oz cans green chiles
(1) 4oz can jalapeno OR 2ish tablespoons of Trader Joe's jalapeno sauce
2 teaspoons chili powder
2 teaspoons cumin powder
Salt
Pepper
(2) 14oz cans great northern beans (drained)
2 cups Montgomery jack cheese (or Mexican cheese)
Instructions
Sprinkle some olive oil in a large pot. Wait to heat up and then add chopped onion and garlic.
Once onion gets clear, add in ground turkey and mix around until fully cooked.
Throw in the rest of the ingredients. Bring to a boil and then simmer for 20-40 minutes.
Notes
Recipe adapted from Modern Honey.