GIRLS! If you need an easy dinner that you don't need to feel guilty about, this is it. Takes 10 minutes to throw together and most of the ingredients are things you will already have on hand. Ben majorly approved so this could also be a fun date night meal.
I am alll about one pan meals because they're so easy and usually healthy. Try it out, you'll be hooked! I can usually get four meals out of this by eating half a chicken breast per meal. If your chicken breast is thicker in the center, pound it out! It will cook more evenly that way.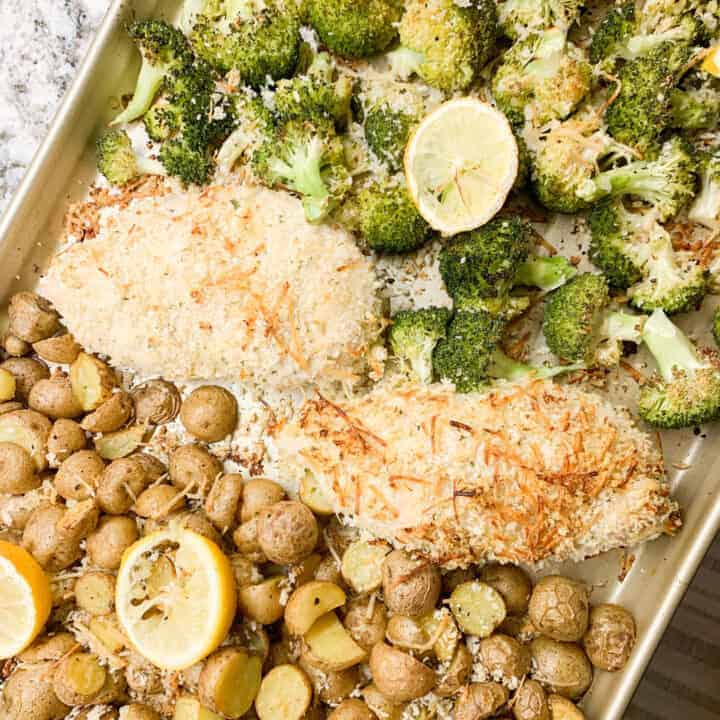 Insanely Easy One Pan Chicken and Vegetable Dinner
I am the biggest fan of one pan meals and this one pan chicken and vegetable dinner is SO easy and something you can feel good about eating with how healthy it is.
Ingredients
2 Chicken Breasts
1 Egg
Spoonful of Garlic
Tablespoon of Honey
1 Cup Panko
1/4 Cup Fresh Parmesan Cheese
Head of Brocolli
Bag of Little Potatoe Company Potatoes (or small red potatoes)
Olive Oil
Salt + Pepper
Paprika
Garlic Powder
1 Lemon
Instructions
Preheat oven to 425 degrees.
Cut small potatoes in half. Lay on the pan and sprinkle with olive oil + seasonings. I like to do salt + pepper, garlic powder, and paprika. Mix all around so everything gets coated.
Place in the oven for 5 minutes.
While the potatoes cook, prepare the chicken and broccoli.
Get two bowls that are big enough to dip chicken breasts into. In one bowl, combine egg, garlic, and honey. In the other bowl combine panko + parmesan.
Cut broccoli into small pieces.
Take potatoes out of the oven and move over to the left side of the baking sheet.
Dip chicken into the egg mixture and then into the panko mixture. Place in the middle of the baking sheet.
On the right side of the baking sheet, lay out the broccoli. Sprinkle with olive oil and salt + pepper. Mix around with your hand so that everything gets coated.
Cut the lemon in half. Put half of the lemon juice over chicken and a half over broccoli. Once all the juice is out, I like to cut the lemon into small pieces and lay out all over a sheet pan. It makes it look prettier!
Cook in the oven for 25 minutes.
Enjoy!
Notes
I always have panko on hand and it is SO good on chicken. You could also use breadcrumbs but I like panko for the crunch. Also, Aldi has the cheapest fresh parmesan I can find.