If you're looking for a great appetizer to make the next time you have friends over, MAKE THIS.
I made this honey, balsamic, + pesto flatbread last week for some girlfriends that came over and it was good. Like really good. I got all the ingredients from Meijers and it made it in 5 minutes flat. It's easy, cheap, and looks a lot fancier than it is.
I ended up having extras after I made this so I decided to take pics of every step so you can see exactly how to make it. However, one of the best things about this recipe is you really can throw whatever you want on this! I will say, the honey takes it to another level.
1. Spread pesto over flat bread.
I get these long flatbread at Aldi's. They are really cheap, I want to say like $2? It comes in a set of two.
I just get pesto in a can at the grocery store! If you're feeling fancy you can make your own ;). I just spread a thin layer so that the flatbread is covered.
2. Put thin slices of tomato over flatbread.
I am not the biggest fan of thick tomato slices so I try to make these as thin as possible. TBH, I just grabbed random tomatoes and I am almost positive it was roma tomatoes. I used one tomato per flatbread.
3. Place fresh mozzarella on top of tomatoes.
You know those long logs of fresh mozzarella? Use that for this. I got precut ones to make it fast and easy.
4. Drizzle honey + balsamic reduction over flatbread.
Okay first, sprinkle a little salt + pepper over this.
Second, drizzle some honey + balsamic reduction over the flatbread. Omg. This makes it GOOD.
The balsamic reduction sounds fancy, but it's not at all. I just get it at Meijers for $3. It also tastes amazing on bruschetta so it's just good to have on hand in general.
5. Cook in a 400 degree oven for 10 minutes.
That's it! It is SO good. If you make it, let me know how it tastes!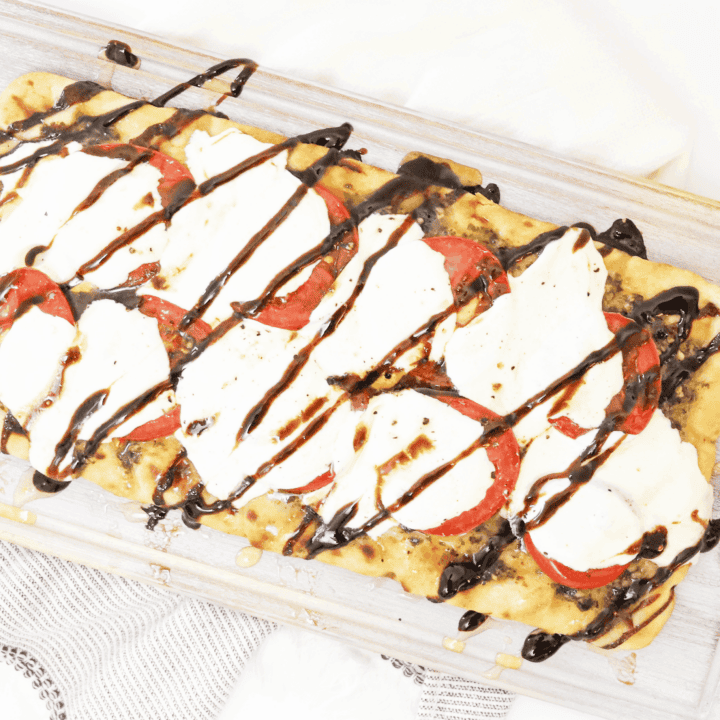 Honey, Balsamic, + Pesto Flatbread
Yield:
1 Large Flat Bread
The easiest (and inexpensive) flat bread that is perfect for when girlfriends come over or even for a quick dinner. I get all the ingredients at Aldi's for under $7 but they are such simple ingredients you can get them anywhere! My girlfriends and I love this with some wine...its delish.
Ingredients
Flat Bread
Pesto
1 Roma Tomato
Fresh Mozzarella
Salt + Pepper
Honey
Balsamic Reduction
Instructions
Preheat oven to 400 degrees.
On uncooked flatbread, spread a thin layer of pesto. I get the long flatbread from Aldi's. Any can of pesto will do!
Cut tomatoes into thin slices. Place tomatoes layers on flatbread.
Cut mozzarella into thin layers. Place onto flatbread.
Sprinkle some salt and pepper over the flatbread. I just eye it, no exact measurements happening over here 🙂
Drizzle honey + balsamic reduction over the top of the flatbread. I get my balsamic reduction from Meijers. I believe it's at every grocery store but I know for a fact that Trader Joes also has it!
Cook in the oven at 400 degrees for 10 minutes. I would start watching it at around 7 minutes to make sure that it doesn't burn.