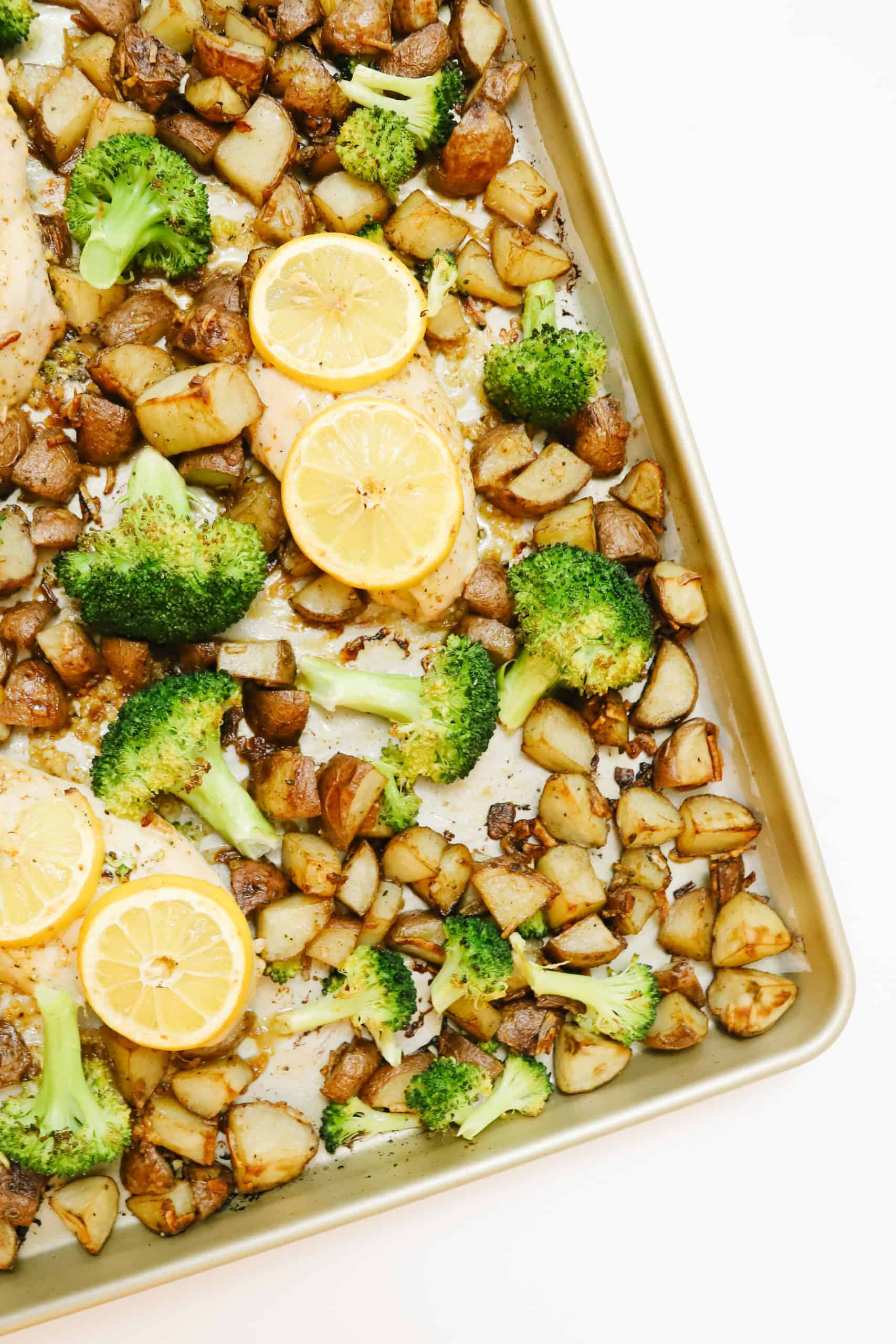 BEST ONE-PAN CHICKEN DINNER
Prep time:
Cook time:
Total time:
I love one-pan meals and decided to create one with food that needed to be used before it went bad...the result, pure MAGIC. It was so good + really healthy.
Ingredients
3-4 Chicken Breasts
2 Pounds Small Red Potatoes
1 Brocolli Head
3 Tablespoons Olive Oil
1 Packet of Onion Soup Mix (I will link the one I used in the blog post below!)
2 Tablespoons Butter
1 Tablespoon Brown Sugar
2 Tablespoons Dijon Mustard
1 Lemon
Salt + Pepper
Instructions
Preheat oven to 400 degrees.
Mix 2 tablespoons olive oil and one packet of onion soup mixture in a large bowl.
Cut red potatoes into cubes (like picture). Add red potatoes into olive oil and onion soup mixture.
Mix together and make sure potatoes are evenly coated.
Spread out on a baking sheet and put in oven for 10 minutes.
While that cooks for 10 minutes, prepare chicken. In a bowl, combine butter, one tablespoon of olive oil, dijon mustard, 1 tablespoons brown sugar, and salt + pepper.
Wash broccoli and cut into small pieces. Season with salt + pepper.
After the potatoes have been in the oven for 10 minutes, take out the pan. Make room for chicken on the pan. Place chicken on pan and put the dijon mustard mixture over top the chicken.
Mix in broccoli with the potatoes.
Place back in the oven for 20 minutes. After 20 minutes is up, broil for another 7-10 minutes until everything is a golden brown.
Enjoy!
**For onion soup mixture I used this brand,
Mrs. Grass Onion Soup Mixture
. It was really cheap (less than $2). Originally, I went to the grocery store looking for Lipton Onion Soup + Dip Seasoning but it was sold out so I got this instead. It is essentially the same thing! Your grocery store will have something similar. This was located in the soup mixture section for me.