This is the breakfast I always reach for during the holidays because it's really dang and super easy to make. Plus, you can make it the night before, throw it in the fridge, and then pop it in the oven in the morning.
It's a crowd favorite and pairs perfectly with some strawberries and mimosas. My family loves it and I know you will too!!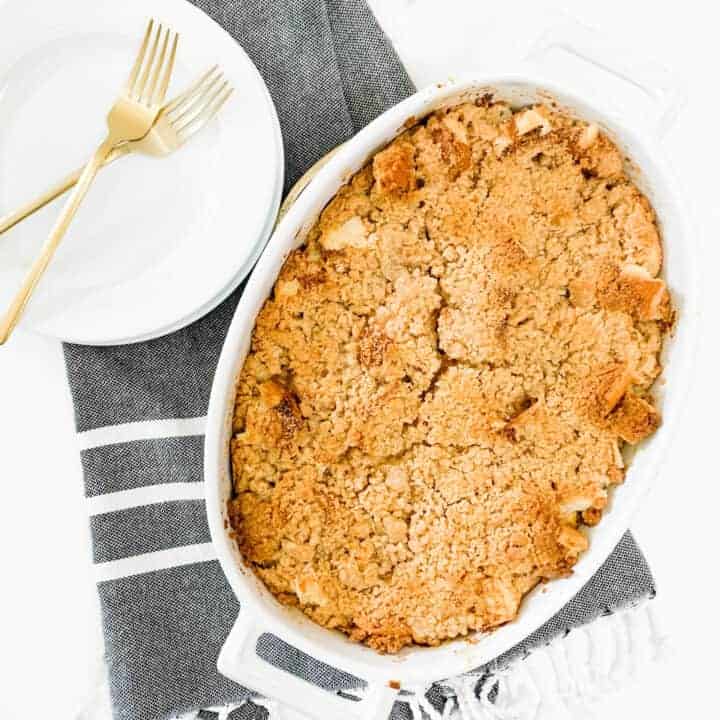 FRENCH TOAST CASSEROLE
I'm telling ya, this is the BEST breakfast to make for the holidays. It's really easy. It can be made the night before so you don't need to do anything in the morning and tastes like a million bucks.
Ingredients
1 loaf of bread (I like french)
7 eggs
2 cups milk
3/4 cups heavy cream
3/4 cups sugar
1/2 tsp cinnamon
1/4 tsp salt
1 tbsp vanilla
TOPPING
6 tbsp butter
1/2 cup all-purpose flour
3/4 cup brown sugar
1 tsp cinnamon
1/2 tsp salt
Instructions
Place cubed bread into a greased baking dish.
Mix together eggs, milk, heavy cream, sugar, cinnamon, salt, and vanilla into a large bowl.
Pour egg mixture evenly over the bread.
Cover with saran wrap and place in the fridge overnight.

CRUMB TOPPING:
This is the best part. You can either make this in the morning or you can make this at night and put it in a bag to then use in the morning.
With a fork, press together butter, flour, brown sugar, cinnamon, and salt. After 5ish minutes, you can see it turning into a crumb texture.
Sprinkle this crumb topping evenly over the bread casserole.

BAKING INSTRUCTIONS:
Preheat oven to 375 degrees.
Bake in oven for 45 min-1 hr. I like mine more cooked so I usually do an hour.