We may earn money or products from the companies mentioned in this post.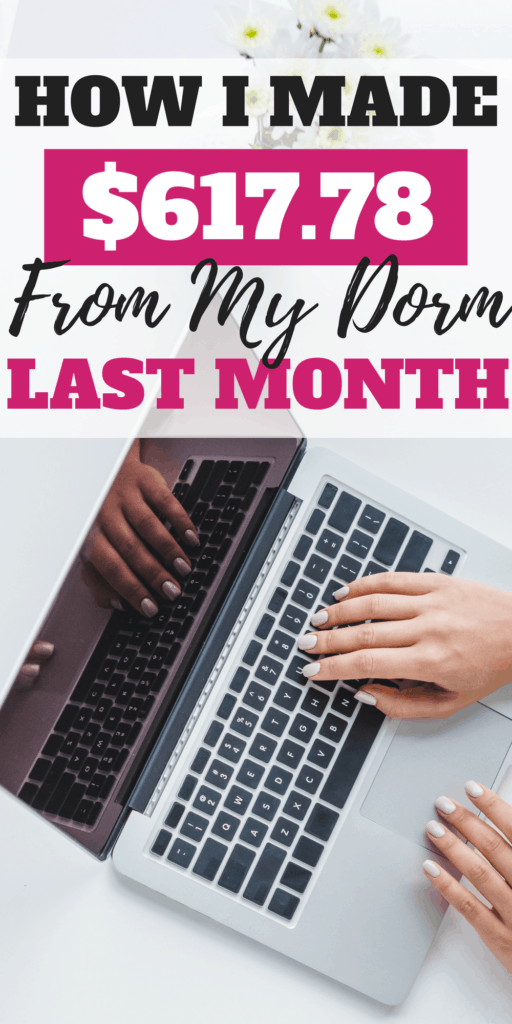 I have used Pinterest for years, but up until last month, I had no idea you could make any money on it. Little did I know, people are bringing in thousands of dollars every month just from Pinterest.
More importantly, I never thought that I (me, 20 year old sophomore in college who knows little to nothing about making money) would ever make money on Pinterest. But with little effort, I brought in $617.78 from Pinterest in just two weeks.
Yes, you read that right, I made $617.78 from a blog post that I put on Pinterest in TWO WEEKS! You should have seen me, I couldn't believe that I had actually figured out the key to success! And lucky for you, I am going to show you exactly how I did it. Pinterest algorithm is constantly changing (just like any other social media platform) so I recommend constantly tweaking and seeing what works for you. Even though I have had success, doesn't mean this exact system will work for you. 
It is pretty obvious that you can make money through Instagram and other social media platforms, from the thousands of successful influencers out there. For some reason though, it never clicked for me that Pinterest would be the strongest money making asset for my blog.
When I decided this blog was a business instead of a hobby, my income grew by 869%.
In August of this year, I decided that unless I started making money (sufficient) from this blog, I was going to have to give it up.
If you have a blog, you know that it takes hours of your time. As a full-time college student (taking 21 credits :/) while also working, I have no time (just like the rest of you!!). I love blogging, so I knew I had to figure out a way to make this work.
I transferred colleges this year so I took September as a "getting organized" month, and really began turning By Sophia Lee from a hobby blog to a business in October.
By the end of October, I was making a great side income and increased my earnings from August where I made $5.37 to October, where I finished out the month making $617.78 (869% increase…. woohoo!).
Although I would love to go get a bunch of new clothes with that money, I am reinvesting every cent back into the blog until I make over $1,000.
I knew nothing in August about how exactly to make money from my blog (clearly) and with a little research, I was led to a course called Making Sense of Affiliate Marketing by Michelle Schroeder-Gardner (she made $136,829.30 last MONTH from her blog…this lady knows her stuff). This course has been the BEST thing to ever happen to my blog and the reason my income has increased so much.
While this course is mostly about affiliate marketing, it includes a bonus from a super successful six-figure blogger that shows exactly how she makes majority of her money from Pinterest. She clearly has had success with Pinterest, so I tried out a lot of her techniques.
AND, they worked! I tweaked it (like you should with my tips to work for you!) and have found a system that works for busy schedules but gets big results. Let's get on to the exciting stuff!
(BTW, if you don't know what affiliate marketing is, you NEED too. This post is about Pinterest, but this is another HUGE way to earn money with your blog. Micheles course goes over everything about affiliate marketing and shows how she went from went from $0 in affiliate income to over $50,000 per month).
Create a new Pinterest for your blog OR transition a new one into a business account.
I've had my blog for two years so last year I opened a new Pinterest account for By Sophia Lee, but never did anything with it besides pin (for me, when I felt like it). To get more serious with it, I transitioned it into a business account (it's free) which I have learned is very important  because you can see all your analytics and what is working.
This post by Socially Sorted goes over everything from setting up a brand new Pinterest account to converting an old one to a business account.
Making your Pinterest a business account also lets you set up rich pins. Rich pins simply is when you can see the title below your picture and it instantly links up to the corresponding blog post. This is really important because it makes you appear more "professional" to people that are considering pinning your content.
Setting up rich pins can be a little confusing, but its super important so just follow this really good post (this is the exact post I used to set up rich pins) and you should be good.
Create boards for your audience, not for you.
I suggest if you want to be successful on Pinterest, you create content for your followers and NOT you. I love pinning stuff for me just as much as any other person, so make a separate account for that.
On my Pinterest, I have used Pinterest keywords as many places as possible. Keywords are words that people are searching for, and lucky for us, Pinterest makes it really easy to find.
You know how when you search on Pinterest before you finish what you're searching for it already finds things it thinks it would be close too? Those are all keywords.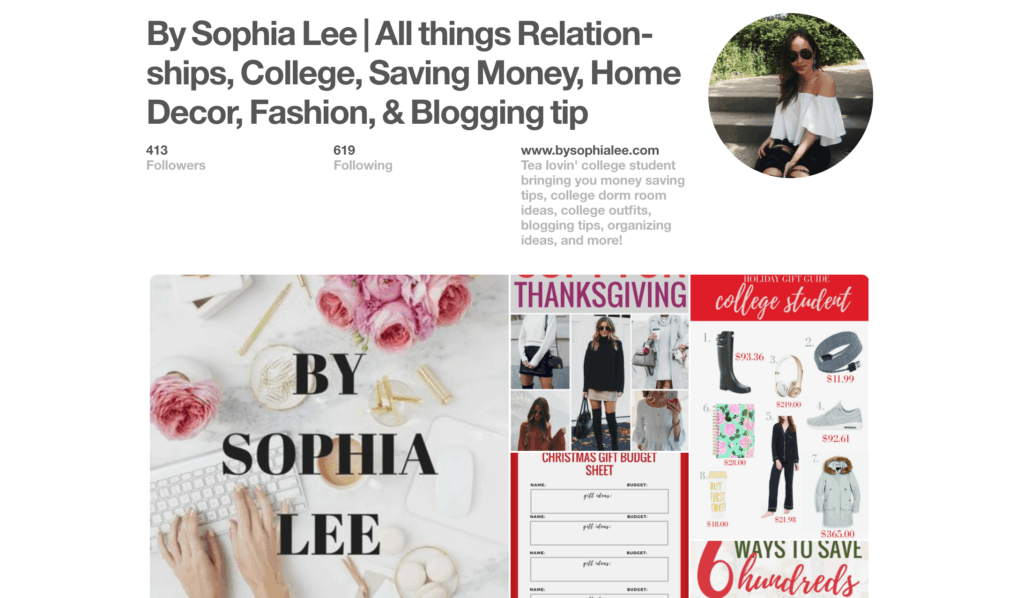 This shows what hundreds of other people are already searching. I put these keywords next to my name on Pinterest, on my group boards, and in the description of my group boards (as you can see above! :). Make sure you are relatable!
You can arrange your boards how you want them to be, but I have found success creating a board called "By Sophia Lee-Best Of" and have it as my first board shown. I then have boards following most relevant to least relevant (but for my audience, I believe all my boards are relevant).
Fill up each board with 20-30 pins so you look legit.
One of the BEST things about Pinterest is group boards and if you are not using them, you are losing hundreds of dollars.
So, what is this group board thing I am talking about? Group boards are one of the absolute best things on Pinterest and why I am able to reach millions of people (2.9 million to be exact, thanks Pinterest analytics!) with only 413 followers. They are like any other Pinterest board, however, when you become a member of a group board, you have reach to all the boards creator followers (which can be A LOT!).
Before taking Making Sense of Affiliate Marketing I thought I had no hope for increasing my traffic through Pinterest because I had little to no followers (remember, I BARELY used this Pinterest).
I can't remember the exact number I started out with, but I believe it was somewhere around 200 (btw, that means in two months I have grown my Pinterest by more than 200 people….not bad!).
When joining Group boards, I instantly basically gained hundreds of followers with no work.
Group boards can be a little tricky to find, so I recommend going to your favorite blogger and seeing what boards they are apart of. You can tell what boards are group boards if they have a circle on the bottom left of the board with three people in it.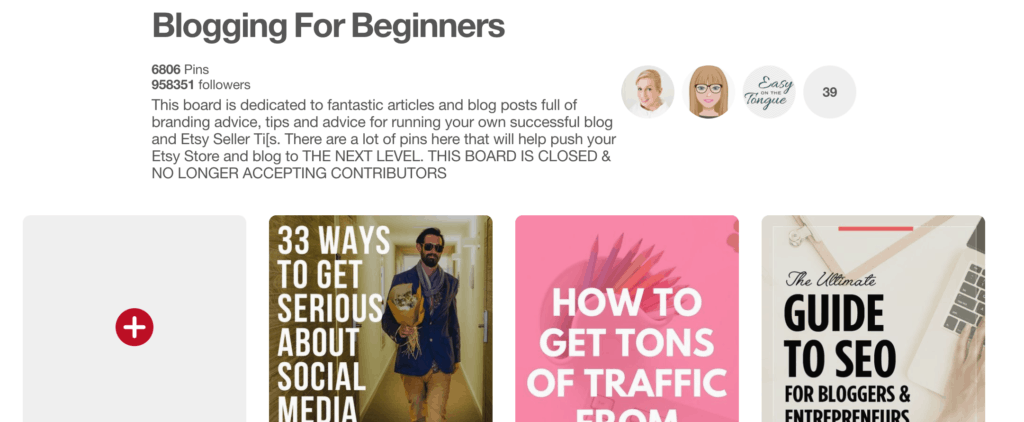 This is one of the best group boards I am apart of (but unfortunately is closed) and I will be using it as an example. You see the first person in the circle? Thats the creator of the board and who you want to reach out to when asking to join the board.
Make sure you follow the person, or they will not be able to add you! I personally reach out to people through an email and am extremely polite. It can sometimes be a challenge to find contact information for the person if her email is not listed in the description so get your stalking skills ready (yes, I have found them on Facebook and messaged them there…so creepy!). I always make sure to validate my content (say that I have content that will be beneficial to the board), will follow all the rules (very important), and will do anything they need.
The last one sounds like such a suck up, but honestly I am trying to suck up to them. They have THOUSANDS of people that they will let me share my content to for FREE!
People will not always email you back, so be prepared to wait. I would say that if I send 10 emails out, I will usually get a reply from two of them. It can be a slow process, but believe me, it is so important if you want to be successful through your blog.
I want to restate, make sure your content is about the followers and NOT you!
I spend about 5 hours a month on Pinterest using this system and have millions of people seeing my content.
One of the most beneficial parts of the bonus in the Making Sense of Affiliate Marketing course was the introduction to Boardbooster and Tailwind. These are THE reason why I am able to have so much success with so little time on Pinterest. It took me an afternoon to set up, but now that its set up I only spend about five hours every month working on Pinterest.
Boardbooster will loop your pins everyday which means your content is constantly being seen and resposted. This costs $5 dollars a month, but was one of the reasons my content has gone viral on Pinterest and has increased my traffic by over 125,000 people last month.
This video goes over how to set up your boards on Boardbooster and makes it much more clear than I could explain here.
Boardbooster gives you 100 free pins, so I highly recommend trying this out.
Tailwind is another automation website that I use for a different purpose and love. On Tailwind, I can schedule hundreds of pins in a matter of minutes (seriously, like two minutes) and then have them automated to go out at certain times and days. This basically makes it look like I am always on Pinterest, when in reality, I barely spend any time on it.
I currently have 25 pins going out per day and have analytics that show this is a good number for me. However, I definitely recommend trying it out and finding a number that works well for you. I would NOT go much higher than 25 because you don't want to come across spammy.
You can schedule and publish 100 pins free with this link. 
This is a lot of information, but utilizing this method has made me SO much money, and I believe it will make you money too.
I never thought I would make this much money on my blog in such little time, and NEVER thought it would be because of Pinterest sending traffic to my blog.
All this information can seem overwhelming and you might be wondering if you can even do this, but I guarantee in a year, you will have wished you started sooner.
I would not have had any of this success without Making Sense of Affiliate Marketing (let alone, in a month!!). I still can't believe Michelle has made over $300,000 from one post using affiliate marketing and these Pinterest tips.
While my blogging business is just starting out, I have already had success and can't wait to see where I am next year at this time!
More Posts You May Like
–How I Increased My Savings by 300% With One Easy Step