Looking for the best graduation party games? Here are all our favorite graduation party games to play at your party in 2021.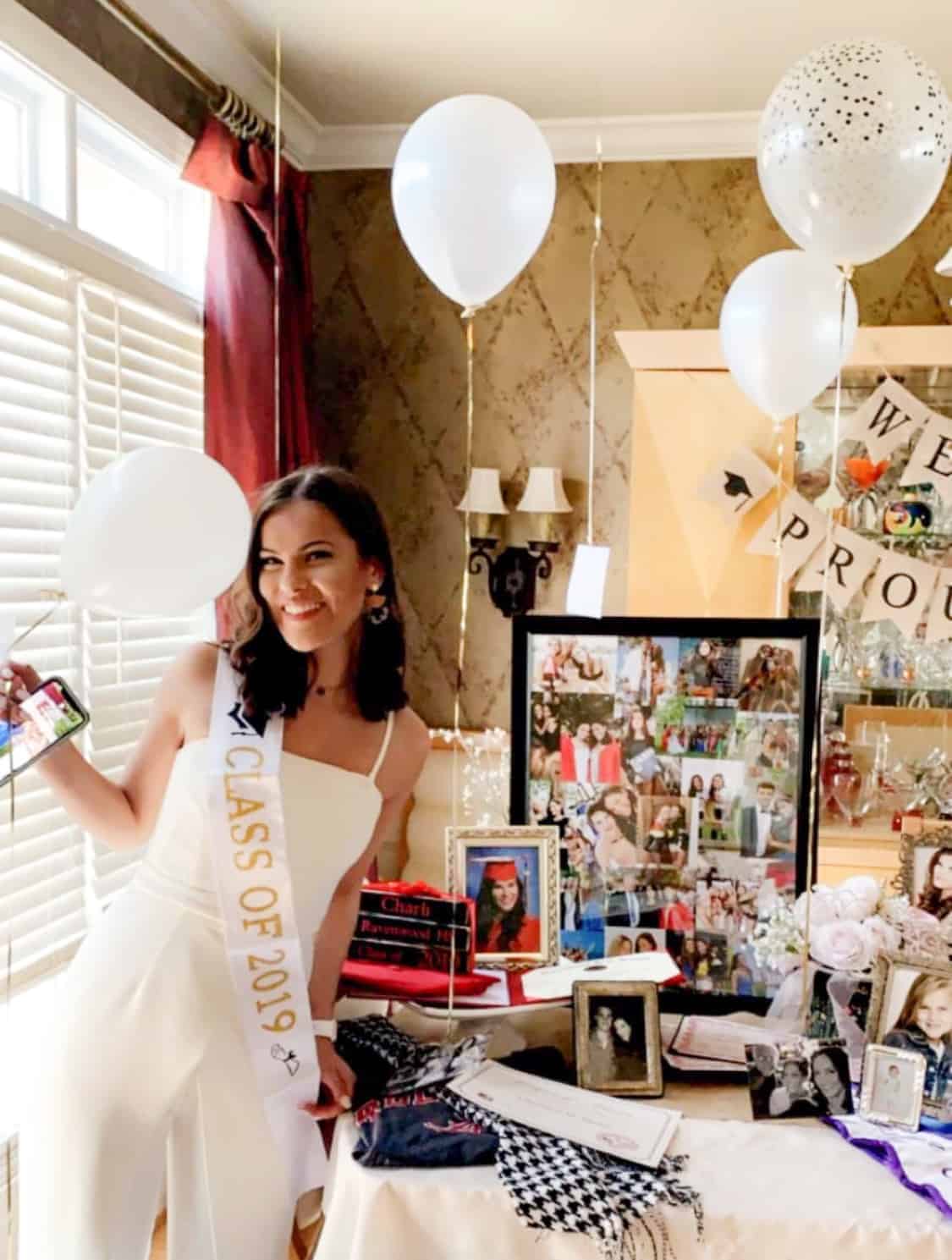 When planning your graduation party, you obviously want to make sure you have all the supplies, food, and decor to throw an amazing party. But you also need some super fun activities to keep your guests entertained!
When I was planning my graduation party, I wanted to make sure I had more for my guests to do than just talk and take pictures. The last thing I wanted was for my guests to leave early because they were bored.
The best way to keep your graduation party fun and alive is with graduation party games! I have compiled all of the most fun graduation party games to play at your party this year that will most definitely keep your guests entertained.
This post is all about graduation party games.
BEST GRADUATION PARTY GAMES:
1. Yardzee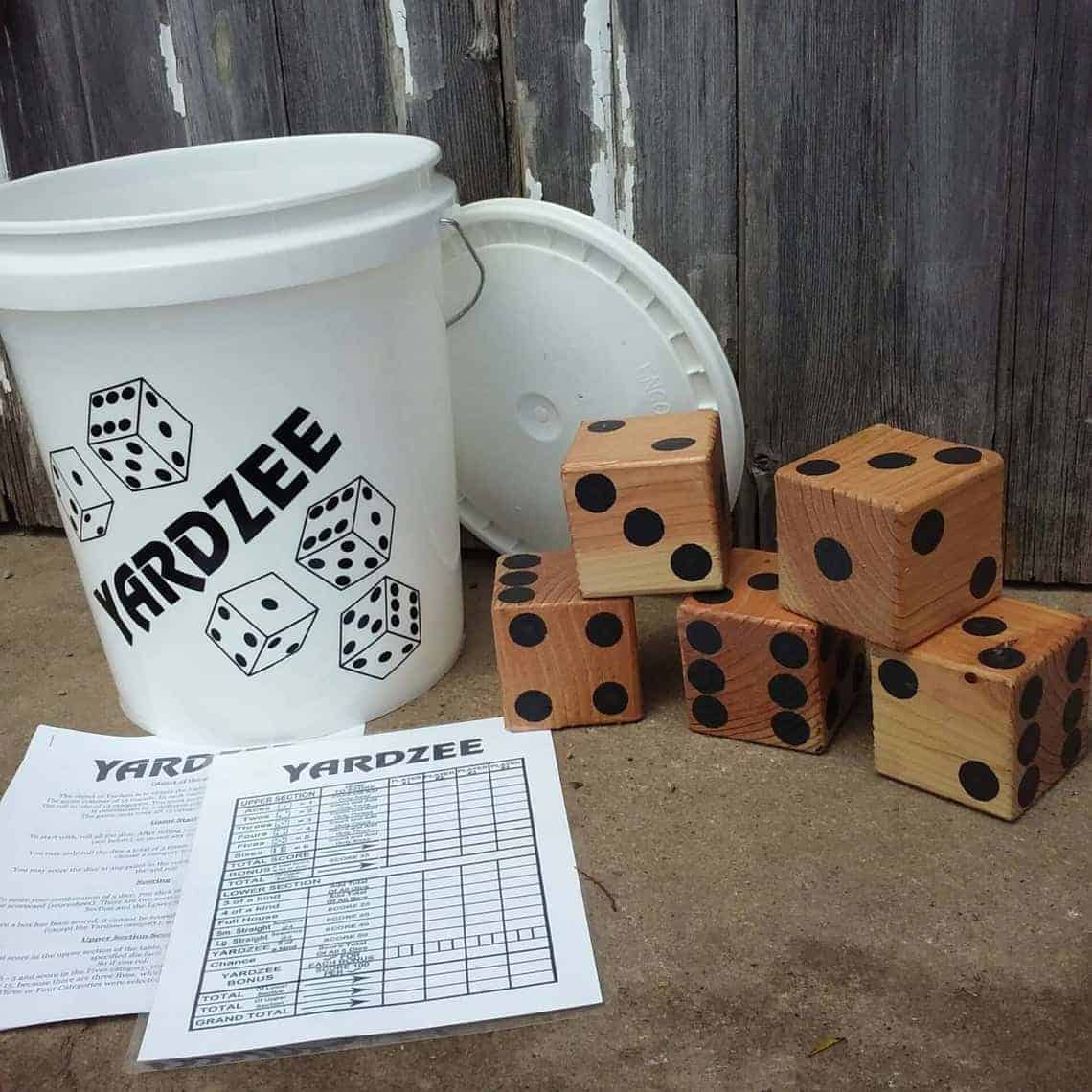 We all know the classic game of Yahtzee but the normal game would be too small for all of your guests to watch and enjoy. Like kubb set, which unlock the secrets of the ancient game of "Viking chess" and transports you to a time of play and enjoyment in the Nordic lands, this "Yardzee" game can be played outdoors in a yard. I can promise your guests will have so much fun playing this and even watching!
2. Grad Libs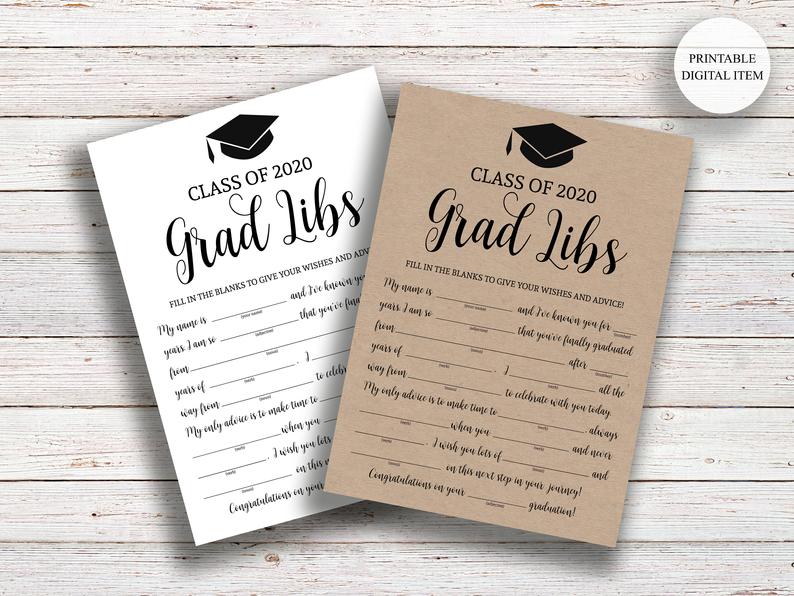 Mad libs are always so funny to read when you're done so why not make it graduation themed and play at your graduation party? You could even have some of your guests read their funniest ones and vote on whose was the best for prizes.
3. How Well Do You Know The Graduate?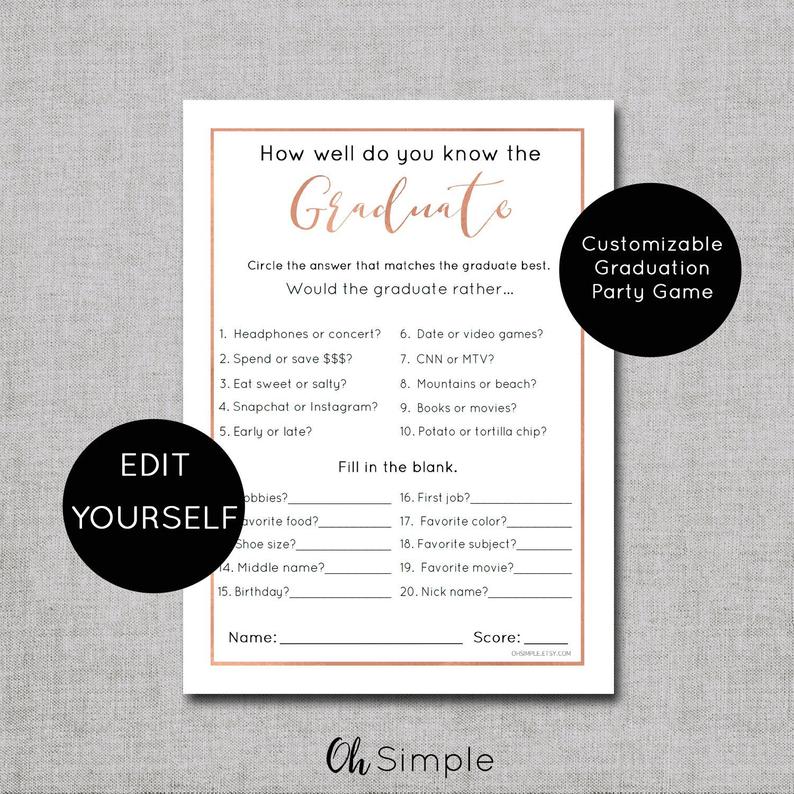 This printable from Etsy is a fun activity for all of your friends and family to fill out. When they are done, have them drop it in a box so you can read their answers later! This is also a great way to keep track of who all was at your graduation party.
4. Words Of Wisdom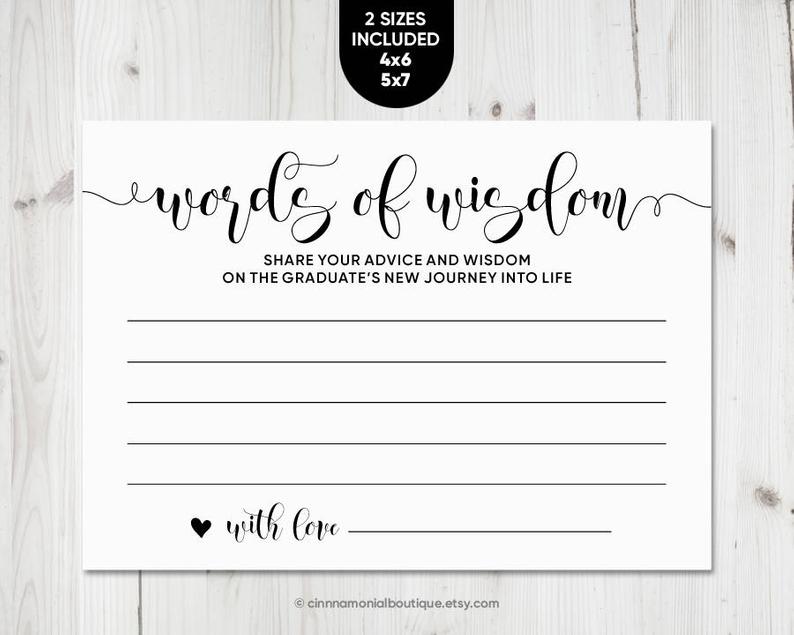 This is less of a graduation party game and more of a super sweet activity for your guests to give you all their best advice. I had a words of wisdom box at my graduation party and spent hours reading all the great advice after my party. I promise if you do this you will love reading the advice for years to come.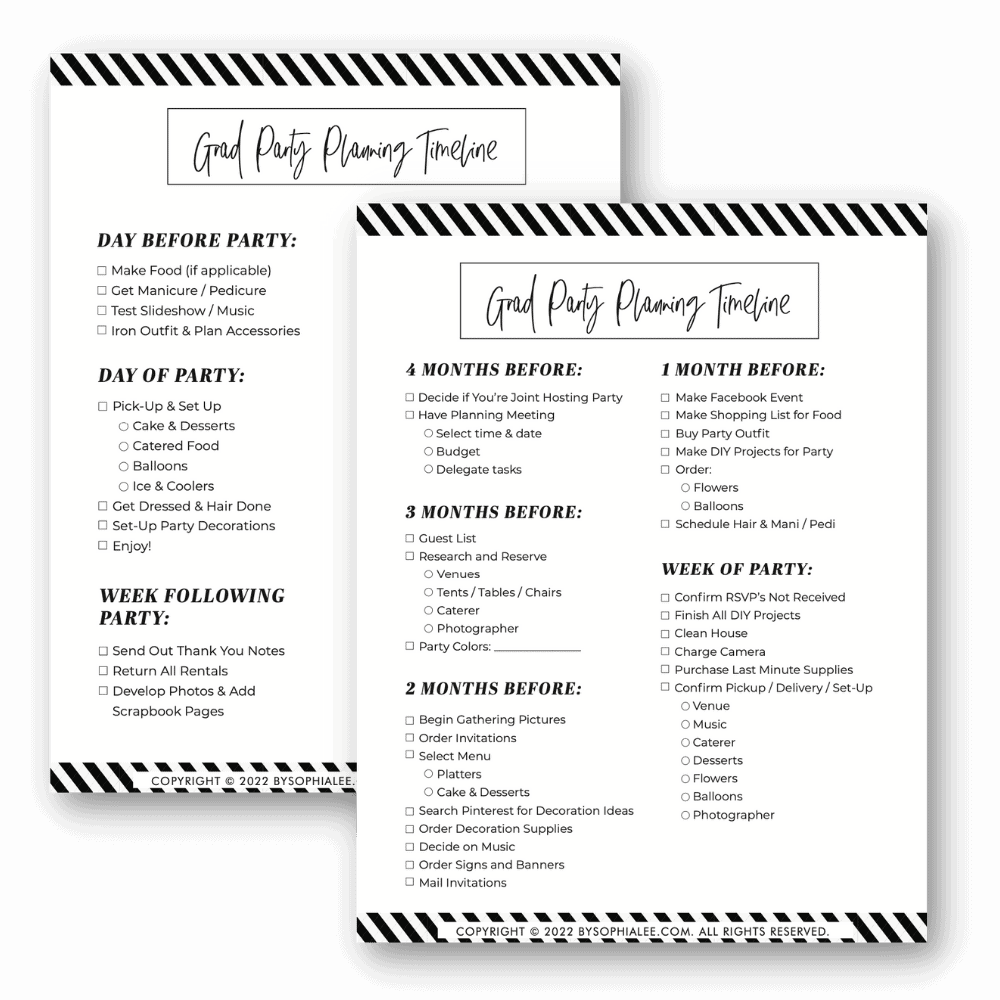 [tcb-script src="https://bysophialee.activehosted.com/f/embed.php?id=78″ type="text/javascript" charset="utf-8″][/tcb-script]
5. Graduation Jeopardy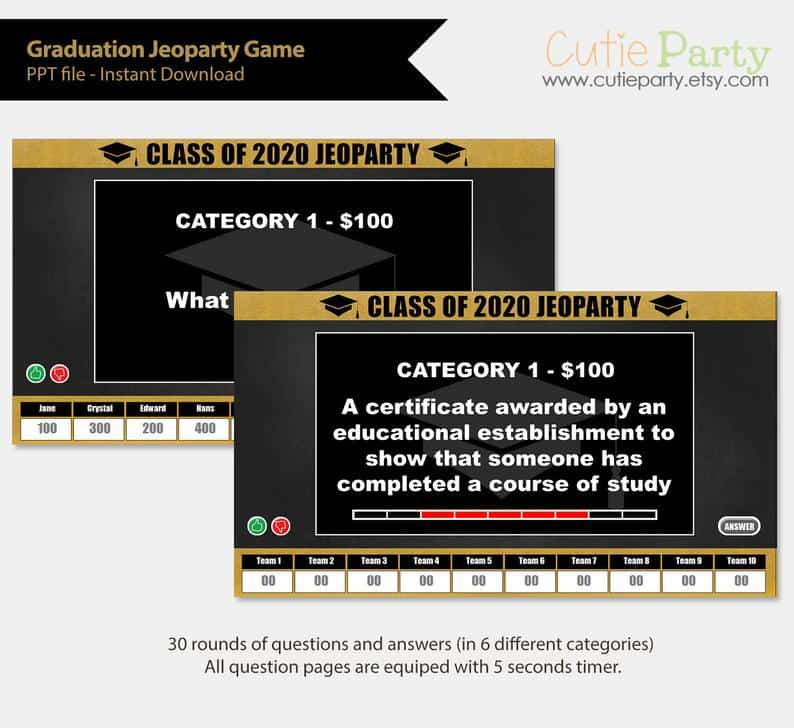 How fun does graduation jeopardy sound?! This game is a download you can buy off Etsy to play with your friends and family. Download it to your computer and use a projector or hook it up to the TV so that everyone can join in and play or listen. This is one graduation party game I have never seen done before but looks super fun so I'm sure all your guests will be entertained by it!
6. Pipe-Ball Yard Game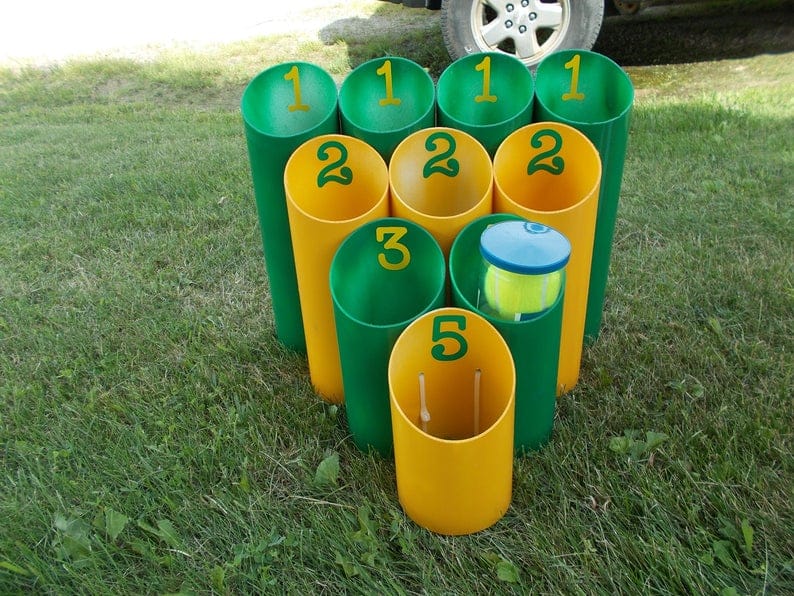 If you are planning on throwing an outdoor graduation party, this pipe-ball game is the perfect game to play in your yard! You could even have your guests sign up on a bracket and make a whole tournament out of it!
7. Jello Shot Jenga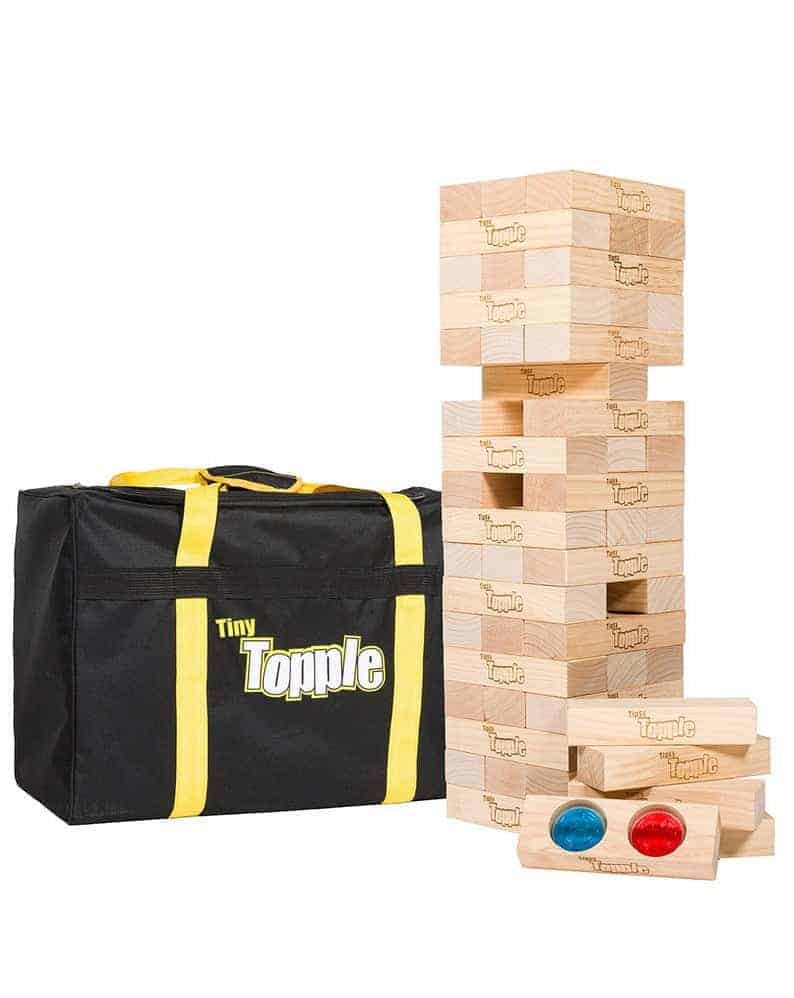 This graduation party game is for the 21+ crowd! This jello shot Jenga set would be a super fun game for adults or even at a college graduation party. If you want to make it kid friendly, you can always skip the alcohol and use regular jello.
8. Graduation Bingo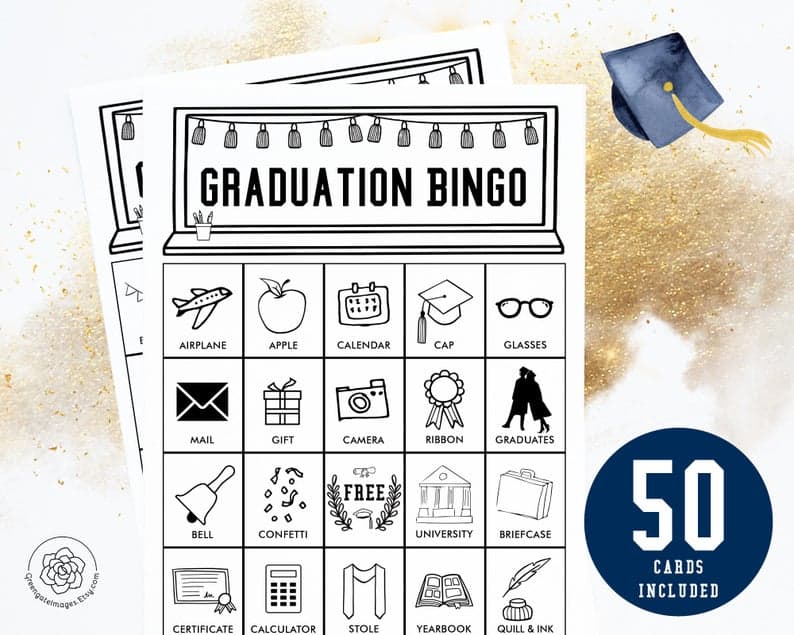 This graduation bingo set from Etsy comes with 50 cards so all of your guests will be able to play at once! This is a great game for any aged guest at your party. You could also give out small prizes to the winners to take home!
9. Graduation Party Games Bundle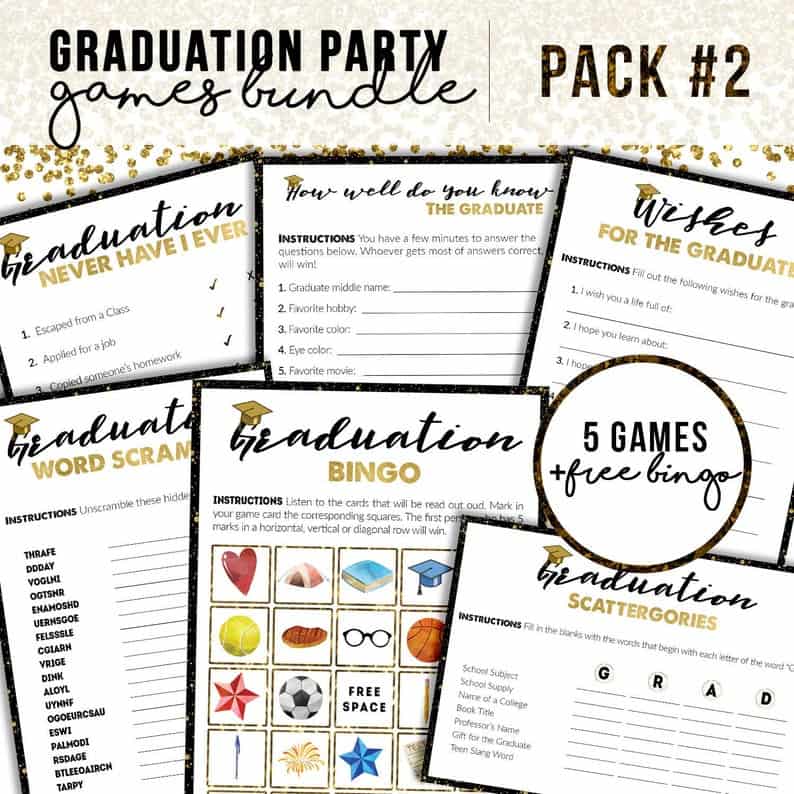 If you want an assortment of graduation party games, you can just buy this whole bundle on Etsy. It comes with bingo, a word scramble, advice, and more!
10. Guess Who Said It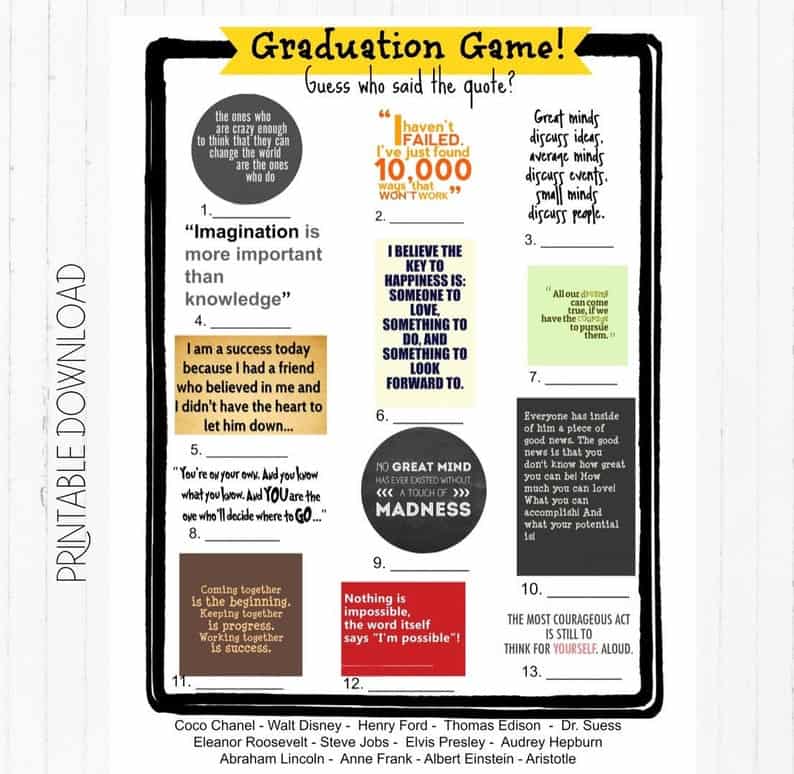 Guess who said it is another easy but fun graduation themed party game that anyone can play. Just like all the other games, you can always give out prizes to the person with the most correct!
11. Graduation Scattergories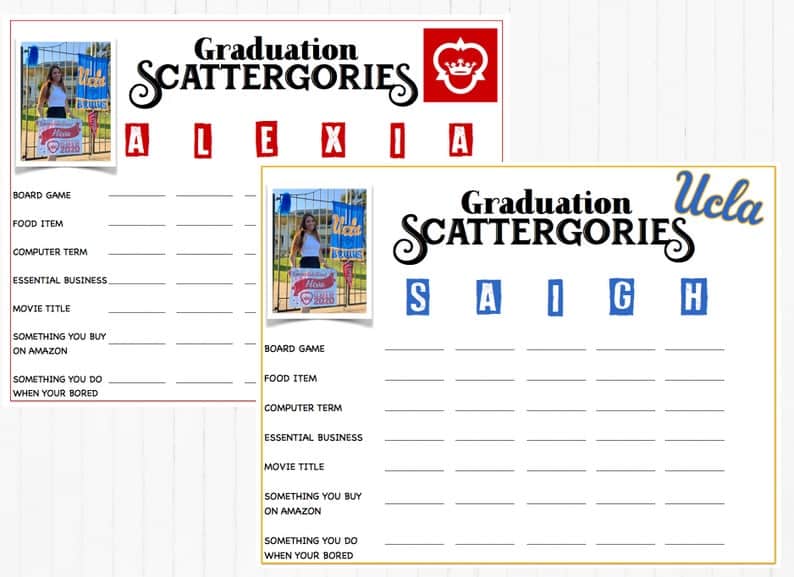 Scattergories is one of my family's favorite games so I know they would have loved this at my graduation party. Plus, this graduation themed version is customized with your name and school to make the game even more fun and special!
12. Graduate Mind Reading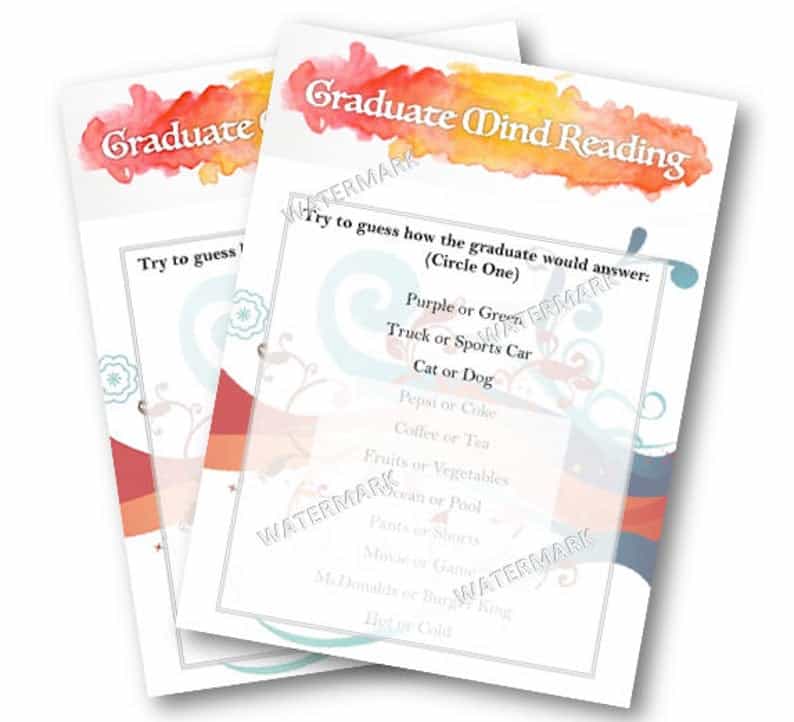 For this game, have the graduate fill out all their answers before the party. Have your guests fill out what they think you would pick and either hold onto their card or put it in a basket. After everyone has turned theirs in, read your answers out loud and announce the person with the most correct answers!
13. Has The Grad Ever…
Has the graduate ever is a fun graduation party game that will let your guests know even more about you. Plus it will let you see just how well each of them know what you've been up to the past 18-22 years! This graduation party game will most definitely bring up some really fun and interesting stories!
14. What's On Your Phone
What's on your phone is a game that can easily be played by every guest at your graduation party! Have them look through their phone and check off anything that they have on their phone. The one will the most points in total at the end wins!
15. Graduation Bean Bag Toss
Graduation bean bag toss is a great game to have at your graduation party if your guests have kids. This will keep the kids entertained so that the adults can socialize with you and others as well!
16. Guess How Much Money Is In The Jar
This is a pretty self explanatory game. Guests fill a jar up with coins and have guests guess how much is in there! You could even let the person with the closest guess take them home at the end if they want.
17. Scratch Off Graduation Cards
These scratch off cards are one of my favorite graduation party games because they are so simple but so fun! I have never seen these at a graduation party before so this would be a really fun and original game to have! Pick out some fun prizes or put together goodie bags for each of the winning tickets.
18. Graduation Word Search
Anyone can play this graduation word search game so I think it would be great to have at your graduation party! This is especially good for the older guests at your party that may not be able to participate in outdoor yard games.
19. Hats Off Graduation Games
This is another graduation party games bundle that includes fill in blanks, advice, trivia, and grad libs. I'm not going to lie, it definitely stood out to me because of how cute the packaging was!
20. Spikeball
When I say that every single guy loves this game, I really mean it. It is a super simple outdoor game but teens, especially guys, get so into it! If you have a lot of yard space and plan on having an outdoor graduation party, I 100% recommend having this game.
21. Yard Pong
Yard pong is pretty much a giant version of the beer pong we all know and love, but it is played in the yard (with water of course). Guests of any age can get in on this fun graduation party game and it will keep them entertained for hours!
22. Giant Connect 4
This giant connect 4 is the absolute best graduation party game to have if you are having an outdoor graduation party. I can promise everyone there will love this oversized outdoor graduation party game!
23. Cornhole
Last but not least, corn hole is a classic party game that is perfect to have in your yard for guest to play at your graduation party. You can find corn hole boards of all different colors and styles but it would be super cool to buy some with your future college's colors on them for your graduation party!
Other Posts You May Like: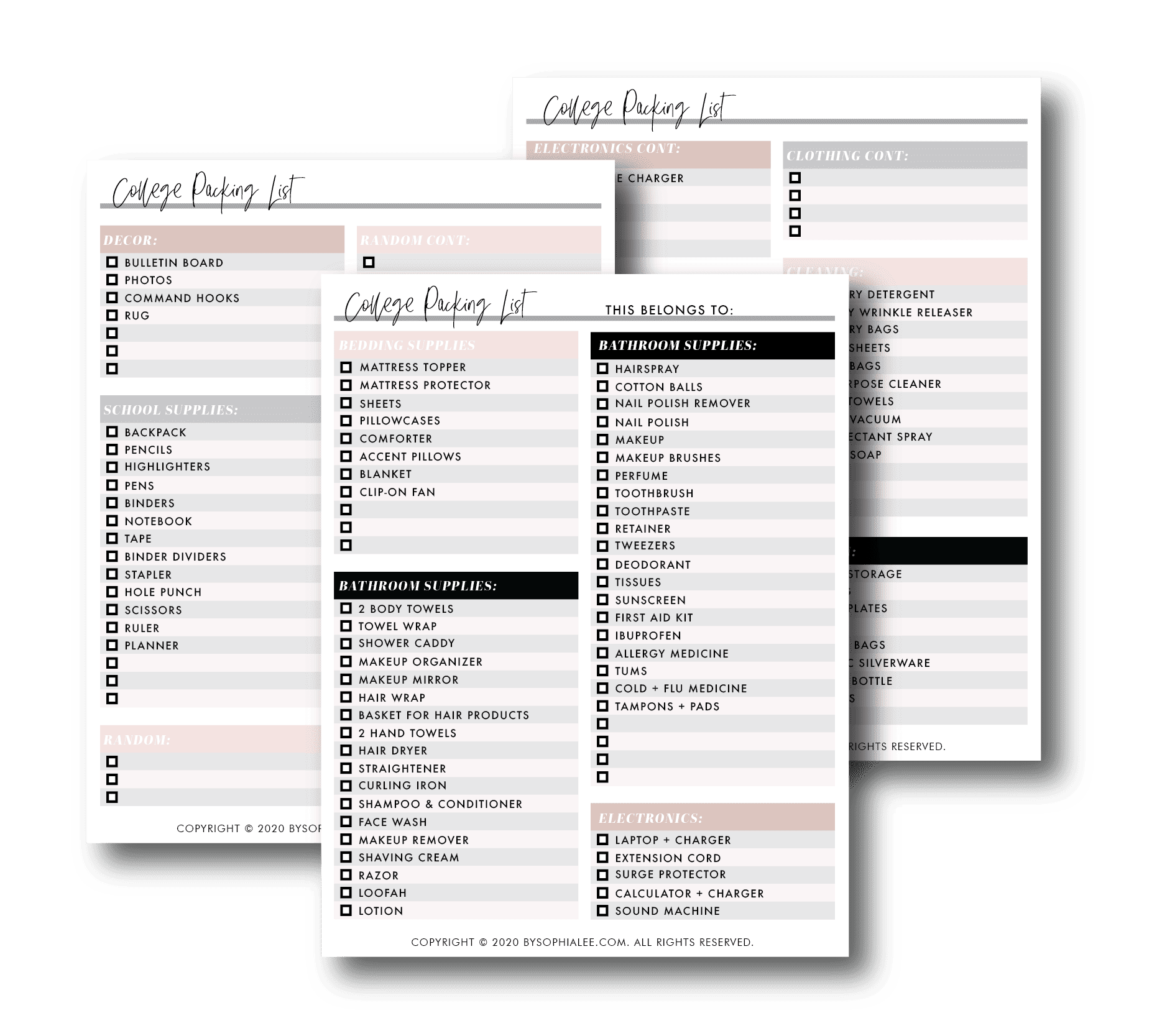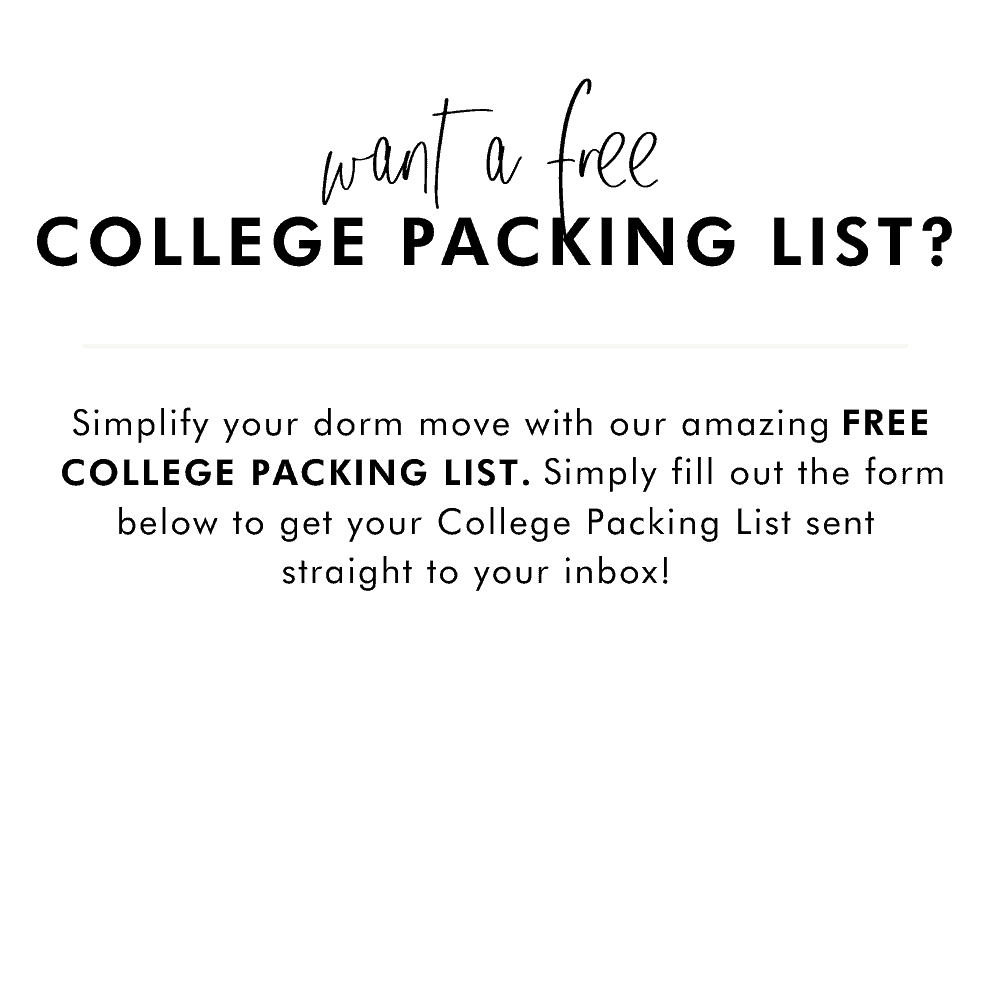 [tcb-script src="https://bysophialee.activehosted.com/f/embed.php?id=14″ type="text/javascript" charset="utf-8″][/tcb-script]