This post is all about graduation party invitations.
Graduation party invitations are the first thing your guests will see and really set a tone for the big graduation celebration happening just a few weeks later.
With all the invitation websites out there, it can be hard to search through all of the grad party invitations and find one that truly fits your parties vibe while being extremely cute.
This post shows you the best graduation party invitations of 2021.
GRADUATION PARTY INVITATIONS 2021:
1. Gold Foil Graduation Announcement Card
This graduation invitation is extremely eye-catching and really puts emphasis on the graduation year.
2. Graduation Party Invitation with Photo
This grad invitation gives you the option of downloading the template to your computer and printing it yourself or getting it printed by the Etsy owner.
3. Classy Graduation Announcement
I am OBSESSED with this graduation invitation!
Love how classy and simple this is...perfect for girls and guys, too.
4. Girly calligraphy card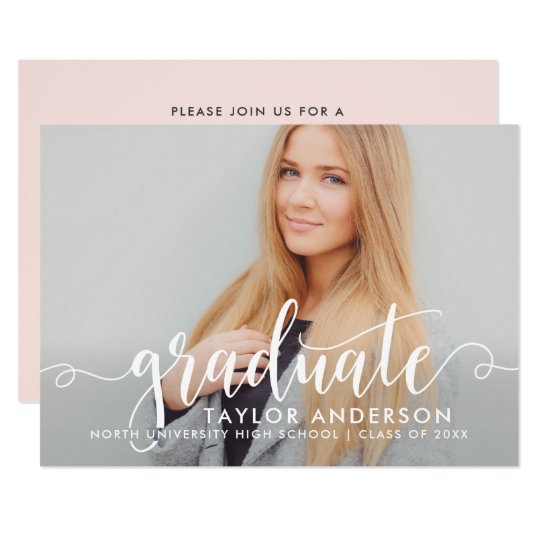 This graduation invitation is from one of my new favorite card stores, Zazzle! They are similar to Etsy but I find they are much more inexpensive and do sales more often.
5. Gold confetti graduation announcement
This is the perfect mix of simple while making a statement.
6. No Picture Graduation Announcement
This is my favorite no picture graduation announcement by FAR.
If I didn't wan't a picture on my card this would 100% be the invite I choose.
7. Graduation Party Invitation Template
The calligraphy on this card gives it just the right amount of classiness!
8. Simple Graduation Party Invitation
9. Funny Graduation Party Invitations
10. Fill-In Graduation Party Invitations
11. Trendy "grad vibes only" invitation
12. Simple Graduation Invitations
13. Gold Grad Party Invitation
14. All black text graduation announcement
15. Group Graduation Invitation
16. Fiesta themed Graduation Party Invitation Template
Having a theme for your graduation party can be super fun not only to decorate, but to make coordinated invitations! I love the art and the wording on these invitations.
17. Black and White Graduation Announcement Card
18. Polaroid Party Grad Invitation
19. Gold foil calligraphy announcement
20. No photo, classic graduation party invitation
21. Multiple Image Graduation Card
22. Classy Graduation Announcement
This post showed 22 insanely cute graduation party invitations.
Other Posts You May Like: