If you're looking for an easy recipe that can be made in .2 seconds, these 3-ingredient enchiladas are it. I always have these ingredients on hand so whenever I have a crazy night, I can easily throw this in and have a delicious dinner that requires zero effort.
I have only made these with Trader Joe's frozen bean and cheese taquitos and their can of enchilada sauce, but I had a reader message me saying she tried it with ingredients she found from her local grocery store and it turned out just as amazing!
These taquitos turn soft just like an enchilada. So good and can't even express how dang easy this meal is.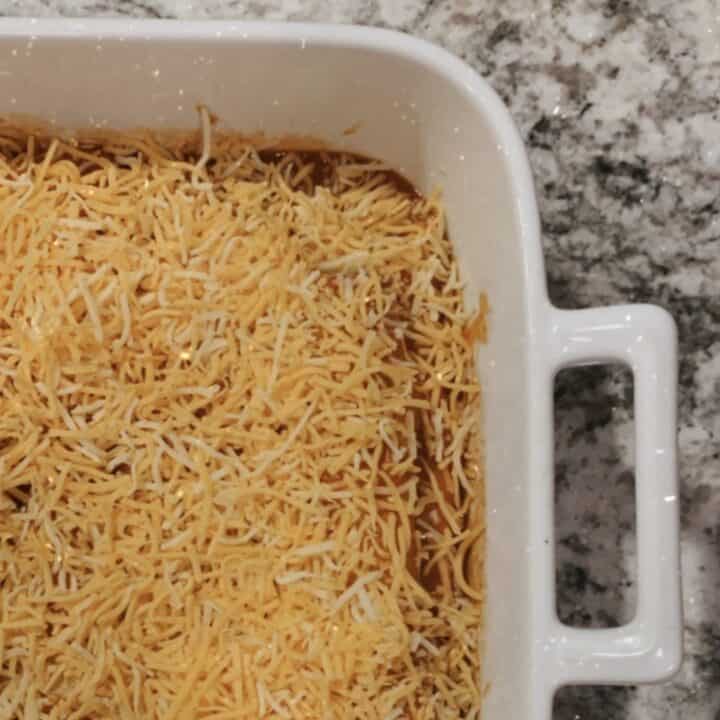 3-INGREDIENT ENCHILADAS
One of our favorite easy meals here at BSL! You can make this with just 3-ingredients. It's so easy it basically makes itself.
Ingredients
Frozen Taquitos (I get Trader Joe's Frozen Black Bean + Cheese Taquitos)
1 Can of Enchilada Sauce 
Mexican Cheese
Instructions
Preheat oven to 425 degrees.
Place frozen taquitos in line in a casserole dish.
Place the entire bottle of enchilada sauce over top of taquitos.
Sprinkle the desired amount of cheese over top.
Cook in the oven for 25 minutes. The taquitos will be soft and taste just like enchiladas!