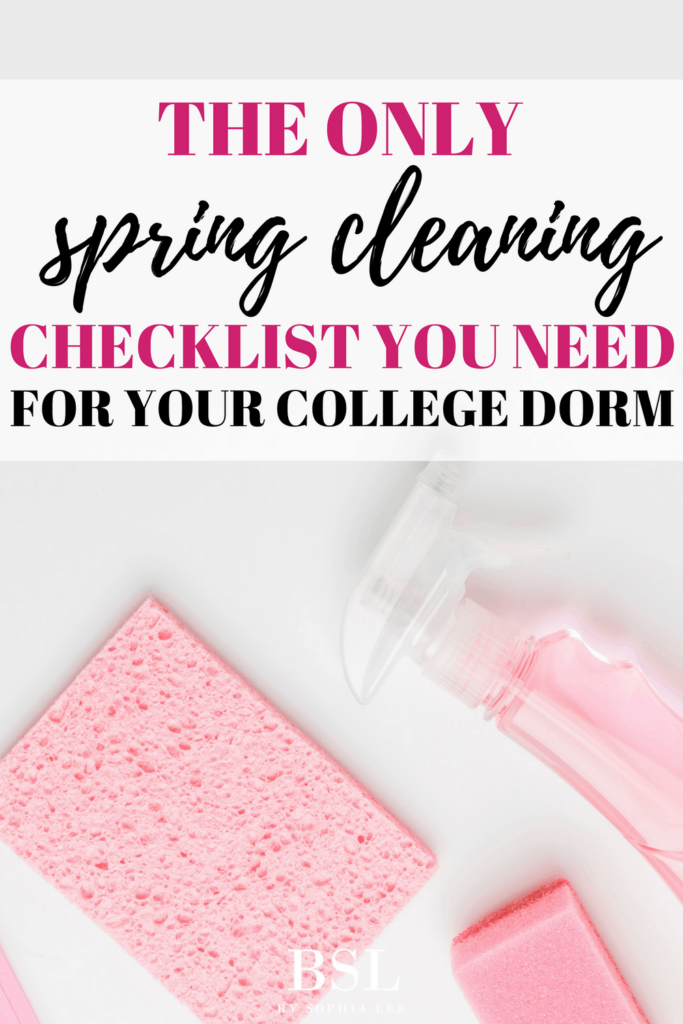 'Tis the season for spring cleaning.
Maybe it was just me growing up, but I would dread the moment my mom would start talking about how this is the month all the spring cleaning is getting done.
Side note: Why does this all happen in spring… Why isn't it winter or summer cleaning?
I do have to say, that this is the time of year that my room starts to get cluttered with unnecessary objects and my annoyance is slowly rising.
My desk drawers are starting to overall with random papers (same with my backpack) and my fridge has stuff in it from before Christmas 🙂 Yikes.
With all that said, my roommate and I are actually very clean people. Our room almost always appears clean but it is now the time to really clean–deep clean.
While spring cleaning is a great way to declutter and organize our homes, sometimes we need a little extra help to get those hard-to-reach places or to thoroughly clean industrial spaces. That's where industrial cleaning brisbane can come in handy. These professionals have the tools and expertise to clean everything from factories to warehouses to commercial kitchens. They can help ensure that your space is not only clean but also safe for your employees and customers. So if you're looking to take your spring cleaning to the next level, consider hiring an industrial cleaning service to give your space a deep and thorough clean.
This post shows you exactly how I deep clean my dorm room in an efficient and fast way.
Supplies I use:
WANT A FREE COLLEGE DORM PACKING LIST?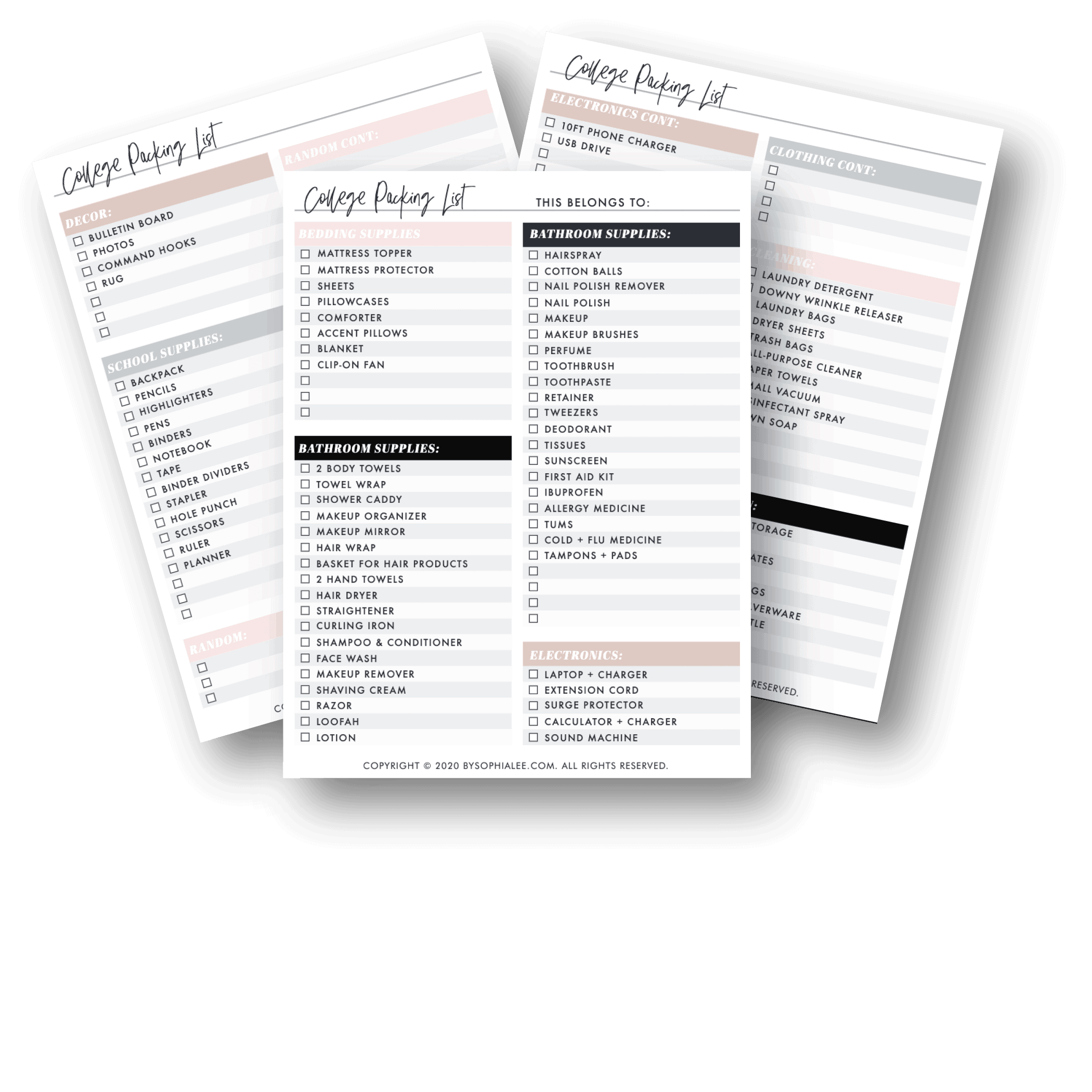 Simplify your college packing with our amazing FREE Dorm Packing List. Simply click the button below to get your College Dorm Packing List delivered straight to your inbox!
[tcb-script src="//static.leadpages.net/leadboxes/current/embed.js" async="" defer=""][/tcb-script] CLICK HERE TO DOWNLOAD!
Part 1: Organize Everything
Get all laundry together and put in washing machine.

Bedding: Sheets, pillows, comforter, blankets.

Clothes: Wash everything in your laundry basket so that your laundry basket is empty when you are done cleaning your room!

Towels: Body towels, face towels, and coverups.

Put all clutter away (even if it's your roommates).

I live in a suite. It is two bedrooms and one "living room" area. What I usually do is go three both of these rooms and pick up anything that's on the ground, coffee table, or couch and put it away or put on person bed. I will also throw any trash out on these.

This has worked really for my roommates and I and gets the job done pretty quickly.

Go through clothes and reorganize.

There are two different ways that this could be done whether you're close to home or far away.

I'm close to home, so I will go through and take all my winter clothes home and replace them with spring/summer clothes.

If you are far from home, you can reorganize your closet so that your spring clothes are easier to get too than your winter clothes. If you have room under your bed or futon, you could also put all your clothes into under the bed storage.

Organize fridge and get rid of bad food.

Make sure nothing has hit the expiration date and clean it up so it looks good,

You could even take everything out and wipe it down. The good thing is that college dorm fridges are usually super small so it shouldn't take too long.

Go through the desk and get rid of anything that shouldn't be in there.

This year I have taken "miscellaneous" desk drawer to a whole new level. I am constantly shoving papers I don't want to be thrown away but don't have anywhere else to go in there and it has become a really bad habit :/

I also keep all my makeup in my desk, so I would wash my makeup brushes at this step.
Part 2: Clean
Dust

I always start with dusting because I feel like the dust ends up on the floor and would require me to vacuum (if I vacuumed first… does that make sense?)

I use my all-purpose cleaner for this and just a paper towel. I like the paper towel instead of a cloth because then I can just throw it away and it doesn't have to mix with my other clothes.

I dust basically every surface with this and move objects that are on my desk, coffee table, etc.

Clean Bathroom/Sink

I know not all dorms have sinks or bathrooms in them so if yours doesn't, just ignore this then. (Mine only has a sink so I will just say what I do with that)

I HATE cleaning sinks… it is probably my least favorite thing ever to do. I basically cry the whole time doing it 🙂

I use my all-purpose cleaner and spray that bad boy up so much and then take A TON of paper towels to make sure my hand doesn't accidentally touch the sink and clean the whole thing.

I also clean the mirror above with a separate paper towel while I'm at.

Once that's done, I take my disinfecting wipes and spray and spray it all over the sink (especially the handles). The disinfecting spray I use just dries on its own so I don't need to wipe it up or anything when I am done).

Take Out Trash

I empty all trash cans and bring the bags to the dumpster.

I will then put clean bags into all the trashcans.

The reason I do this before vacuuming is just in case crumbs come out while taking it out.

​

Vacuum

I got this vacuum for literally $20 dollars and it has been one of the best dorm purchases I have made. It works better than the dorm vacuums.

I vacuum all floors and go over my futon to get any crumbs.

Make bed.

I take my clean sheets and re-make my bed.

Disinfect all handles.

I finish up by spraying down all handles, remotes, light switches, etc with the disinfectant spray. (I LOVE this spray.)

Light a candle.

Haha, JK. I know those aren't allowed in dorm rooms 🙂 I have this wall-flower that is way cheaper than Bath and Body Works and works just as well. Everyone always compliments us on how good our room smells!
I promise you that if you follow these steps, your room will feel SO good!
I'm one of those people that needs their space clean to be productive so having all my cleaning not only helps my mood but also helps me get more stuff done.
want ALL the free college printables?!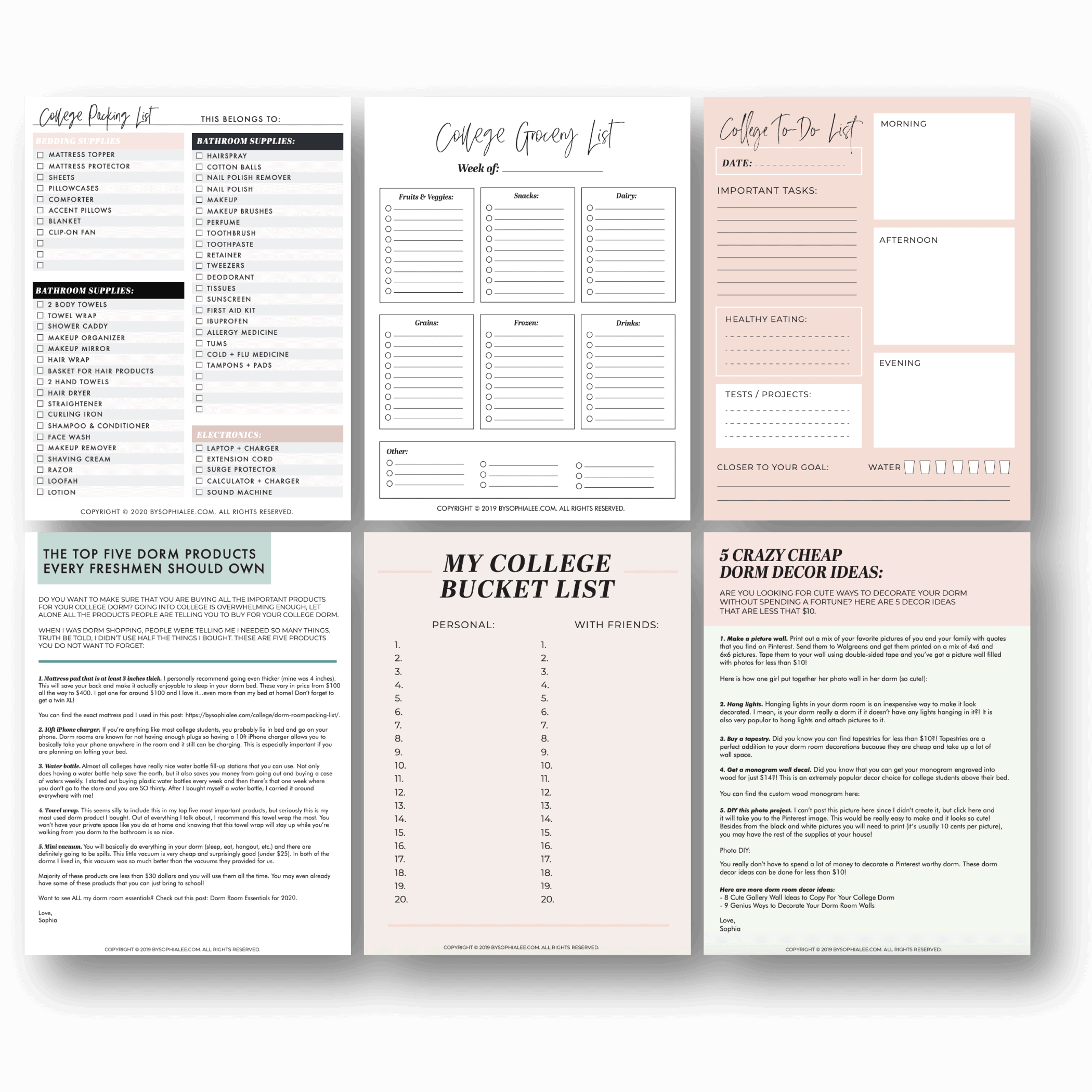 Receive all of my most popular College Printables for FREE! Simply click the button below and get all of these sent directly to your inbox.
[tcb-script src="//static.leadpages.net/leadboxes/current/embed.js" async="" defer=""][/tcb-script] CLICK HERE TO DOWNLOAD!
OTHER POSTS YOU MAY LIKE:
–8 Disgusting Things In Your Dorm That Need To Be Cleaned Immediately
–A Complete Guide to Transferring Colleges
–The 5 Study Tips That Helped Me Earn a 3.7 GPA in College Last Semester
Pin this image to remember for later!