1// 2// 3// 4// 5// 6// 7// 8// 9// 10// 11// 12// 13// 14// 15// 16// 17// 18// 19
Gallery walls are one of the easiest way to add big impact to any room. I am a huge fan of them and have used them in a lot of my spaces including my office. As much as I love them, I am quite aware of how expensive they can be! Plus, after awhile, you might be thinking of switching some of your artwork for new options. In this post, I have rounded up the best FREE gallery wall art, plus some different ideas on how to style it.
Before you pick you gallery wall art out, you need to pick which frame and frame sizes you want. This was the hardest part for me! Do you want all the frames to be the same, different styles, varying sizes?! So many options! Here are some of the best gallery walls on the internet that use all different sizes and styles of frames.
Gallery Wall Frame Ideas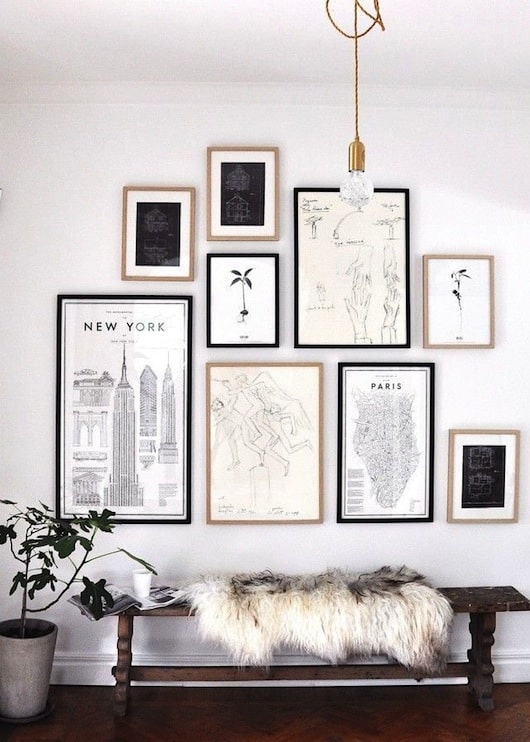 Picture from Sacramento Street.
This gallery wall uses two different styles of frames. I love how the black and wood contrast each other and give off a really interesting design. You can purchase a similar set of the black frames here and similar wood frames can be found here.
Picture from Landee See Landee Doo.
I love how uniform this gallery wall looks! Luckily for anyone that wants to go this direction, you can buy a set of these exact frames from Amazon. Super easy and pretty inexpensive!
Picture from Making Home Base.
Out of all the options, this one is my favorite. It just looks so classy and flows well! West Elm has beautiful frames like these but I also know Target just started selling similar ones.
Picture from Lonny.
Is this not the easiest idea ever?! And it looks so good. I think this in a dorm room or kids room would be perfect. You can buy a set of 10 clipboards from here for less than $20 dollars.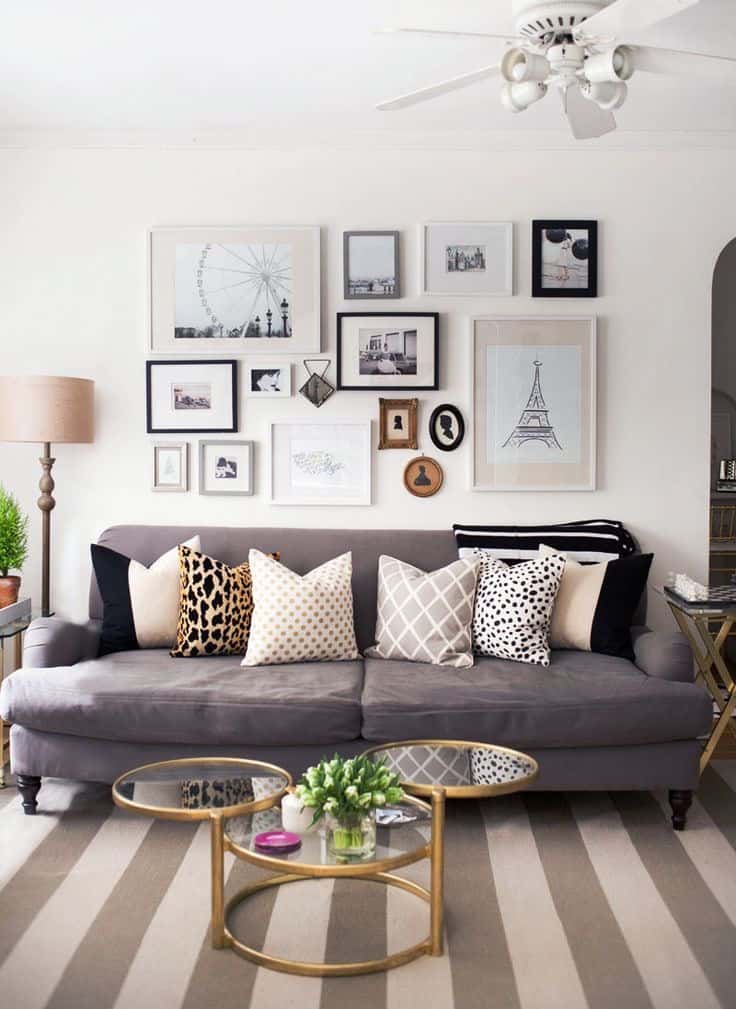 This gallery wall might take a few runs to get all the frames but the end result is quite impressive. This designer used different colored mats that you could find from Michaels but she also used a variety of frames. A set of similar white frames can be purchased from Amazon and the same goes for the black frames. However, for all the other ones, I think a trip to Goodwill would be efficient! Goodwill is a great resource for finding a mix-match of different frames for a really good deal!
want ALL the free college printables?!
---
Receive all of my most popular College Printables for FREE! Simply click the button below and get all of these sent directly to your inbox.