This post is all about money tips for 20 year olds.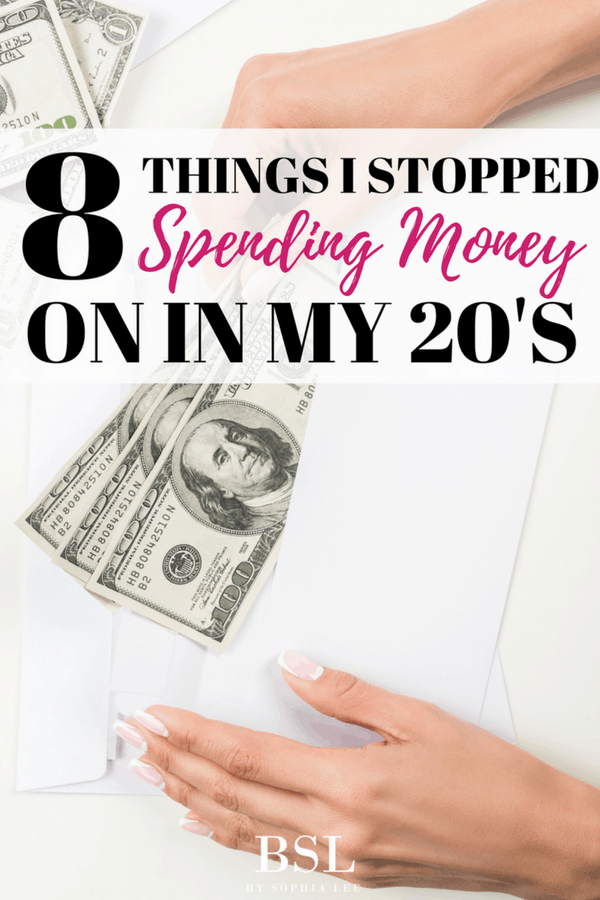 Did you know that seven out of 10 college students feel stressed about their personal finances, according to a new national survey?
That number should be surprising but with the amount that I used to spend and the amount that I see other people spending, it is expected.
The fact of the matter is that we are consistently spending more than we make and most of the time it is on purchases that we do not need.
I used to spend almost all of my paycheck every month but I have been working so hard on not spending money and paying off all of my debt.
I have stopped spending money on these 8 things and they have allowed me to save $100's of dollars every month. PLUS, I don't even really feel like I stopped spending this money since I am still getting everything I used before, just at a fraction of the price.
This post is all about money tips for 20 year olds.
Make Your Own Meals
Eating out is one of my biggest expenses because when I am hungry, I want food n-o-w. (Relatable?!)
Planning ahead or making crock-pot meals allows you to come home and it be ready to go. I have been trying to plan out my meals every week so that on Sunday I can go to the grocery store and get whatever I need. Then, I can also meal prep everything that can be done so that it is really easy to put the meal together when the time comes.
Planning on Sundays makes you have the ingredients available to you so you aren't doing last minute grocery store trips and then buying way more food than you need.
For date night, instead of going out you could search through the cabinets and see what you can make with the food there, ya know, channel your inner Food Network.
Last tip for this section, I have been buying store brand products and it tastes the exact same at a way lower cost. Once you get past the plain (most of the time ugly) labels, you wont notice a difference.
Make Your Own Coffee and/or Tea.
I am sure you have heard this one before but brewing a cup of coffee costs between 16-18 cents where buying a coffee costs as much as $5 dollars. Lets say your drink costs $3.50 every morning and you get it 5 days a week... that is almost $1,000 dollars a year!!
Buy a coffee maker or Keurig and save yourself the $1,000 dollars while getting (nearly) the same taste. Plus, you can save time not going to the coffee shop.
​

WANT A FREE COLLEGE DORM PACKING LIST?
---
Simplify your college packing with our amazing FREE Dorm Packing List. Simply click the button below to get your College Dorm Packing List delivered straight to your inbox!
Stop Spending on ATM Fees
The other day I went to an ATM that used to be a no-charge ATM and it would have cost me $3.00 just to take money out of it!
I drove away so quick. Isn't that so crazy?!
Plan your money ahead of time to make sure you can go to your own bank for the ATM so you're not spending extra unnecessary money.
Also, Venmo is amazing. I think everyone and their mother's know what Venmo is but if you don't, it is a way to transfer money to other users on the platform and is safe. It's super easy, almost too easy, so also make sure that you aren't just transferring money whenever you feel like it.
Gym Membership
I've been a major at Orange Theory for almost a year and just cancelled my membership last month. It was almost $99 a month and I knew I could be working out for much cheaper, if not free.
I am terrible at working out and need someone to guide me, which is why Orange Theory worked so well. However, the Kayla Itsines app is $19.00 a month, can be done from home, and gives you guided workouts that change everyday.
I really like her program and love the amount of before and after pictures there are on Instagram (#motivation).
Designer Clothes
I am the Queen of Nordstrom and nice things. I feel better wearing expensive clothes and used to drop at least $300 dollars a month on new things (which btw, only added up to like three things because of how expensive they were).
When I began organizing my finances, I quickly realized this habit of mine had to stop.
BUT, I wasn't completely ready to give up having trendy clothes every season. What I have done is figured out what I really need and then get the cheaper equivalent that still gives off the same trendy feel.
I still buy my jeans (this is my all time favorite pair of jeans... I have them in 4 different washes), leggings, and some shoes from Nordstrom. I choose to buy those there because I know that these will last me years and for the most part, don't change with the season.
Since I know I buy those there, I usually try to keep my eye out for a good sale.
Shirts and tops are usually what make the outfit look "trendy". I LOVE SheIn and buy so many shirts from there. They have shirts that are so in style but at a fraction of the cost.
Obviously, they aren't as good of quality, but since I am buying such trendy pieces, they probably will last me as long as they are considered cute.
I also really like Forever 21, Romwe, Zara, and H&M.
High End Makeup
Youtube tutorials make me want to buy every single high end piece of makeup out there and I could easily walk out of Sephora having spent $500 dollars.
Recently, I have been starting to see what type of drugstore makeup people say are dupes for the higher end makeup and I am finding products I love.
Someday I hope I can buy the expensive makeup, but for now I fine with getting the equivalent in drug store products.
Stop buying bottled water.
*Insert hand raising emoji here*
Yeah, I am really guilty on this one. I am not a big reusable water bottle user but I am trying to get better.
I think this is just me, but I feel like my water bottle gets germy if I keep using the same one (of course, I am washing it).
I have to say, the water bottles that can get me to drink out of them are S'well bottles since they are cute and keep my water insanely cold.
Cable
The trashier the TV show is, the more I will like it. This is hard because I don't really enjoy any show on Netflix (besides Scandal, I go crazy over that show). I thought I NEEDED cable, since all the shows I watch there are on cable.
But, I have recently been seeing so many other programs like Youtube TV and Sling that allow you to pick the TV networks you want at a way cheaper cost.
Definitely something you should look into!
This post showed you 8 best money tips for 20 year olds.
Is there anything that you have stopped spending money on that has saved you a lot?
want ALL the free college printables?!
---
Receive all of my most popular College Printables for FREE! Simply click the button below and get all of these sent directly to your inbox.