We may earn money or products from the companies mentioned in this post.
This post is all about long distance relationship gift ideas for him.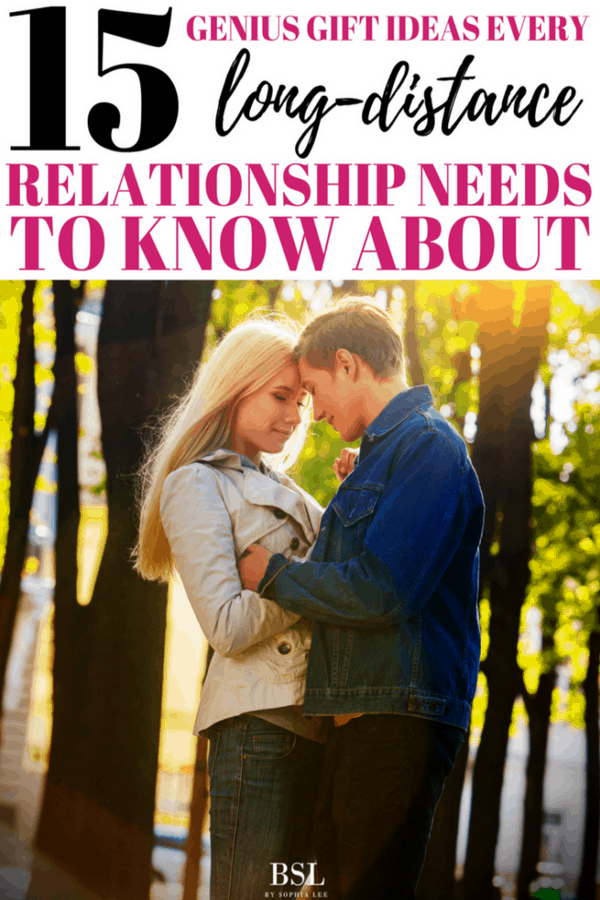 You know just as well as me that long distance relationships are tough.
Honestly, it's more than tough. It's the WORST. You see all these couples doing things with each other and surprising one another with flowers or a cute gift.
But being hundreds of miles away from your boyfriend makes it really hard to just pop over to the grocery store and surprise your boyfriend with his favorite candy.
So, ladies, it's time to get creative ;).
I'll admit, I have fallen off of my "room mom" status as a long distance girlfriend (this refers to me barely sending any packages to my boyfriend while he was at school this year). But last year, I was on my A game. For every holiday or special event, my boyfriend would receive a specialized package with all things to do with that holiday.
On valentines day I decorated the inside of the box with pink paper and had confetti all over it. I filled it with all red colored candy (I know, extraaa) and a picture of us. It really was cute and he was so surprised!
But, like I said, this year I didn't put that much effort into it. And I am ready to get back to that try hard girlfriend ways ;), He STILL talks about the presents I used to send him (over a year later) which shows that he really did appreciate them. So, writing this post will not only help me come up with some ideas to get back into my glory days but will also help you come up with ideas to be that all-star girlfriend I know you are.
Here are 15 long distance relationship gift ideas for him that will show your boyfriend just how much you care about him.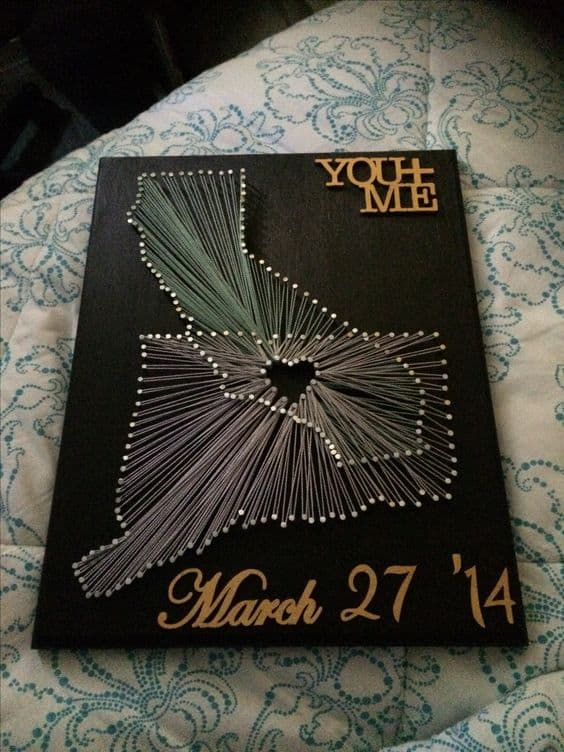 This would be a very fun DIY that you can put together for you and him. Find another girlfriend that has a long distance boyfriend and turn it into a girls night!
Ship it to him and he can put it somewhere in his apartment. So cute!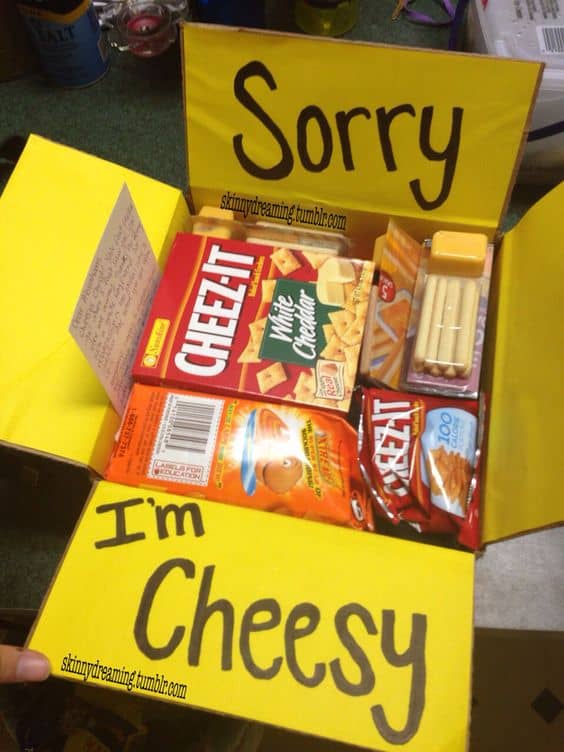 Picture from Skinny Dreaming.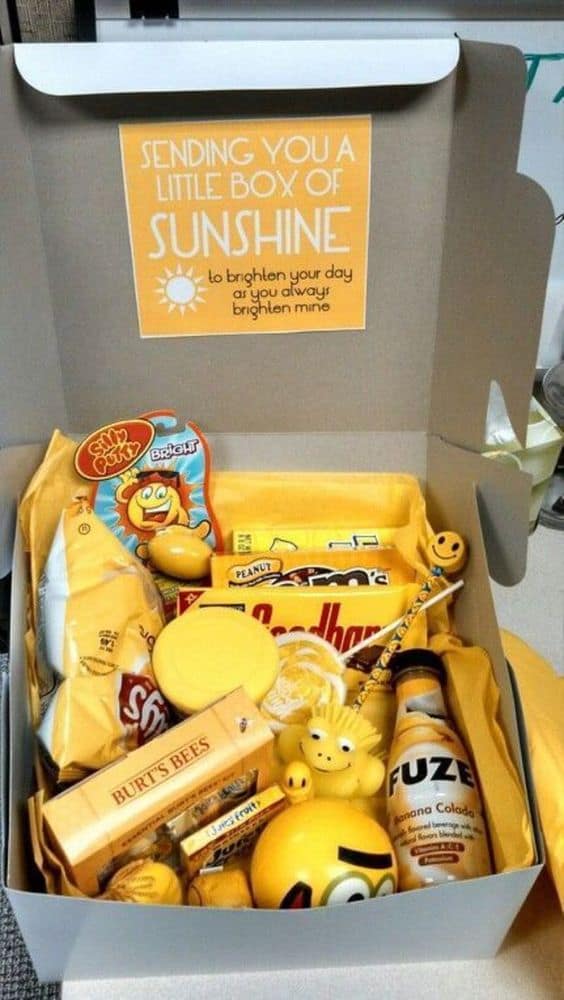 Picture from All Women's Talk.
I loved themed boxes. Not only can you pick a cute theme that goes with the current holiday/season but what boy doesn't love to receive food?
My boyfriend and I are doing long distance in college and I really think that he likes receiving the food I send him more than the other gifts I give.
RELATED POST: 30 Fun Questions to Ask Your Boyfriend Over Text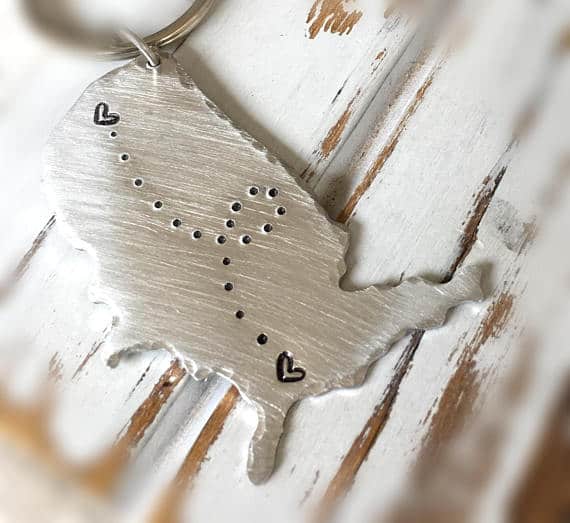 Picture from Etsy.
http://shopstyle.it/l/KA7W
Isn't this so cute?!
I think this would be the perfect gift to send him along with a really sweet letter talking about how much you miss him.
This is available on Etsy for super cheap. Although this wouldn't work for international long distance relationships it is perfect for those in the United States!
Another reason why I like this is because it is very subtle. Maybe it is just my boyfriend, but he hates when anything is too obvious and lovey-dovey that I sent to him. No one else really sees your keychain so it's the perfect mix of him always knowing it's there but no one else really does.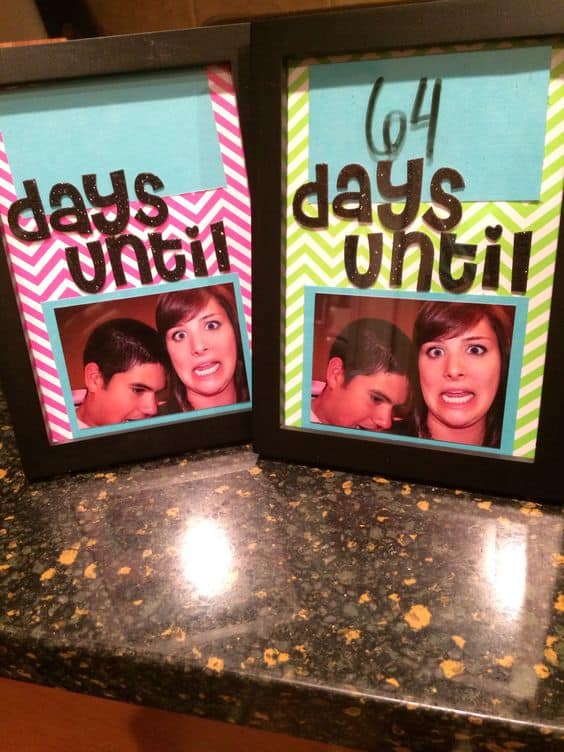 You can tell that this was put together when chevron was the age, but with a cute frame and some more trendy paper how fun would this be?!
It would give you something to look forward to every day when you are able to change it to a day sooner and its something you can do together.
Instead of cutting out letters, I recommend just buying a pack of letters so it looks more professional. It will make a big difference, I promise!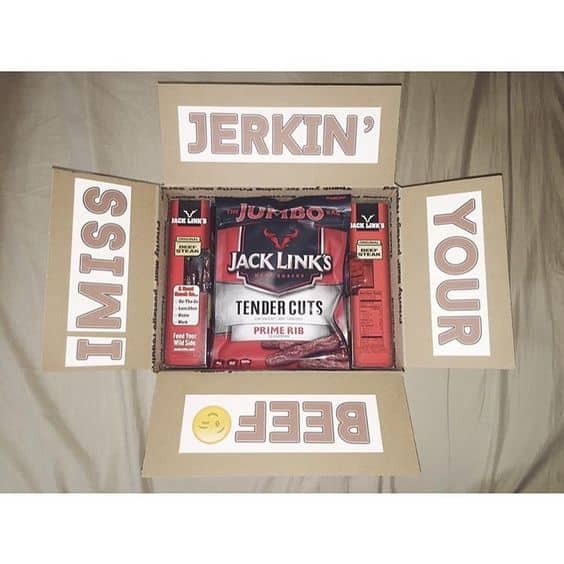 I had to add an inappropriate in here ;). Okay, maybe two (look at pic below)…. but let's be real.
Guys like knowing you miss them (yes, all aspects of them) and this is something all long-distance couples look forward too.
I thought the send noodes was especially funny for a college student because they live off of ramen noodles (and it helps you out to girl, it's a cheap food!).
This is something that would definitely make your boyfriend smile.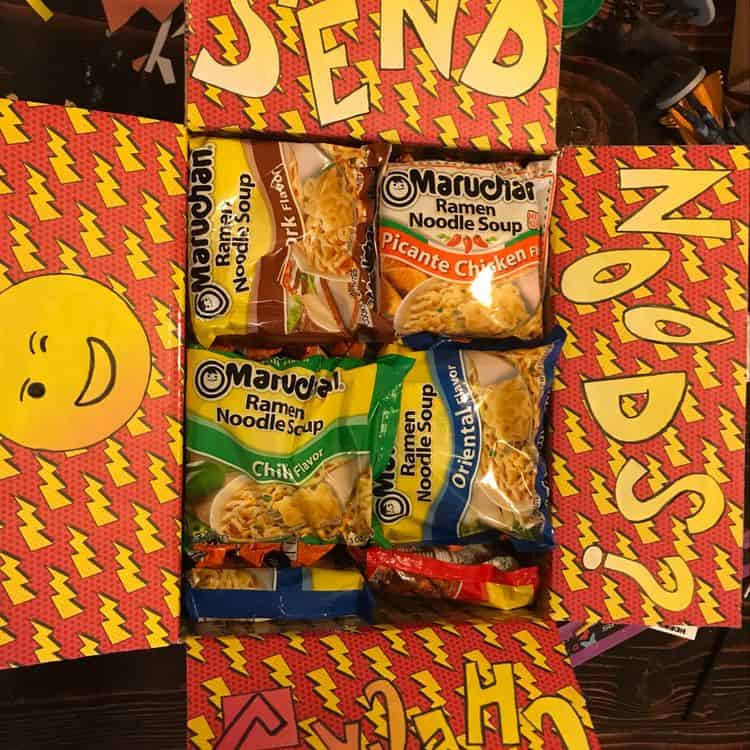 RELATED POST: 5 Things People In Successful Long Distance Relationships are Doing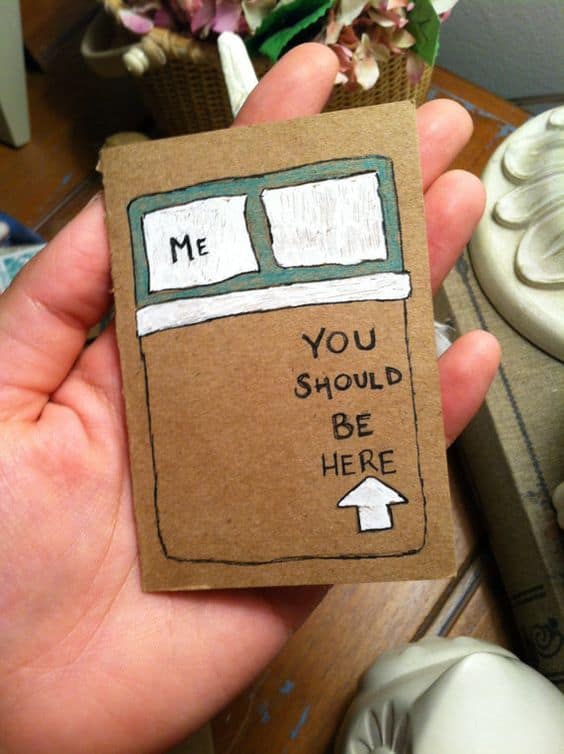 Card available to purchase HERE.
Cute right?!
Even just sending this card in the mail with a cute note is something that shows you are putting more effort into it than just a text.
It really does show that someone tried when they send you something in the mail.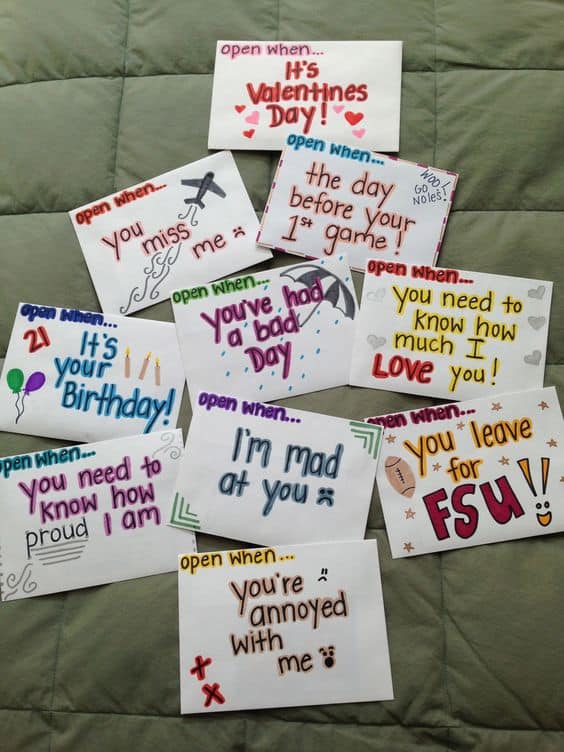 This is such a classic long-distance thing to do that I had to add it in here.
I do think it is a very cute idea and a gift that keeps on giving.
Also, this is so cheap!! If I was to do this I would sneak it into his suitcase right before he leaves so when he gets there he sees all those notes waiting for him.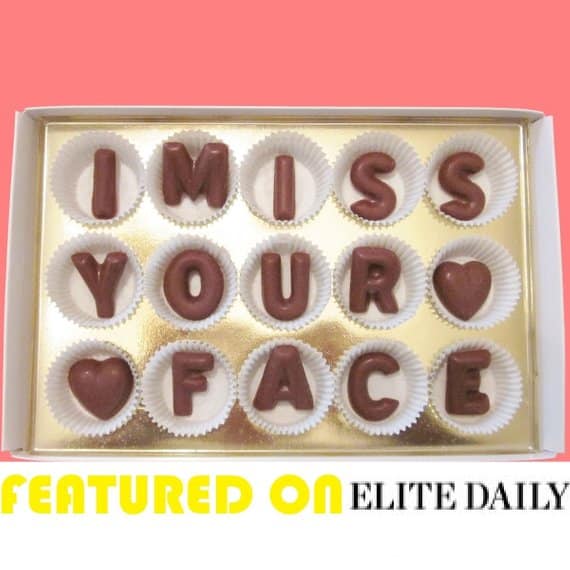 Picture from Etsy.
So, let me start by saying there is another worded option similar to this but replace FACE with another four letter word (let me give you a hint, starts with C 😉 ). You can see that for yourself here.
How funny would that be for a long distance relationship gift ideas for him?
This would be such a fun thing to send in the mail and who doesn't like chocolate?!
RELATED POST: 19 DIY Gifts for Long Distance Boyfriend That Show You Care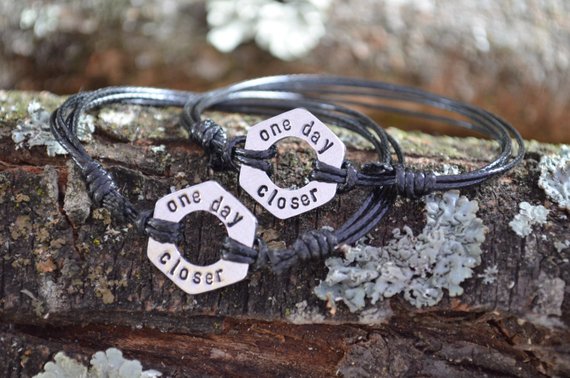 Purchase these bracelets HERE.
Honestly, this may be my favorite gift!
I think this is such a cute idea for boys and girls. If I got this, I would wear it on my ankle as an anklet.
I've seen more and more boys wear bracelets like this so now is the perfect time to take part in that trend.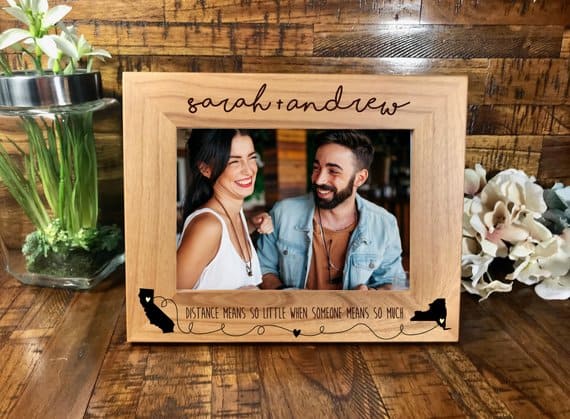 Purchase this HERE.
I want this frame for myself!! How cute.
This is the perfect customizable gift that you can give to your boyfriend. Then once you guys are done doing long distance, it will be a constant reminder that your love stays steady at any distance.
It also is very reasonably priced for being custom made ($22.00).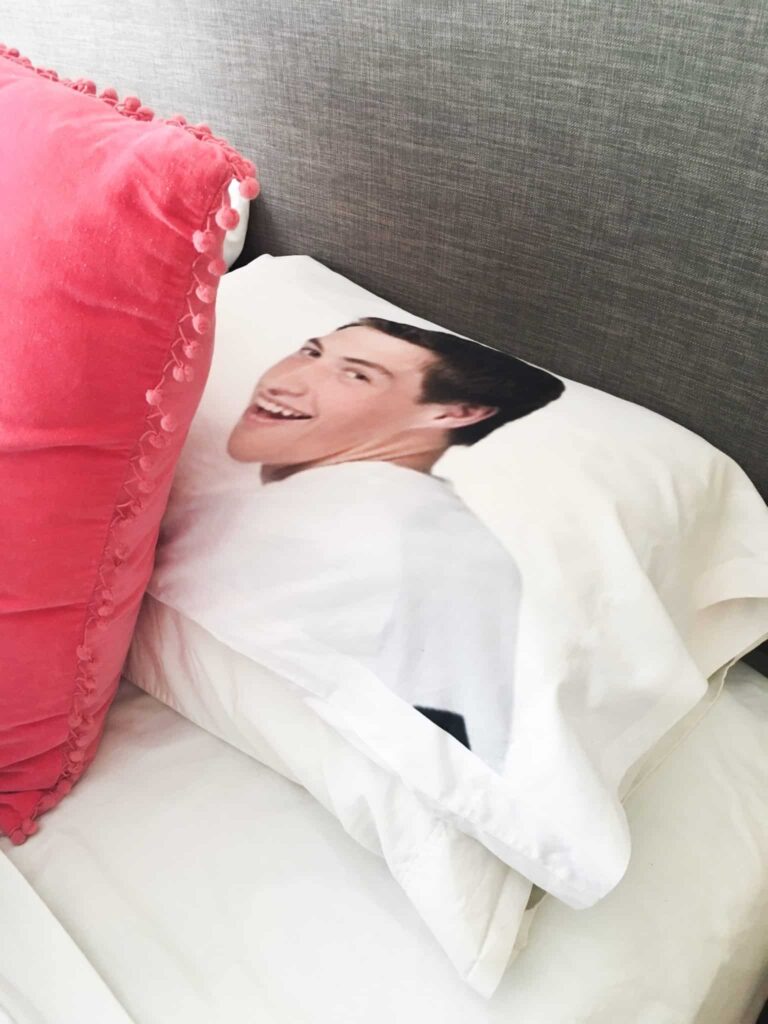 You can customize your own pillow HERE.
This is a "gift" that my boyfriend actually sent me in the mail. Let me tell you, he thought he was hilarious.
If you're looking to give your boyfriend a laugh, this would be the perfect gift to send him.
You can customize your own pillow for $15.00 with this link.
You know just as well as me, that long distance relationships are not easy. But, like I said above, with a little effort you can make it fun and exciting.
Your boyfriend will love receiving these special gifts from you and I promise– it will make him feel so loved!
Other Posts You May Like:
–19 DIY Gifts for Your Long Distance Boyfriend That Show You Care
–15 Summer Date Ideas That Won't Make You Go Broke
–22 Insanely Cute Ways to Say "I Love You" To Your Boyfriend
Pin this to remember for later!