We may earn money or products from the companies mentioned in this post.
This post is all about college dorm organization ideas.

Dorm life is a lot of fun. You get to be with your friends 24/7, you're close to all your classes, and you have instant access to food almost all the time.
BUT, what is not fun is how freakin' small dorm rooms are and how quickly they can get messy!
I struggled a lot when I first moved into a dorm and thought I had come up with the best system of organizing....then time went on, and I realized just how impractical almost all my organization ideas were.
For example, I thought it would be a good idea to keep all my clothes in under the bed storage bins so then I could use my dresser to organize all of my other belongings... should have realized that was a bad idea a mile away :/.
This post shows you 8 of the best college dorm organization ideas.
College Dorm Organization Ideas:
Organizing usually involves spending money, so I have tried to keep it as practical as possible since I know you most likely have zero money (same, girl). Really focusing an hour of time into organizing your room will make you feel so much more put together.
I don't know about you, but when my room is messy and I don't have places for everything, I stress out. I can't get any work done and it wastes a lot of time.
Coming up with organized places for all of my things to go has made me become much faster in the morning and relaxed when I have a million and one assignments due.
There is really never a good space to hang your purses and backpacks. I would just through them on one of the poles on my bunk bed but after awhile, so many purses had ended up there that it looked like a crazy mess.
For my backpack, I would throw it right by my desk which blocked the majority of our dorm room (isn't it depressing how a backpack on the ground can take up that much space since dorms are so small).
Using command hooks is a really good idea because you are using a space efficiently that doesn't really have any other good purposes. Make sure if you are hanging up your backpack, to use a really strong hook since those babies can get heavy.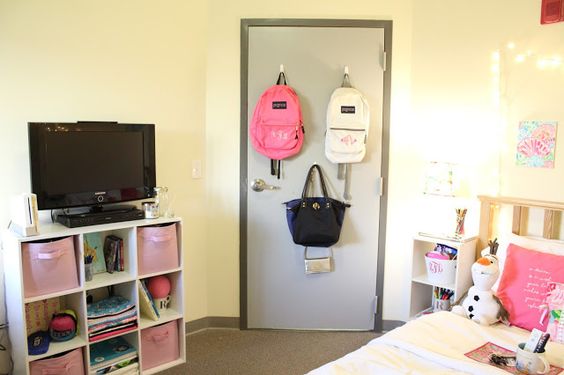 Source: Just Beccause
2. Hang your hats in your closet.
Hats are a necessity in college. They hide your hair from the grease and can really polish off that "I just got back from the gym" cute look (you know what I am talking about right? ;).
They can end up taking a decent amount of room up in a drawer so doing this easy DIY from House Dressing Style can free up some space for you to bring more clothes.
It looks like all you need is a hanger and these plastic hooks.
SIDE NOTE: I have found velvet hangers are by far the best type of hangers you can use in college. They are thin and your clothes don't slide off of them. I buy this pack which is 50 hangers for $19.99.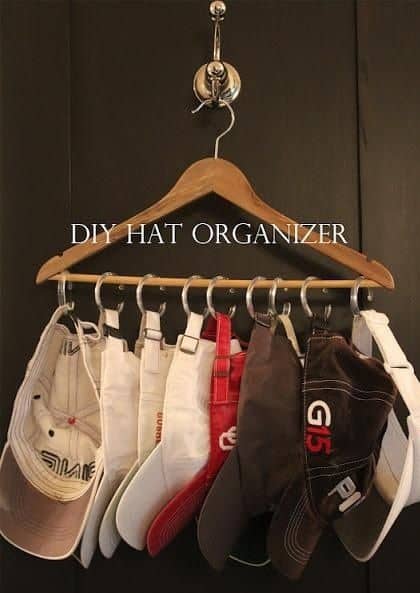 3. Get a cupcake stand to organize your coffee "station".
My roommates (and I think a lot of college students) love coffee and tea. We usually have one at least once a day and have a little station with a Keurig and hot water heater just for this purpose.
However, it is really hard to find a good way of organizing all the other things like cups, sugar, tea bags, Keurig cups, etc. It ends up looking like a mess since we don't really have any place to put all the ingredients.
Using a cupcake stand is a genius way of making a not-so-cute thing look really cute while being practical.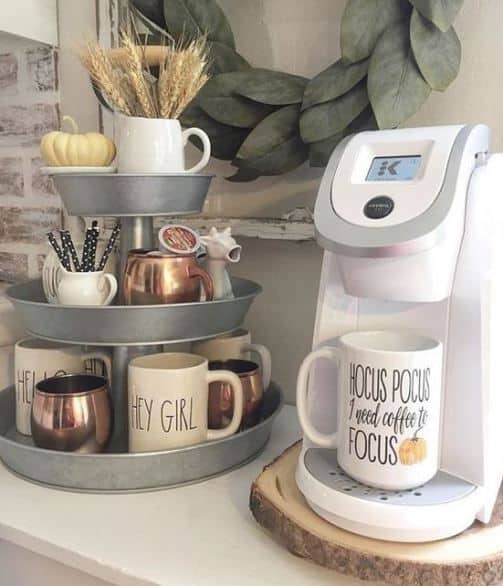 4. Have a catch-all near your bed.
Let me tell you a little about one of my worst dorm habits... I tend to bring up a lot of stuff into my bed like binders, notebooks, and computers and then when it comes time to go to sleep I through them to the ground (I am in a bunk bed) because I don't want to get up.
Not only is this ridiculously lazy (whoops) but it also tends to make my papers go everywhere and then I wake up to a mess.
Having a bin or something next to your bed that you can place your computer, phone, binders, and whatever else can give you someplace to store your objects that are close to you. It's basically in place of a nightstand.
This bed cubby is from Decor Pad and really cute, but almost $89 dollars. I know that's more than I would want to spend, so here is a much cheaper option.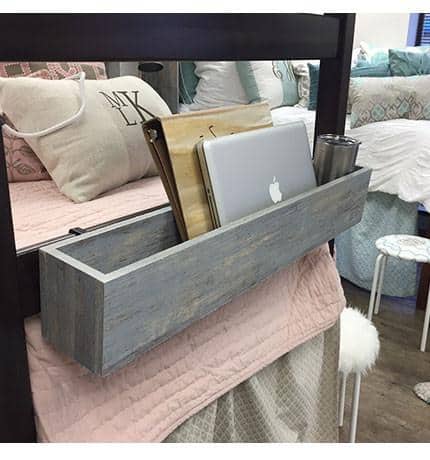 WANT A FREE COLLEGE DORM PACKING LIST?
---
Simplify your college packing with our amazing FREE Dorm Packing List. Simply click the button below to get your College Dorm Packing List delivered straight to your inbox!
5. Organize your fridge with baskets.
I love this idea that JC Penney put together for an ad. Dorm fridges are so tiny and can get crammed really quickly.
On top of that, having to share that tight space with another person can sometimes not be the funniest thing to do.
Giving each person a dedicated space makes sure everyone has an opportunity to store their food and that way, there is no confusion on whose food is whos.
These cute baskets are available on Amazon HERE.

I do a lot of homework at my desk and am constantly reaching in to get different supplies.
My desk is decently organized, but my roommates look exactly like this. It is SO clean and organized. Whenever I need something, it is really easy because she will just say its in her top desk and then I instantly know where it is.
It is also really nice for her because she knows where everything is and if she needs to go get more pencils or pens.
You can get a packet of these clear desk organizers for $ 13.99.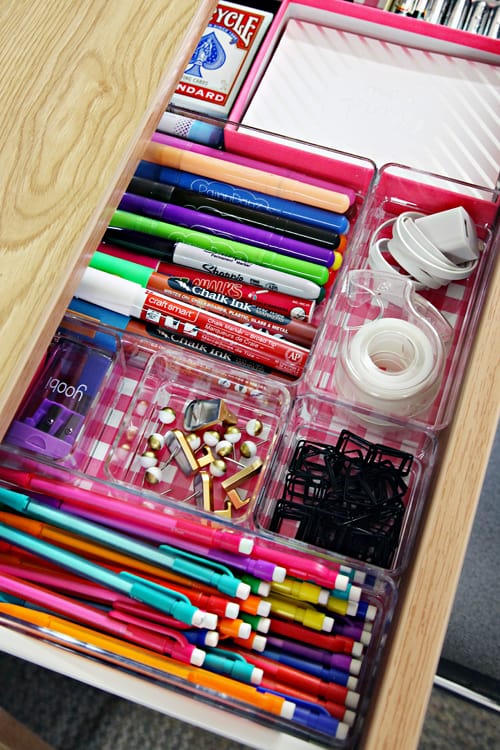 Source: A Soft Place
While my clothes might not have been the best for under the bed bins, food is actually a genius idea. This allows you to see all your options super easily and gives you someplace to store the food that isn't a desk or dresser space.
At both the schools I have been at, my bed has been lofted so I have used under the futon. I also use an under the bed bin to store plates, cups, and some cleaning supplies.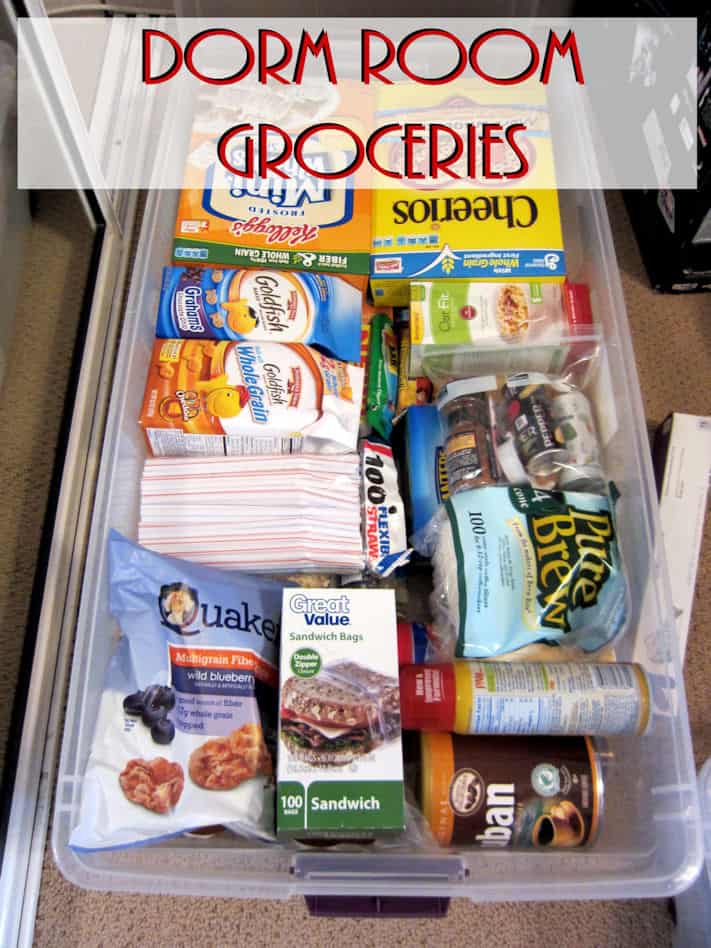 Source: Strong Like My Coffee
If you haven't been to college yet, let me tell you now that there is like no outlets in your dorm. And where there is an outlet, is a mile away from any convenient space.
So I have to different forms of advice for you. ONE: Invest in a 10ft long phone charger. TWO: Get a powerstrip and tape (I personally use velcro command tape things) it to the side or top of your desk.
This allows you to have more places to plug in your gadgets and also frees up your ground from the thousands of cords we have.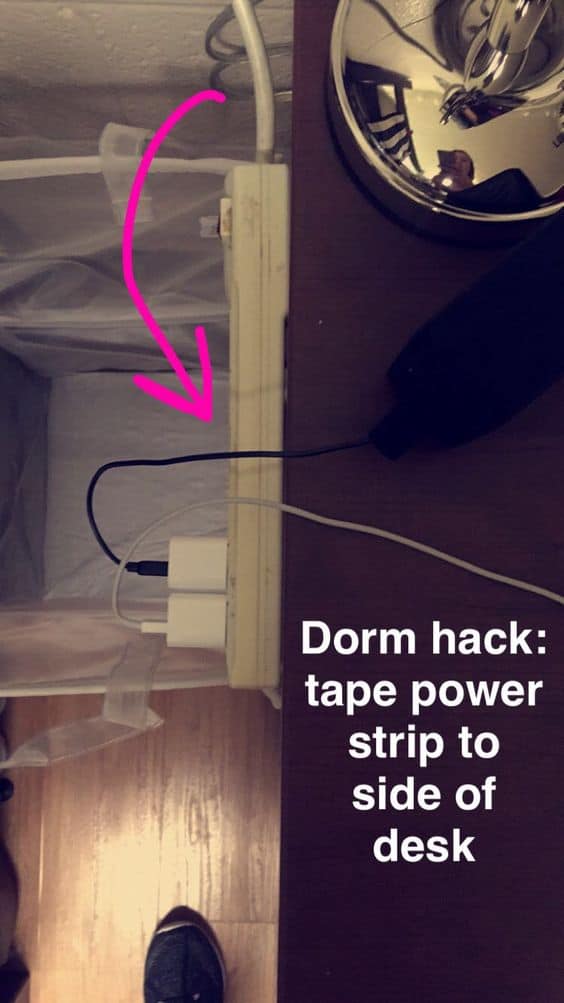 want more free printables?!
---
Join over 11,000 subscribers and gain access to By Sophia Lee's FREE resource library filled with all the best printables, guides, wall art, and more!