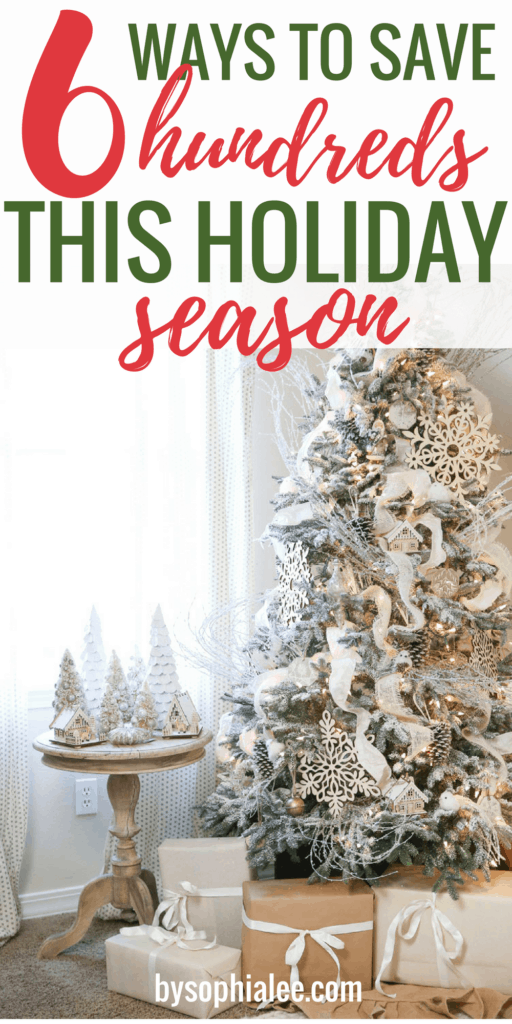 The holiday season is debatably the best few months of the year. There is parties to throw and attend, great food to eat, and a feeling of happiness that you just don't get the rest of the year.
But, can we be real for two seconds? Even though it is the best to give nice gifts to your friends/family/boyfriend for Christmas, it can be a bitch to your already nonexistent bank account.
Side note: Sorry Mom for writing a swear word in my blog post, but this poor college kid just REALLY doesn't have money.
The older you get, the more gifts you have to buy. Obviously you have your family gifts, but add your boyfriend, boyfriends family, friends, and all the Secret Santa gifts and you have more names than money.
BUT, with some planning and budgeting you can get everyone the best gifts without them knowing that you got it for a bargain. And is there really anything better than being known for giving the best gifts during the Christmas season? No.
Side note again: I am just being really dramatic over here, I know that CHRIST is the most important part of Christmas.
At the end of this post, I include a printable spreadsheet that will help you save hundreds of dollars and allow you to get the best gifts this holiday season without needing to take out another loan (girl, you already have enough student loans).
Planning who you need to buy for and some gift options for each person will eliminate that last minute shopping trip where as long as you get a gift, you could care less how much you spend.
Whether you are a couple months or a week away from Christmas, planning who you need to buy for and gift ideas for each person will save you SO much money. Every year, I use this printable (you can download it at the end of this post) to plan everything and it is my favorite thing ever.
I always set a budget that I need to stick to for ALL my gifts and then depending on how important a person is decides the percentage of my budget they get for their gift this year. Haha, is that bad? So, for example, every month since June I have put $50 dollars into a separate checking account that is just for Christmas. That means, that this year for Christmas I have a max budget of $250 to spend on all my gifts. My boyfriend, Ben, is someone I want to give a big percentage of my budget too. I will give him 40% of my budget which means this year I am spending around $100 dollars on him.
I then write the amount of money I have to spend on him in the designated spot on the spreadsheet and below it write gift ideas I have for him and how much those are. This lets me think about really good gifts that can be ordered for him that are within my budget.
Having this list and gift ideas ready, makes it really easy to watch out for deals and sales specifically for the items you have picked out.
This season has some of the best sales including Black Friday and Cyber Monday. This is amazing for you, if you use it to your advantage. You can sometimes score over 50% on items that you would have paid full price for by keeping an eye out for the specific gifts you plan on buying this year. HOWEVER, if you go and get sales-struck (guilty :/) and buy a ton of things you do not need, you are dismissing the whole point of the plan. Stick with the plan!!
Get money back on your gifts by using cash-back websites.
I want to start off by saying that this is not sponsored at all!!! I started using cash-back sites in September and just got my first check ($36.00) in the mail this week!! woohoo! (READ: How I Get Paid to Shop) I love cash-back sites because you get paid to shop and do absolutely nothing for it. There is a ton of these websites out there, but my favorite one is Ebates.
I used to be sketched out to use this, but after reading a ton of reviews and not having to put in a credit card when signing up, I figured why not and I am here to tell you it does work!! Once you sign up, you install a little button in your web browser (they'll obviously explain this to you better) and then every time you go to a website, it alerts you that you can earn money. If you purchase something from that store (they basically have every store imaginable) you get a percentage of that back in cash. If this isn't a great way to save money for Christmas, I don't know what is.
You need to learn how to fake it 'til you make it.
There are so many events during this time that involve bringing a gift for someone, a white elephant gift, or a secret santa gift. These are all so fun but add up like crazy. You never want to turn down a party and would feel way to awkward to just show up at one without a gift when you were suppose to bring one. So what do you do? Learn to negotiate OR buy gifts that look expensive but aren't actually that amount.
Even writing that sounds tacky, so let me elaborate. There are so many stores these days with name brand items sold for a discount that are the b.e.s.t. including Homegoods, Nordstrom Rack, Marshalls, TJ Maxx, etc. Honestly, I sometimes like these stores better than the "real" non discounted stores. They have a ton of items that look very expensive but don't break the bank.
Groupon will be your BFF for experiences this holiday season.
There is always those people that have everything and you have no idea what to get them. It is the worst! A gift that is perfect for a type of person like this is giving them an experience instead. Whenever I give someone an experience, I usually go to Groupon. (btw, Ebates has a 6% cash back on all these purchases 😉 They are real businesses (with reviews from customers who have used that specific Groupon, my favorite part) that put out a really good deal to try to bring in customers. I actually bought Ben (bf) and all his friends paintball tickets because I got them such a good deal from Groupon.
I live in Milwaukee and from just quickly looking at the website there is a deal on a Brewery tour (obvi assuming you're over 21), indoor rock climbing, painting class, skiing pass, massages, manicure & pedicures, and actual goods. Definitely worth you checking out what is available in your city.
How do you save money during the holiday season? Sign up below to get my FREE budgeting spreadsheet that will help you save hundreds when picking out your gifts this year.
want ALL the free college printables?!
---
Receive all of my most popular College Printables for FREE! Simply click the button below and get all of these sent directly to your inbox.