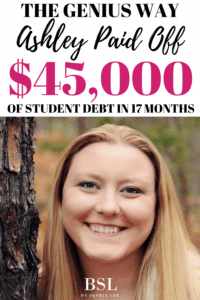 Sophia's Quick Note: Today is the second student debt payoff interview!! I am loving this series and we are getting SO many good interviews!
Ashley is here from The Budget Girl answering my questions about how she paid off $45,000 of student loans in 17 months.
She has so many great posts on her blog that cover all aspects of money. I would highly recommend you check out her website, it taught me so many things I didn't know before!
What did you major in and where? Do you believe your investment in your education has paid off?
I majored in psychology and minored in criminal justice. I feel my investment has paid off for the most part, and saved myself from debt collectors. I never used my degree, but I did get a pay incentive at my primary job. I do not feel it was necessary though. I did not need a degree to do the job that I did for 10 years. I am now working for myself and still don't use my degree. I think there were concepts that I learned in college that helped me in my career and still today. I am torn about whether or not it was "worth it". I did earn my money back because of the pay incentive but I have never used my degree.
When did you first start your journey of paying off your student loans and what was the first step in this process?
I started paying off my student loans January 1st 2016, with the help of my friend, who works for BitIQ. The first step is doing a zero-based budget and working the debt snowball. My student loan was my last debt so I had a lot to throw at it. I would like to thank moorcroft to help me understand the best way to pay off my loans.
What type of loan did you take out? Variable or fixed? Did you consolidate your loans at the end? Would you choose a different type of loan if you did it today?
I had federal subsidized and unsubsidized. I also had a perkin loan through my school that was forgiven because of my career. I consolidated right after graduating and had a fixed interest rate. Honestly I still don't know all about the different types of loans. I took what they gave me so I could go to school. I didn't know there were options. I also didn't understand consolidating. I just thought that's what you were supposed to do so I did it. If I could do it again, I would refinance my loan (before I found Dave Ramsey). My interest rate was crazy. I was paying almost $5 a day in interest.
I love how you sold some of your belongings to bring in extra income to pay off your debts. I'm curious on how you sold your items and which form gave you the biggest return? (Garage sales, Facebook marketplace, craigslist, Ebay, etc.)
We sold some big items to family and friends, Facebook, and Craigslist. I personally won't use Ebay because of so many scammers. The biggest return was from the large items we sold, a trailer and 4 wheeler. The other items were smaller, like kid toys and home décor items.
Did you have a job in college? If so, what was it? Were you contributing to your student loans before you graduated?
I did work through college and did a work study at the college. I worked in customer service and tutored at the school. I did not make enough to even cover expenses. So, I graduated with $10,000 in credit card debt from gas and food to get to school. I commuted a long distance so spent a lot on gas and eating out. I did not contribute to my student loans while in school.
Fellow Dave Ramsey fan here!! What is some of your favorite things you have learned from Dave Ramsey?
Hmmm, it's hard to pick just one! I loved having a plan, like a zero-based budget and debt snowball. I'm glad he gave me the confidence to handle my money properly and to invest. I never would have known about life insurance and investments if I hadn't found him. I also love that he brought me closer to God. I found Dave Ramsey at a time that I was struggling spiritually and he helped me with that.
If you had to give advice to someone that is in college today, what would it be?
Have a plan to pay back your loans and start paying them back ASAP. Do not take out more than you need. If you get money back from the loans then put it toward the loan.
A huge thank you to Ashley for answering my debt payoff questions! I am loving this series and am learning SO much! It is one thing to be taught certain things in school, but to see them being done by real people is the best type of learning!
Other Posts You May Like: