This post is all about the important steps to transferring colleges after one year.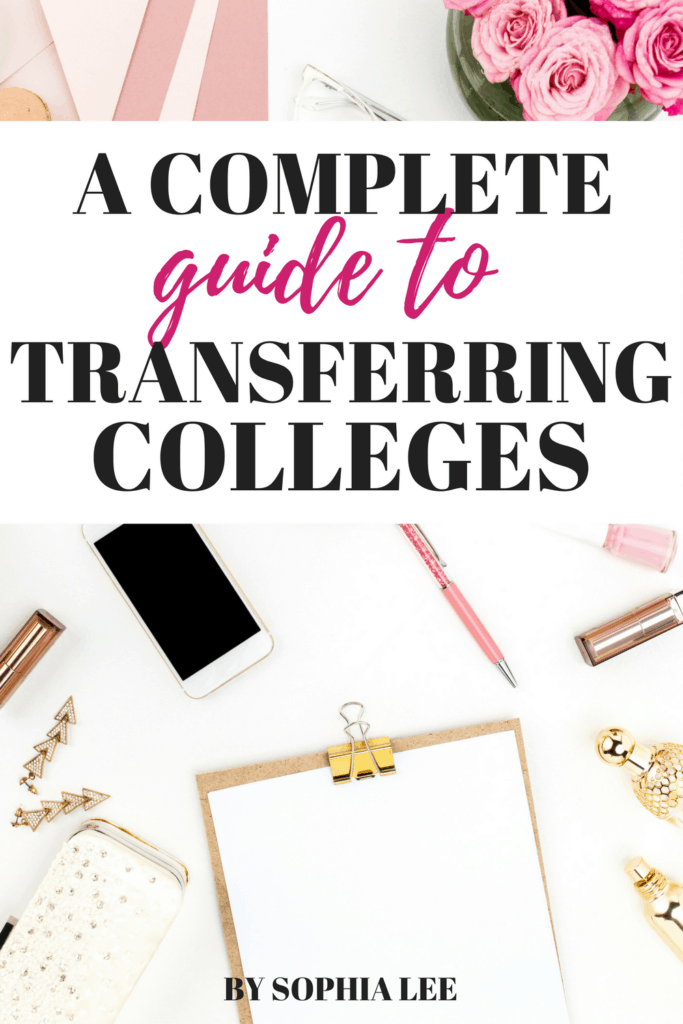 Did you know that 1/3rd of all students transfer colleges according to the National Student Clearinghouse Research Center?
I am proudly apart of that statistic and could not be happier about how my transferring went and how much I LOVE my new school.
But don't get me wrong, I was SO nervous about going somewhere new and not knowing a lot of people. I know so many people that transfer, but going into a new school as the "new girl" is SO scary!
I started out at a larger state school in Wisconsin (University of Wisconsin-La Crosse) and ended up transferring to a small (5,000 students) Christian college (Concordia University) much closer to my home. I thought I wanted the bigger school, but after being there, I quickly learned it wasn't for me.
I learned a lot from transferring and met so many people I can't imagine not ever NOT knowing, and feel like there was a few specific things I did that has made my transfer experience so great.
BTW, while I downsized in my school of choice these "tips" I have put together will work at any size!!
This post shows you the ins and outs of transferring colleges after one year.
STEP 1: You NEED to go in with an open mind.
Before I even went to my original school, I hated it. In all honestly, I probably should have just taken a semester off and figured out what I really wanted instead of just following what everyone else was doing.
La Crosse was a great school and so many people love it, but I always never really wanted to go there. This mindset completely ruined my experience and I can guarantee if I went in with a more positive attitude and actually gave it a chance, I would have really liked it.
When you go to your new school, you HAVE to go in and tell yourself you love it. If you keep telling yourself that, you brain will actually start putting two and two together that you do in fact, love it!
I had a few thoughts in the back of my head about Concordia and whether or not I was actually going to like it there but every time I thought about it or when someone asked me, I consistently said how excited I was and how much I am going to love it.
Of course you'll never really know if you're going to like something until you're there but this simple reminder to yourself to give it a chance could end up changing your whole experience.
RELATED POST: How I Made $617.78 In Two Weeks from My Dorm Room
STEP 2: Find ONE Person You Know at Your New School.
At my new school, I really didn't know one person at all going into it. I have never truly been in an environment where I didn't know at least one person until I transferred to Concordia. (If you already know someone at your school, you can ignore this section!!)
Because I really didn't know anyone, I started searching for ONE person that could give me some tips and maybe introduce me to some people once I am their. To find this person I had to do some stalking and really dig deep into my first experience with networking ;).
I ended up learning that a guy that goes to my boyfriends college girlfriend, goes to Concordia (could you keep up with that hahah told you I dug deep into those mutual friends!). I messaged her on Facebook and was basically like...
"Hey! I am Ben's girlfriend and I am debating transferring to Concordia. Do you like it?!"
She was probably so confused, but she messaged back saying how she liked it and we ended up talking for awhile. I actually went back to her multiple times throughout the next couple of months and asked her more specific questions about classes, food plans, dorms, etc.
It was so helpful having at least someone to go to when I had questions. When move in day came, I was moving in with a ton of Freshman and doing activities with them. That was fine, and I am still friends with some of the freshman I met,but I wanted to meet some people that were my age.
The girl I messaged, ended up completely taking me under her wing and introduced me to all of her friends. Now, this whole group is some of my closest friends at Concordia and it all happened with one message on Facebook!
Honestly, I don't know if I would have been that outgoing before to message a random girl on Facebook but me doing so gave me instant friends when I knew no one!
SO, moral of that ramble, if you don't have a friend that goes to your school already I highly recommend stalking people on Facebook or Insta that look like you could be friends with and message them! The worst thing they will do is not answer.... but I don't think someone would ever NOT answer unless they didn't see the message. At least not someone worth being friends with :).
STEP 3: Be outgoing!
When I am in an uncomfortable position, I tend to act "to cool for school" :/. I know, not good.. but I think a lot of people are like this which is why I think its such an important step!
What I mean by this is lets say I am waiting in line with a ton of people to get my room key or to fill out paper work, I used to just stick my nose in my phone or just rudely look people up and down (no, I don't mean to do this it just happens!!) instead of saying hi to them or asking their name.
I tried to change my ways and when I was waiting in line for different things at Concordia, I would ask where the people next to me were from or what dorm they're living in. You know, small talk but at least I was familiarizing myself with them and if I saw them in the hallway a few days later I could give them a smile!
I can say for a fact that I played my "to cool for school" attitude my freshman year at La Crosse. I am not sure if I was able to be more confident just because I was a sophomore and kind of knew the gist of what was going on, but talking to those people gave me more of a sense of belonging, if that makes sense.
I would also try to smile whenever I was passing people in the hallway or hold the door open if someone needed it. AND, a big step for me, if someone was in a room close to my new room, I would introduce myself! At La Crosse I did NOT do that and actually closed my door when everyone was moving in... be social!! I promise you it makes things so much better and makes people feel much more inclined to talk to you.
RELATED POST: 8 Disgusting Things In Your Dorm Room That Need To Be Cleaned Immediately
STEP 4: Go to most events, but if someone asks you to do something, DO IT!
I transferred to Concordia for my sophomore year, so it wasn't mid year but I am almost positive they have this for fall and spring semester.
You know how there is usually a welcome weekend for new students where the school puts on all these different events? Those are primarily for freshman but they either have the transfer students join them or set up something separate for the transfer students.
In my situation, they had the transfer students just join the freshman. I DID NOT want to go these events at all but literally forced myself to go because I knew that just maybe I could meet friends. And little do you know.. I met some friends!
The games were dumb and not really fun, but it was nice to interact with people going through the same thing as me and feeling just as uncomfortable as I was.
I went to almost all the events but there was one at night where it was those group games and I was not feeling it at all. A girl I met asked me if I wanted to go with her and a bunch of other friends to their room and it was so much less awkward because we were all just hanging out like normal kids.
All in all, I learned to definitely go to all the events the school offers BUT if you're invited to do something else, go!!
STEP 5: Sit by people in classes.
The first day of classes can be so awkward because everyone doesn't really know whats going on. I forced myself to sit by someone in every class. I would make small talk to them and it basically gave me an instant friend.
Honestly, most of these people I made small talk too ended up being my friends throughout the whole semester and made it so much better in class.
In one class, I sat next to a guy and literally said "I'm sitting next to you because you look cool" (so awk of me) and now he's one of my closest friends at Concordia.
This kind of goes with being outgoing but seriously, finding friends in a class makes it so much more fun!
Transferring colleges can be so scary, but I promise if you go into it with a good, outgoing attitude, you will love it!! AND, something I used to remind myself all the time-- It's ONE week of feeling uncomfortable. Just get through that first week and things will start feeling normal.
want ALL the free college printables?!
---
Receive all of my most popular College Printables for FREE! Simply click the button below and get all of these sent directly to your inbox.