We may earn money or products from the companies mentioned in this post.
This post is all about dorm room decor pictures.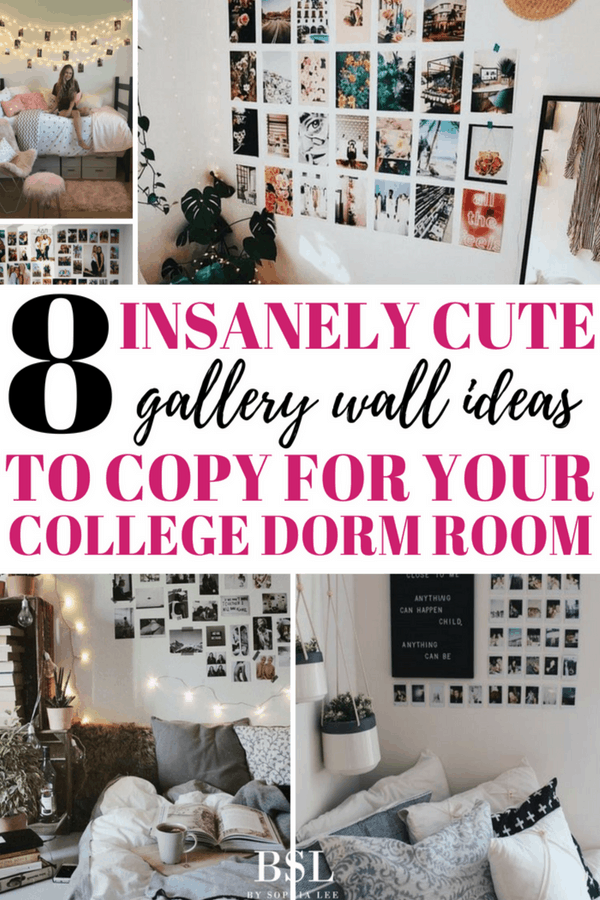 'Tis the season for dorm room decor.
When moving into my dorm my freshman year, I really wanted to find a way to incorporate pictures into the design of my room. I thought that having pictures of all my family and friends from high school would make it feel much more like I was at home.
I can now say that I am SO glad I did this and recommend everyone to incorporate at least a few pictures of loved ones in their dorm.
It also makes for easy and cheap decor because pictures can easily be placed on the dorm wall and taken off when its time to move out.
However, just slapping pictures on the wall can make for a dorm room that looks a little bit tacky and not put together (which is opposite of what we are trying to accomplish).
Here are the best dorm room gallery wall ideas that are perfect for you to copy and replicate for your own dorm room.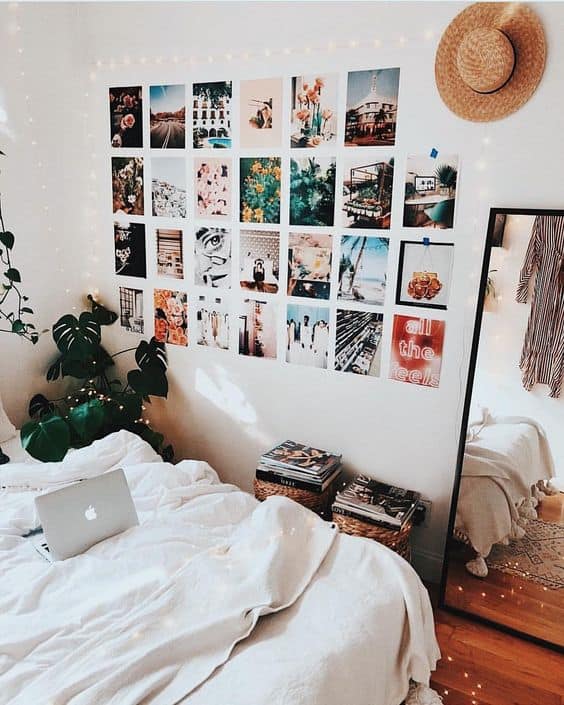 Picture from Tezza.
Love this! Even though this isn't personal pictures, it gives off a very 'cool' girl look while bringing in a lot of color to an otherwise bare dorm room.
To easily complete this look, search for pictures in magazines and then cut them out the exact same size. For a similar size to these pictures, I would cut out 8×10 pictures.
If you would like this to be more personal, an interesting way to incorporate more personal with a mix of visually appealing pictures would be too print out half your favorite pictures of your family and friends sized at 8×10. Then for the other half, go on Pinterest and find some visually appealing pictures that would look great to hang up. Print those in 8×10 as well.
The only other thing you would need is to string lights and hang up one of your favorite hats (here's one that looks similar to whats hung up here!).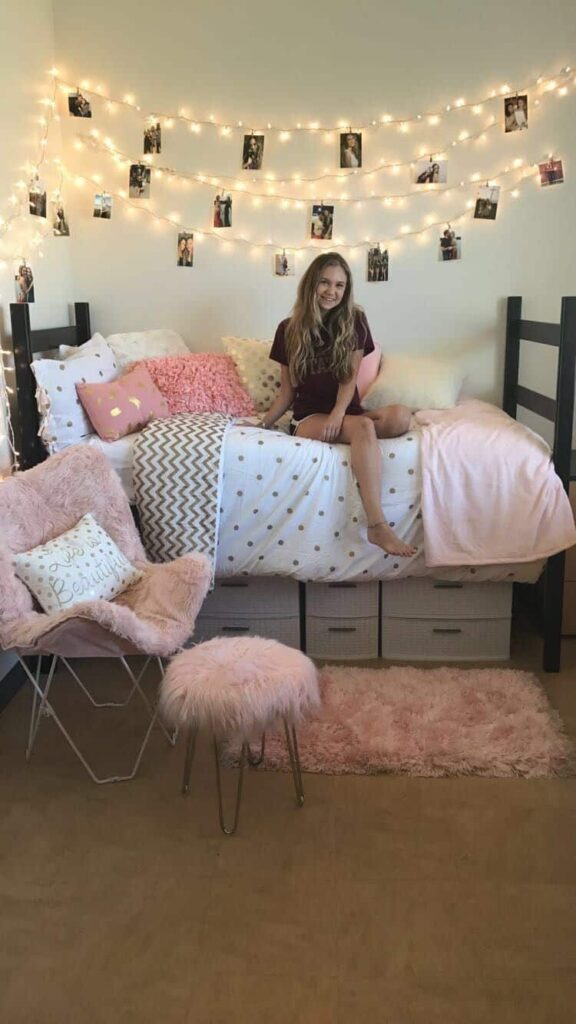 (If you know the original source for this picture please let me know)
This is the easy go-to for hanging pics in your dorm room.
Not only does it look cute, but also provides some extra light to the usual dark dorm room.
To create this look you just need string lights, pictures, and cute clips to hang the pictures off the lights. I actually found these cute clips which would be perfect and make it even cuter.

RELATED POST: 5 Insanely Genius Ways To Organize Your Food in College
Picture from @tatiigardner.
How cute is this one?!
I am obsessed with felt boards and think its such a cute thing to have in the dorm since you can change the words depending on the season/your mood. Here is the cheapest felt board I have found (less than $10!).
Surrounding the felt board are polaroids (really stating the obvious there ;). I LOVE polaroids and think they are just such great reminders of little events in your life. But, unless you have a Polaroid camera you can't get those pictures.
However, there are now polaroid filters that you can insert your picture in that give you the same effect. SO nice! Here is a tutorial on how to print any photo as a Polaroid.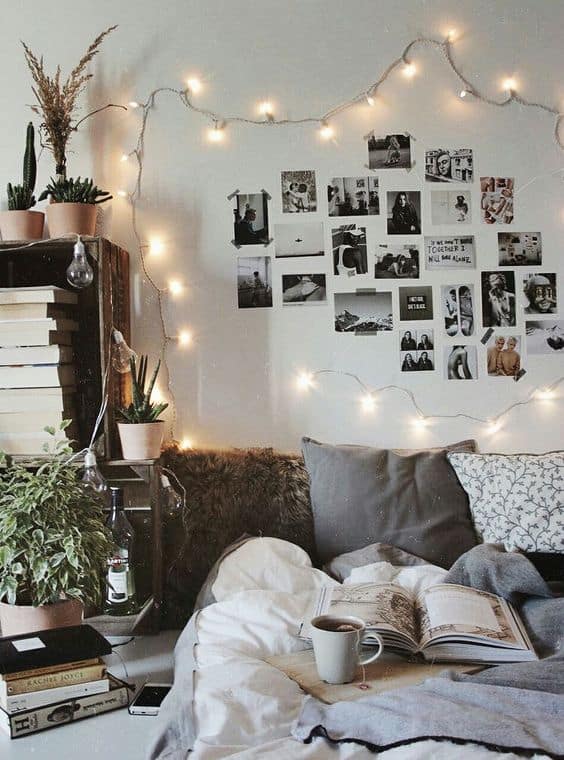 (If you know the original source for this picture please let me know)
To get this look you need to focus more on black and gray color photos with a hint of brown in the picture.
I think the reason that this dorm room looks so cute is because the bottom of the picture (bed, shelves, pillows, etc.) adds a lot of visual appeals but also because the pictures are secured by cute washi tape.
Washi-tape is one of my favorite ways to spice up a dorm room. One, you can easily place it on walls and then take it off when it is time to move out. Two, because it is SO cheap and comes in handy in multiple different places.
This is my current favorite washi-tape that I own and it has lasted me forever (less than $6!).

RELATED POST: How I Made My Dorm The Most Organized Room on Campus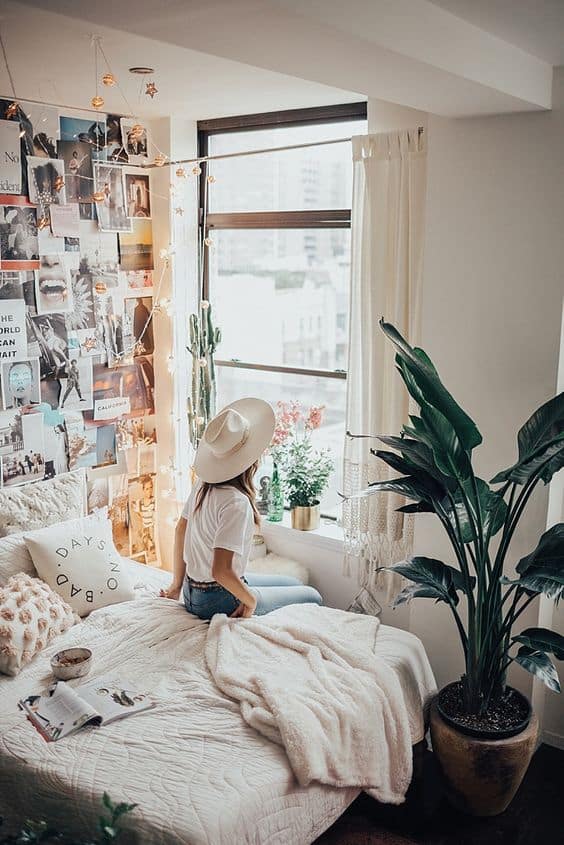 From By Tezza
I wanted to add this one because even though it isn't a dorm, it would be so easy to replicate.
Tezza got some of her favorite pictures printed which you could do too, or you could go through and pick some out from magazines. Honestly, it might be easier and look better to just find pictures on Pinterest. For this look, I would have them printed on normal paper or cardstock. For all my printing, I use PostNet and LOVE them (not sponsored)! This way I don't use up all the ink in my printer.
To add dimension, she hung different lights. If you look close in the picture you can see that she has some of the lights hung very close to the picture and then some more far away. I love this look.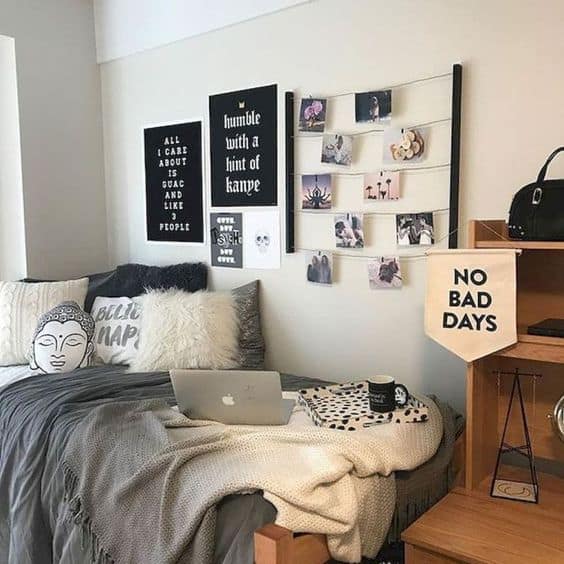 (If you know the original source for this picture please let me know)
This dorm room wall decor would be such a fun DIY to do with your mama or some girlfriends!
First, search Pinterest for your favorite quotes. Print those out on large paper like the ones pictured in this dorm.
Then, head to Home Depot and get some wood similar in size to the picture.  You should decide if you want to leave it natural, or stain it like this picture. If you do want to stain it, pick up some stain while at Home Depot. Also, get twine if you don't have it.
Hot glue some twine to both sides of the wood and you have yourself a little hanging gallery! Super cute and really inexpensive.
If you just want to buy it and not make it yourself, here's where you can purchase (only $14.99).

RELATED POST: 6 Genius Ways To Make Your Dorm Room Smell Better Without Using Candles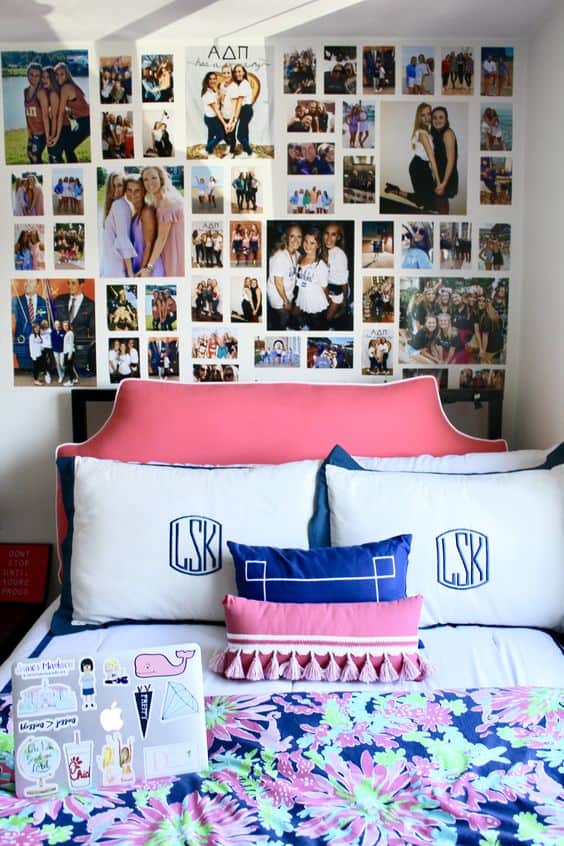 Picture from @dailydoseof_prep.
This one is great if you want to display your OWN photos.
A lot of the pictures I have shown featured more artsy photos, but this is a girl after my own heart and knew that she wanted to see her favorite people on a daily basis.
I love how she varied the size of her pictures and really think that made this photo wall so interesting.
If you're looking for a cute headboard like hers, search HERE. Seriously, so many headboards that I am obsessed with.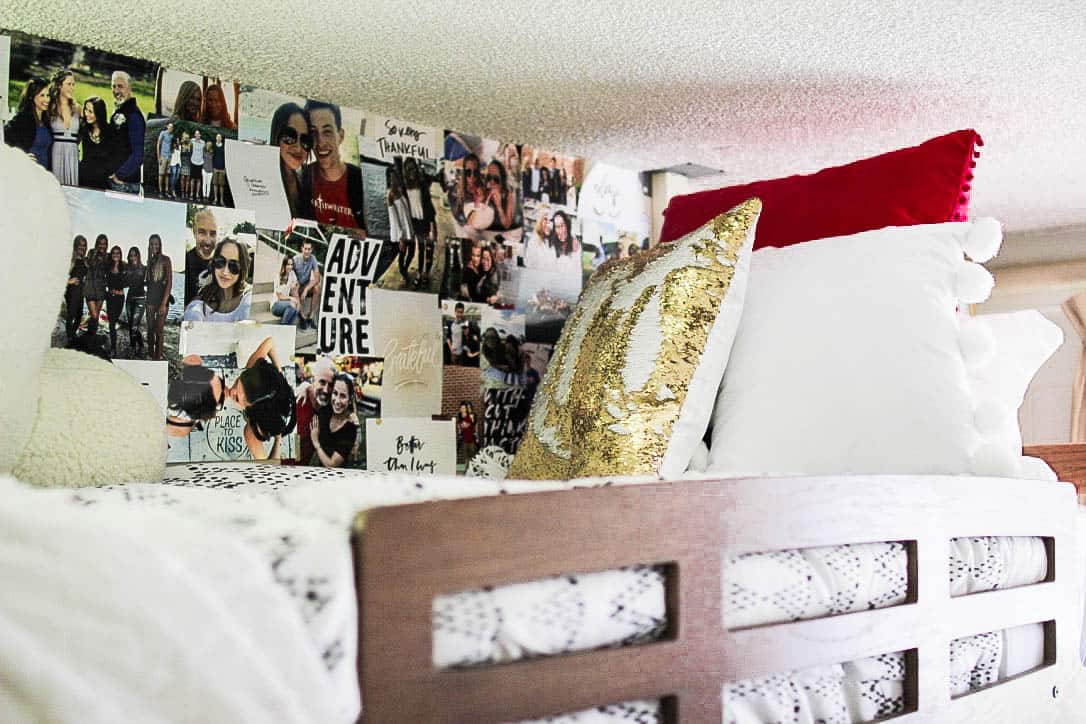 …and saving the best for last… my own dorm room ;).
Okay, okay. I know this may not be the cutest picture on this post (I blame that this pic was taken at the end of the semester and the pictures needed a little more tape) but loved it and would do the exact same thing in my dorm if I was to do it again.
I incorporated my favorite quotes found of off Pinterest and some of my favorite pictures. I printed out the pics in all different sizes but mainly 4×6, 5×7, 8×10, and 8×8. I printed it all from Walgreens.
Aren't all of these so cute? It really shows that you can turn a boring dorm room into something that looks very put together.
How are you going to decorate your dorm room walls? 
OTHER POSTS YOU MAY LIKE: 
–19 Best Paying Summer Jobs for College Students
–6 Genius Ways to Decorate Your Dorm Room Walls
–The Ultimate Spring Cleaning Checklist for Your Dorm That Every Girl Should Know
Pin this for later!