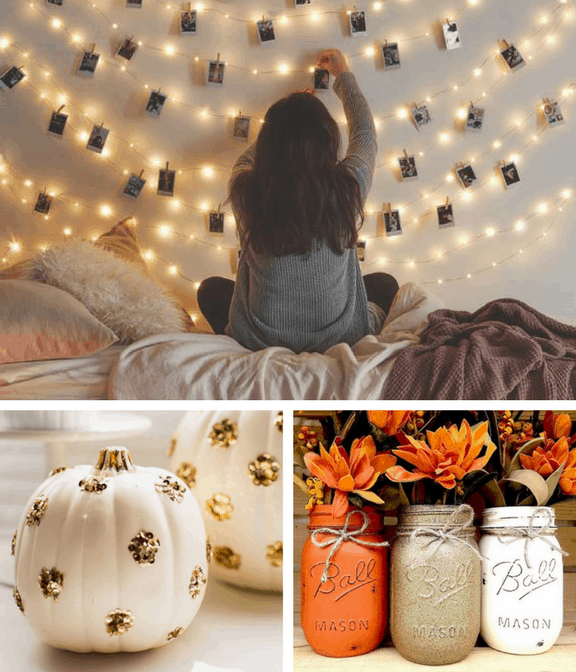 When fall rolls around there's one room that I always want to feel what this season evokes: warm and cozy.
Whether you're in a traditional bedroom (so jealous!) or a dorm room, you can easily make the space feel more cozy. I truly believe that the better your room makes you feel, the more productive the rest of the day will be so definitely take time to make it exactly how you want. These different ways are the perfect start to bringing the best of the fall feeling into your bedroom!
Create a Cozy Seating Area
Found from Lindsey Marcella
Gather some of your favorite pillows and blankets and assemble them in one of the corners in your room. Now, sit down with one of your favorite books and a cup of tea or hot apple cider and I promise you you will feel so good. This is my favorite pillow for fall.
Make your own Candle Holder
Talk about an easy DIY. Go outside and gather some sticks in your backyard. Get either a used candle glass or a new candle and hot glue your sticks the outside of the glass. My favorite hot glue gun comes from Amazon. Put it on your desk or nightstand and you instantly added fall to your room.
Add a Light Photography Wall
I can almost guarantee you have Christmas lights in your basement (even if you don't these exact fairy lights are extremely inexpensive) so this could be a super cheap way to make your room feel cozy. Hand it using command strip hooks so it doesn't damage your wall (helloooo dorm room idea). Add some pictures and you have a focal wall!
Make your own DIY Chunky Blanket
I have been seeing these blankets and want one so bad!! I actually researched buying one but they are so dang expensive so I am glad I found this DIY! You do need a few supplies but this could be a really fun craft night project to do with your girlfriends. You can find the DIY here.
DIY Light Up Headboard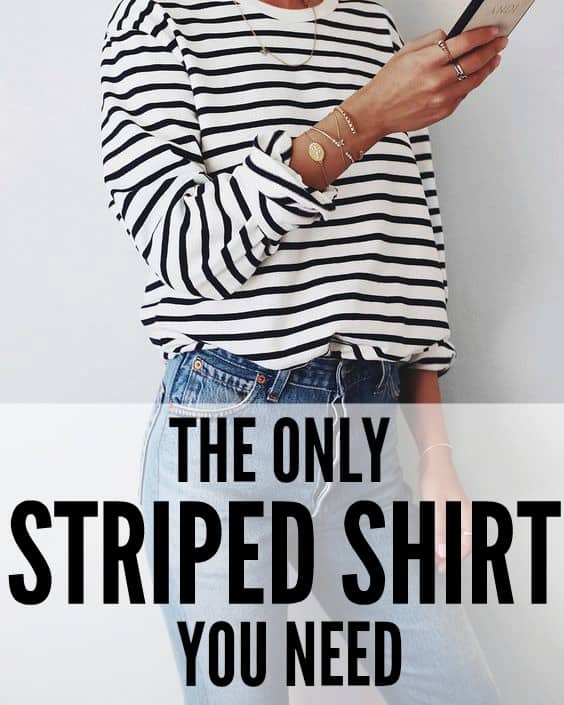 Have you been wanting to change your headboard out? This is a really great way to change the whole feel of your room easily! This video explains exactly how to make this.

Create a Rug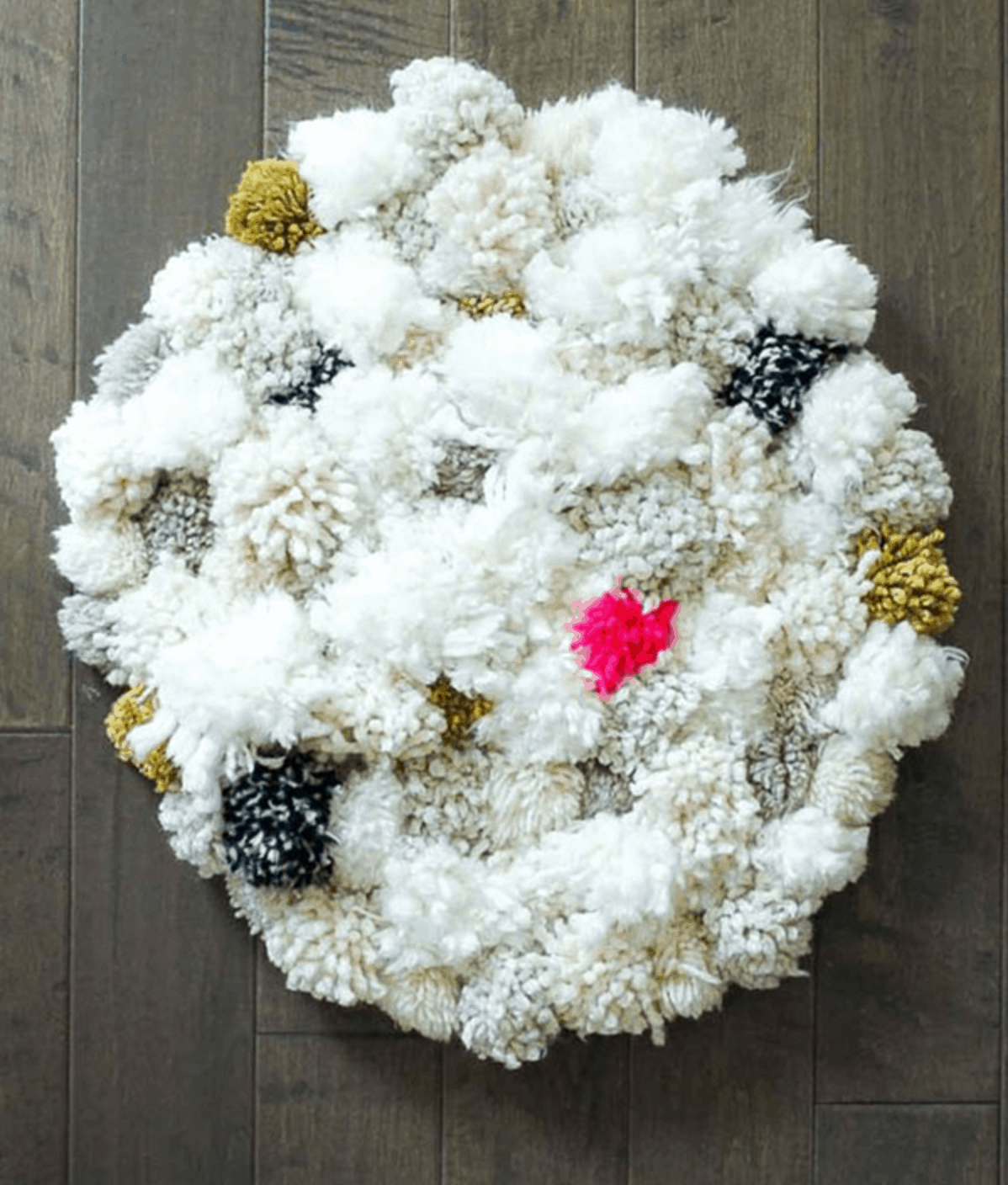 Found from Make and Do Crew
This DIY could take you all throughout winter. It really will help your room feel more warm and inviting. Plus, imagine stepping out of your bed onto this nice pom-pom rug. This would also be a fun project to do with your girlfriends! You can find the DIY here.
DIY Sweater Pouf Ottoman
Okay, if this doesn't scream fall then I don't know what does. This is so cute and can be made from one of your old sweaters. Bonus points if your sweater is orange and makes this look like a cute pumpkin;).
DIY Dream Catcher
Making a dream catcher has been on my list for years. I think it's a cool project to do with a lot of supplies available outside (aka free!). Of course you do need a few supplies, but put those Michael's coupons together and you've got a new piece of 'artwork' to put above your bed!
Make your own Pillow
Found from Puravideo Bracelets
Okay, is this not the cutest pillow?! I can't believe she made this. Love how it's boho but still brings the feeling of a cozy room.
DIY Crate Bookshelf Tutorial
Found from HomeBNC
This is a project that could last with you for years. This would be cute in so many spaces and adds a lot of extra storage. You can purchase crates or you can go to a local winery or grocery store and see if they have some crates.
Build a Shelf
Found from Burkatron
Want an easy shelf you can put fall candles and some of your favorite books on? Then make this super easy hanging shelf. All you need is a plank of wood (you can go to Homedepot with measurements and they will cut your wood for you) and some strong twine and you've got yourself a shelf!
Purchase a Tapestry
Found from Lady Scorpio
The most popular decoration in college is by far a tapestry. They are a really inexpensive way to make a whole room feel different. It's an easy way to change the colors in your room or cover a large area on the wall. This is one of my favorite tapestry for fall. This is another one I really like.
Paint Mason Jars
Found from Her Campus
How cute are these?! Mason jars are still very in and can be made to hold cute flowers like this with just some paint. You can purchase mason jars here. I also know Michael's sells them. If you want the ball to show just sand the indents (I guess it would be more like outdents haha) and the paint will come off there.
Create a Leaf Hanging
Found from Happiness is Homemade
Can you tell from my title that I wasn't sure what to name this thing? 😉 I just think this is so cute! Love how fall-y this makes the room look.
DIY Pumpkin Spice Candle
Found from A Cultivated Nest
I wish I could smell through a computer because this would smell so good!! I l-o-v-e fall scents. I was actually just at Bath and Body Works and they have the best candles right now! I wanted to buy every single one. But can you imagine making your own heavenly smelling candle? Well, now you can!
Sequin Pumpkins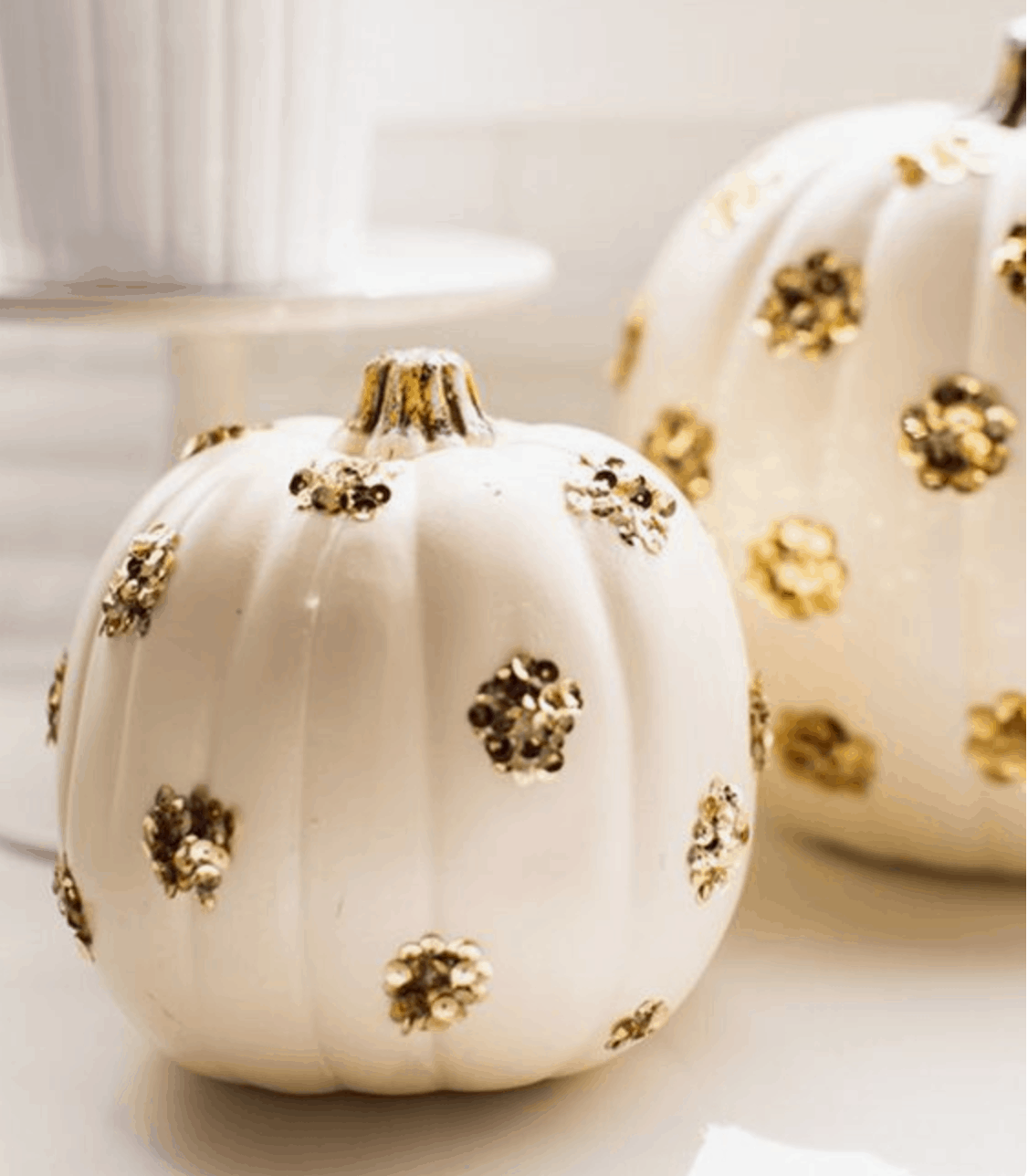 Found from Sugar and Cloth
I am for sure going to make these for my dorm room. They sell white pumpkins like this at Michael's (if you don't have Michael's around you can purchase white pumpkins here). Add a few sections of sequins and you have yourself a super cute pumpkin.
DIY Pinecone String
Found from The Sweetest Occasion
I can just imagine stringing these across my headboard. Love how easy this looks too. I made this a few years ago but am going to make it again this year. This is where I purchased my pine cones (although you could search your yard) and then had some glue and gold glitter laying around. I rolled my pinecone in glue and sprinkled with glitter. Once dry, I hot glued them onto twine. So easy!
Chalkboard Sign for your Door
Found from Lilacs and Longhorns
Annddd, lastly this welcome you can out on your bedroom door. They have so many frames that look exactly like this at Goodwill for less than $2 dollars. At a craft store, purchase chalkboard point and some fake fall looking flowers and create your own version of this sign. If you want to get really fancy, look up "fall chalkboard signs" and try to create one of those!

I hope this roundup is giving you some good ideas on how to make your room feel more cozy this fall! If you have any questions on how to create any of these DIY's please ask them in the comments! I will answer them right away. Happy fall!
want ALL the free college printables?!
---
Receive all of my most popular College Printables for FREE! Simply click the button below and get all of these sent directly to your inbox.